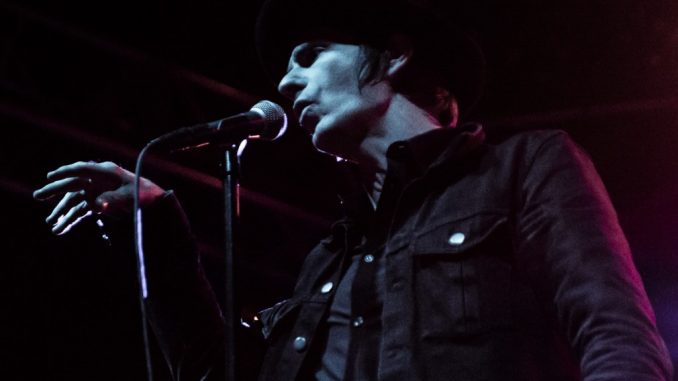 Seattle based band Walking Papers hit the stage for a packed house at The Beacham in Orlando, FL as the supporting act for Myles Kennedy. The band recently returned to the states after packing popular venues throughout Europe and the UK. January of this past year the band released their second studio album WP2, which has gotten some great feedback from top rock magazines Kerrang, Rock N'Load Magazine, and Loudwire.
The band consists of lead singer Jefferson Angell, keyboardist Benjamin Anderson, bass player Duff McKagen, and drummer Barrett Martin. Due to previous tour commitments, the band had a few other members step in to take the place of members Duff McKagen and Barrett Martin. They were replaced by Tristan Hart Pierce on guitar, Dan Spalding on the upright bass, Will Andrews on drums, and Gregor on the saxophone.
I was unfamiliar with Walking Papers prior to the show; however, it only took one set to become one of their newest fans.The most enjoyable part of the evening was watching the array of instruments the band incorporates throughout their set that seemed to catch the attention of every fan in the room. We had an upright bass, a keyboard player, and a saxophonist all taking the stage to perform their tops hits for the audience. Tunes such as "Death on the Lips", "This Is How It Ends", and "Your Secret's Safe With Me".
At one point during the band's set, Angell jumped into the crowd, shaking hands and singing with fans before returning to the stage for his encore. Afterwards, Angell headed over to the merch table where he greeted and spoke with fans until the end of the evening. Be sure to catch these guys if they hit your town, as you will not be disappointed. Head over and give them a like on Facebook to stay up to date with upcoming tour and music information.
Before attending the show, I was lucky enough to grab a quick interview with Jeff Angell who is the singer/songwriter for Walking Papers.
Music Madness: The band released WP2 in January. How has the response been on the new album now that it has been out a bit?
Jeff: It's been really good. It seems to find a lot of ears to build a nest in, so we're happy that it gets out there and gets to the people. Music's a weird thing these days and how people react, but if people don't like it, they're not telling me.
Music Madness: Awesome. I hear you just came back from a European tour. How was that?
Jeff: It was good. We've probably done more work over there than we've done here in the United States.
Music Madness: Are you guys originally from over there?
Jeff: No. We're from Washington, but somehow it just worked out that we had better connections there earlier, you know what I mean.We just had an agent that started there with us first.
Music Madness: Awesome. What was your favorite place to play out there?
Jeff: It's kind of hard to choose a favorite, you know. It seems like once you get there, I'm happy to be wherever there's an audience that wants to listen. It's more like "what is the most different"which is what I usually like, and some of the Eastern European countries are a lot different.
Music Madness: Do you prefer to play there?
Jeff: Like I said, if people show up, I like playing. Here too you find some cool little pockets of cities. I like a really big, giant city and then I like a little down homey small town. If I'm playing music, I'm pretty much happy wherever I go and I'm finding cool people that out supporting live music.
Music Madness: Right. What can we expect to see from Walking Papers in 2019?
Jeff: I don't know when our next tour is yet, but we have some songs in the can and then we're writing more songs all the time,so hopefully we'll see some of that coming out and then continuing to make somethings happen. We're probably also gonna re-release some old stuff that we have that we haven't put out yet. That probably will keep things going until we have a new record, but whether or not we get a new record done this year, we'll find out.
Music Madness: Can you tell me how the band came about?
Jeff: Well, it's kind of a long story. I was playing music in bands in Seattle but I was kind of a mess, you know what I mean. A few people kind of earmarked with me but they were waiting for me to kind of straighten my shit out a little bit. They were like he's more trouble than it's worth, maybe.
I had known Duff, we became friends and then he kind of stuck around and we were always friends. I was actually making records, independent records, and we were putting it out. And then the drummer Mark, which was the original drummer saw us play and he was like hey, I've got some studio time, let's go lay down some stuff. And I had some songs, so I went there and recorded that with him. And then Duff was around, I was like hey, do you want to come play on some songs? Then McCready was around, I never really thought much was coming of it.
Then of course,with all those names, it got a lot more attention… easier than the other stuff that I'd done in the past. So I never expected those guys would be able to stick around, and then once things started to happen they were like, hey, we'll play with you, we got nothing else going on. Now that Guns N Roses is doing their thing and stuff, it's kind of tough.
Music Madness: Kind of difficult, which leads me into my next question. How is it dealing with half the band on tour with somebody else right now?
Jeff: The songs are their own living things and they deserve their attention. To me, I think that the songs are bigger than who's playing them, you know what I mean.
Music Madness: Music is music, whoever can play them, as long as it sounds right, it's all good, right?
Jeff: Sometimes it doesn't sound right and it sounds different, and some people might argue that it's better and some people might be bummed that it's not the other thing. I don't spend most of my time sitting around going man, I sure wish… I'm like fuckin' here I am, let's enjoy it. Music shouldn't have to live under those terms. Music really is a living thing and the people, when they give it attention, it has a life that it has at that moment, and what it is live is different from the record.
Music Madness: Awesome. What song has had the best response on tour?
Jeff: It seems like "Death on the Lips" kind of gets it, but I think it's because of the way we set it up.
Music Madness: Yeah?
Jeff: Yeah. Because the way we go about our set is pretty, like at first there's some people that are going what the fuck are they doing? To create the tension and when it snaps in, then I think it wakes them up, for sure.
I think it also keep our set is pretty dynamic. We'll go from an upright bass and brushes all the way to like a full on testosterone rock band and back sometimes. And we play on our own, we might get down to something that's a piano and brushes on the drums all the way to as brutal as it can be all in one set, which I think is probably something that we're … but when we go mellow,it doesn't sound like oh, that's them trying to be jazzy and failing. We can actually cover each base.
Music Madness: Can you do a little bit of multiple genres?
Jeff: Yeah. I think that's one of our biggest strengths is being able to be versatile and to be able to read the rooms too.Like, if a room is… what kind of night is it, you know. If we're playing with a brutal band, then what's their audience? We've toured with Alice in Chains, Aerosmith and Jane's Addiction. If we're going to Aerosmith, we're gonna go a little bluesier. If we go with Alice in Chains, it's gonna be a little angrier. And Myles here has a good mix so we're able to kind of do a few more things on this tour, like playing with saxophones and upright bass.
Music Madness: What track is your personal favorite off the album?
Jeff: The song I'm probably the most proud of is probably "Red and White", but I'm kind of bored with it. It was around for along time and we put a lot of love into it.
Music Madness: What is the background on the song?
Jeff: I liked the idea…I would ask you to marry if I could afford, but I can't afford the ring, which I think is a cool thing for like my wife's pretty high maintenance. She demands a lot, and that's why I'm with her, because she pushes me to try harder. But there are definitely sometimes where I'm like hold your horses, we will get there. So I do think that there's some classic songs about that. I think most guys, if they're in a cool relationship, they probably do feel a little bit like they need to provide for their family or whatever. And sometimes being a musician, it's pretty hard.
Be sure to check out Walking Papers as they tour in support of Myles Kennedy.
Photos and interview by Jessi Brothers