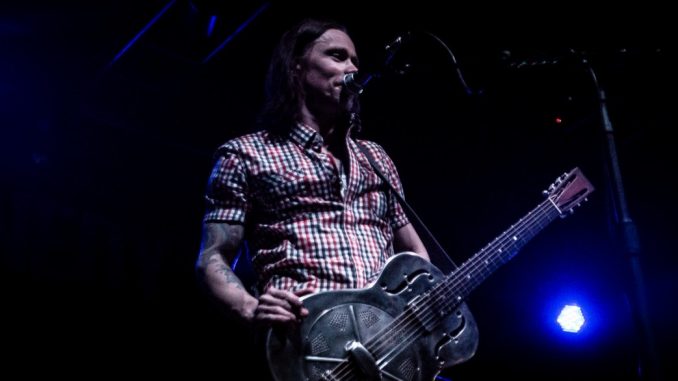 Myles Kennedy & Co – Year of the Tiger Tour made a stop in Orlando to enjoy an up close and personal performance for fans of all ages. Crowds lined up outside The Beacham in downtown Orlando on a Wednesday night to watch Myles Kennedy and Co. perform tunes from his new solo album, Year of the Tiger. Myles hit the stage with lots of energy as he nailed his first track "Devil on the Wall". After each song, Myles changed guitars and followed right into the next tune with no interruptions. The 19-song set was soulful and powerful as the crowded room cheered, acknowledging their approval for the leader of the evening's musical journey.
A little about Myles…he is a former guitar instructor from the great state of Washington, he has also worked as a session musician, songwriter, and he is known to have made both studio and live appearances with several artists throughout his lengthy musical career. He has worked with musical greats including Led Zeppelin, who was one of his biggest inspirations. Kennedy has received the Vocalist of the Year award three times from Loudwire.
In addition to his solo career, Kennedy is the lead vocalist of Slash and the Conspirators as well as the frontman and rhythm guitarist for the popular band Alter Bridge who plan to release a new album sometime in 2019. Below you can find links for each project Myles.
Slash featuring Myles Kennedy and The Conspirators: Pre-Order "Living The Dream" now at http://www.slashonline.com
Myles Kennedy – Year Of The Tiger. Album out now https://www.youtube.com/watch?v=f3L9_6aJi2Q
MK exclusives at: www.MylesKennedy.com
Set List for Orlando:
Devil on the Wall
The Great Beyond
Ghost of Shangri La
All Ends Well (Alter Bridge song)
Blind Faith
Haunted by Design
Nothing but a Name
White Flag (The Mayfield Four song)
The Trooper (Iron Maiden cover)
Stand Up (Steel Dragon cover) (Snippet)
Watch Over You (Alter Bridge song)
One Fine Day
Travelling Riverside Blues (Robert Johnson cover)
World on Fire (Slash feat. Myles Kennedy & The Conspirators cover)
Songbird
Turning Stones
Year f the Tiger
Encore:
Going Down (Freddie King cover)
Love Can Only Heal
Photos and review by Jessi Brothers