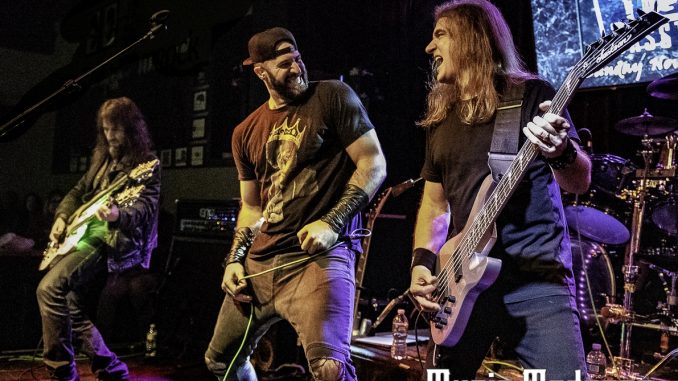 It was a Sunday night at the Shamrock Pub & Grill in Waterbury, Connecticut but even thought it was a "school night", the place was packed. Dedicated metal heads came out in force to see Megadeth bassist extraordinaire, David Ellefson and his show called Basstory. David assembled a couple of Connecticut's favorite metal bands, Crossing Rubicon and Dead by Wednesday and topped off the mix with former Guns N Roses guitarist, Ron "Bumblefoot" Thal. The crowd was treated to an all out metal fest from beginning to end!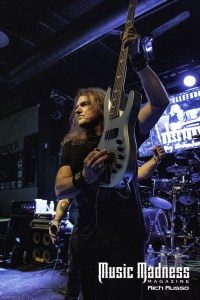 Crossing Rubicon is fronted by the musical and non-musical couple, singer Scotty Anarchy and his significant other, former All That remains bassist, Jeanne Sagan. They started the night off with a small but building crowd and those folks who arrived early were not disappointed. In early 2019 the band will be releasing their upcoming album and if it's half as powerful as their live show, it'll be amazing! Follow them at their website, www.crossingrubiconband.com to get all of their latest updates.
Next up was long time New Haven favorites, Dead By Wednesday, formed back in 2005 and have rocked local metal fans since. DBW has released four full length albums along with an EP. They have toured the US several times and had been included in the 2015 lineup of Mayhem Fest. They've had a number of lineup changes over the years but this lineup really knows how to tear the roof off a venue. They can be followed at www.deadbywednesday.com
It's tough to follow a raging metal band, especially if you are playing solo with backing tracks while seated in a chair, but Bumblefoot did just that. He gripped the audience as he opened the set with a killer version of a non-metal song, The Theme from The Pink Panther. The crowd roared as he played the Henry Mancini classic and it just rolled on from there. This intimate setting allowed Bumblefoot to play pretty much whatever he wanted but not only that, he gave some neat little in depth "lessons" on how he got certain sounds for certain songs out of his guitars. Interesting lessons for the non-musical folks and no doubt fascinating for the guitar players in the audience.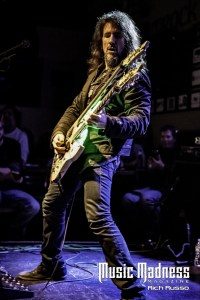 Next up was the man of the hour, the great David Ellefson. David started off as Bumblefoot did, with recorded backing tracks to go with his bass. Even though there were no people backing him, he played with the typical enthusiasm that you would expect from any metal bassist. David had a little question and answer session with the audience much to their delight. It's not often that one can ask questions of a world famous musician and this was one of those rare occurrences. As the show progressed, he added other musicians to the stage to round out his band along with guest singers. Most notable was his friend and business partner, Thom Hazaert. He had the pipes that could be held up to any metal singer and the crowd showed their approval. The show consisted of heavy metal standards that inspired and shaped the musical trails of the performers as they were growing up. You could tell that everyone on stage was having as much fun as the folks in front of them.
All in all Basstory was a fun show from beginning to end. David will be bringing Basstory to Florida in early to mid-December and then he takes it across the Atlantic in March of 2019. Do yourself a favor and don't miss a golden opportunity to experience an intimate evening with a Grammy award winning musician!
Photos and review by Rich Russo