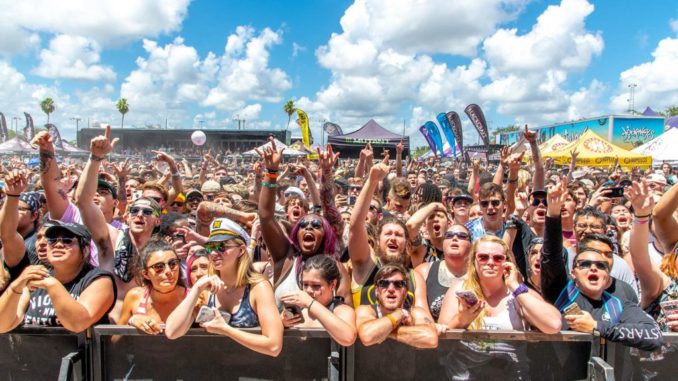 The Vans Warped Tour has been a staple of the summer music festival season in the US for the past 24 years, but on August 5th that ended as 87 bands performed for the final Warped Tour show in West Palm Beach, Florida.
Thousands of people crowded into the Coral Sky Amphitheatre as the gates opened at 10:30 am with a mix of excitement and sadness. With several stages, the event can seem a bit overwhelming as you scour the schedule to find the bands you want to see and plan your day. Unlike most music festivals, the set times for each band change daily and you do not know when each plays until you arrive.
I bought a printed copy of the schedule as I entered the venue and plotted my course. The stages were spread throughout the fairgrounds, and it was a decent walk from one to the other. The main four stages were setup in two groups (Journey's Left and Right Foot, Mutant Red Dawn and Mutant White Lightning) that way you didn't have to move far once a band finished to see the next one right next to it. However, those two groups were about 1/4 mile apart, and it is impossible to see all the bands.
I chose 15 bands that I wanted to see perform. Most of those were on the two Mutant Stages, so that I did not need to walk back and forth too often. The first band was This Wild Life, which is an interesting rock duo from Long Beach, California. They play acoustic songs with Kevin Jordan on vocals/guitar and Anthony Del Grosso on backup vocals/bass guitar. They did an excellent job getting the crowd warmed up for the day ahead.
The second band was Sharptooth, a hardcore punk band hailing from Baltimore, Maryland. The band is fronted by vocalist Lauren Kashan who screams out lyrics with a power and fury I have not seen from many female singers. She has a throaty style and commands a presence while on stage. Sharptooth was not a band I had seen before, but they put on a fantastic show, and interacted with the crowd on several occasions. Between that and their high-energy stage presence, they impressed me and were one of my favorite acts of the day.
Next came the band I was most looking forward to and they are one of my favorite bands around right now, Motionless in White. I had seen them on a couple other occasions and they always put on a fantastic show. With four full-length studio albums, they have plenty of material to pull from, so a 30 min performance is only a tease. They did a great job mixing in songs from all of their albums including the most recent release of Graveyard Shift. Vocalist Chris Motionless has a great voice and had the crowd jumping and moshing the entire set.
The remainder of the bands I was able to catch included Doll Skin, Deez Nuts, Unearth, The Amity Affliction, Senses Fail, Ice Nine Kills, Makeout, Nekrogoblikon, My Children My Bride, Palaye Royale, New Found Glory, and Twiztid. All of these bands were thoroughly entertaining. Standouts of the day were The Amity Affliction and Ice Nine Kills.
I had not heard of, nor seen Ice Nine Kills before, but they blew me away with their performance. The members of the band had an elaborate stage setup and came out dressed as everyone's favorite horror movie characters including Jason from Friday the 13th, Freddy Krueger, and Michael Myers of Halloween fame. Not only did they add theatrics to the show, lead singer, Spencer Charnas, climbed into and interacted with the crowd on a number of occasions to their delight. After their performance and listening to their set I became an instant fan, and look forward to seeing them again.
The Amity Affliction hails from Australia. The crowd was fully engaged throughout the bands set and seemed to know every word of every song they sang. Vocalists Joel Birch (unclean vocals), and Ahren Stringer (clean vocals) wore the largest smiles of the day as the crowd belted out the lyrics to "Open Letter" off their 2012 album, Chasing Ghosts. It was one of the highlights and all around great day of music and community.
The final ever Vans Warped Tour was a great event and all of the acts praised the event and the longevity it had. They encouraged the crowd to enjoy every moment and to not hold back, which they happily did.
Check out some of the bands photos below…
Review and photos by Matthew Chase