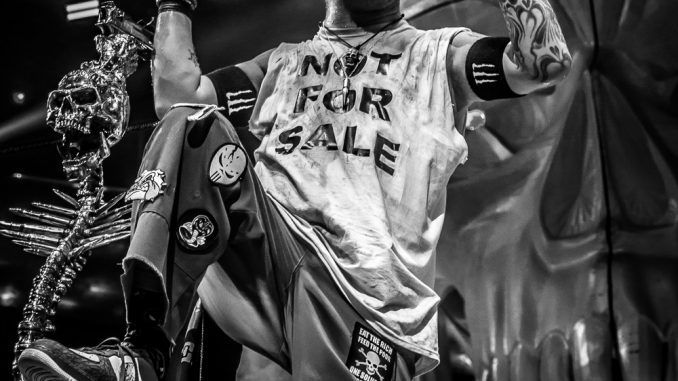 On Saturday evening, fans at the MidFlorida Credit Union Amphitheater were treated to a monumental night of music featuring hard rock's elite. Five Finger Death Punch (5FDP) and Breaking Benjamin teamed up to bring their high octane, energy-filled stage shows to Tampa and slammed down hit after hit to 20,000 eager fans. The supporting acts for this leg of the tour Bad Wolves and Nothing More were more than up to the task as the crowd responded with encores for each band after their performances.
Bad Wolves took to the stage at 6:00 performing hits from their debut album Disobey that was released earlier this year. Their performance and stage presence was out of this world, enormous amount of energy from not only the band but the crowd too. They closed out the set with "Zombie" with a heartfelt dedication to the late Dolores O'Riordan of The Cranberries who was supposed to collaborate with Bad Wolves on the song, but unfortunately, she passed away before it happened. Be sure to keep up to date with Bad Wolves by visiting their website at www.badwolvesnation.com.
Next act was Nothing More; hailing from Texas was a great addition for this tour. Nothing More recently received three Grammy nominations for the #1 single "Go to War" and in my opinion, they deserve it. They came to the stage and ripped out their top hits for the audience. Lead singer Jonny Hawkins has a signature drum kit that he performs on during all of his shows. He jumped upon that beast and killed it with his solo. It was definitely the highlight of their set. If you missed your chance to see Nothing More on this tour, be sure to catch them live, you will not regret it. For tour dates and band information check out the band's website at www.nothingmore.net.
The first co-headliner to perform was the multi-platinum act Breaking Benjamin. With fire spitting from the stage and the crowd going wild their performance was electrifying as they played songs from their latest studio album Ember along with past hits including a mix of "Star Wars," Tool, Nirvana, Pantera and Metallica. Catch up with the guys from Breaking Benjamin and stay up to date with the band by visiting their website www.breakingbenjamin.com.
5FDP took the stage with a vengeance that left most knuckleheads dazed as if they took a Mike Tyson uppercut. Frontman Ivan Moody seems to have embraced his newfound sobriety sounded the best he has in recent years. The band came with hit after hit leaving the 20,000 fans, young and old, craving more. Ivan took time to pass out memorabilia to the young fans closest to the stage, which has become a 5FDP staple over the years. Skulls and lots of fire filled the stage making it an aesthetically pleasing stage performance by 5FDP. The band released their seventh consecutive studio album And Justice For None earlier this year. Visit the band's website for upcoming tour dates, merchandise, and more at www.fivefingerdeathpunch.com
Looking forward to seeing what each of these bands have planned in the future endeavors as each band displayed an enormous amount of talent and love for their fans. Isn't that what music is supposed to be about. Be sure to catch this tour when it hits your town.
5FDP Set List
I Love You
Lift Me Up
Trouble
Wash It All Away
Jekyll and Hyde
Bad Company (Bad Company cover)
Never Enough
Wrong Side of Heaven (Acoustic)
Remember Everything (Acoustic)
Coming Down
Burn MF
Gone Away (The Offspring cover)
Under and Over It
The Bleeding
Breaking Benjamin Set List
Red Cold River
I Will Not Bow
Never Again
Breath
The Imperial March/ Schism/ Smells Like Teen Spirit/ Walk/ Sad But True
Drum Solo
Sooner or Later
Blow Me Away
So Cold
Angels Fall
Psycho
Failure
Until the End
Believe
Torn in Two
The Diary of Jane
Bad Wolves Set List
Officer Down
Learn to Live
No Masters
Remember When
Better the Devil
Hear Me Now (with Diamante)
Zombie (The Cranberries cover)
Nothing More Set List
Do You Really Want It?
Let 'em Burn
Don't Stop
Go to War
Just Say When
Jenny
Ocean Floor
This Is The Time (Ballast)
First of the Year (Equinox)
Salem (Burn the Witch)