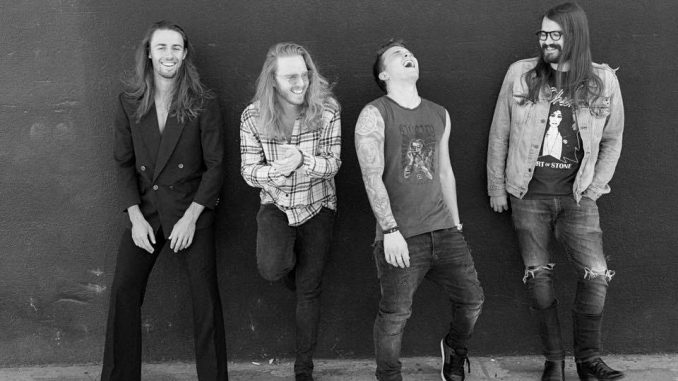 Based in Los Angeles, CA, ZFG consists of Jules Galli on vocals, Trev Lukather on guitar, Sam Porcaro on bass and Josh Devine on drums. The members were close friends on different projects, but decided to get into the studio for fun with a new approach in mind, making music with no rules or boundaries. "Zero Fucks Given" is what they called their first day in the studio, which led to the band name ZFG.
ZFG runs with a different mindset when approaching the music they write by not restricting themselves to purely rock-style songs. ZFG's music is infused in alternative, pop, R&B and a hybrid of other styles.
ZFG will embark on their first tour that kicks off April 17th in Houston with Adelitas Way and The Winery Dogs. Fans can get a taste of their upcoming EP with the release of a lyric video for their single, "Special". ZFG's new EP is tentatively set for an April 2019 release.
Music Madness: Congrats on the new single "Special".
Trev: Thanks, brother.
Sam: Thank you.
Music Madness: You're welcome. Tell us a little bit about the song.
Sam: In October, we were in the studio for a couple weeks just tracking the EP, and we had a rough outline of the song and we weren't planning on cutting it on the EP. The guys we were recording with out at Treehouse kept hearing us working on it and they were saying, "We have to cut that one," so it was kind of on the spot after we had done three of the other tracks.
We decided "Let's just finish fleshing this one out at the studio," so this came together piece by piece, all of us just in there together, working it out, trying different things and seeing what works.
Trev: It was one of those things …Sam and all the guys that were like, "Yeah, that riff's sick, we gotta work on it one more time," because we consistently write. It was one of those moments where our producers wanted to definitely play producers. They were like, "Let's hear all the ideas," and then, we started jamming on "Special" and then Jules starts coming up with some melody ideas and then he threw out the hook and the chorus. We all just arranged the song and then wrote it on the spot. So it just kind of came together. We were like, "Fuck it, let's go to the studio, let's just track this, and arranged it in the studio on the spot." I don't know, man, "Special" is definitely ironic when it comes to the title of it, because it is everyone's favorite. And then we have Lenny Castro come in and play percussion, which was fucking insane.
Sam: It's also the first single coming out from the EP.
Trev: Basically, ZFG, why we were even called that is the first day we decided to get into the studio; we didn't have any ideas of what we were going to do. We just wanted to do some music and let loose, and just have no rules. Not like, "Ah, verse, chorus, verse, chorus, ridge," no, fuck that. Let's do seven sections with a guitar solo and do some fuckin' drum solo Neil Peart shit at the end of it, who cares.
Music Madness: Right.
Trev: And so we just … we named it Zero Fucks Given the first session, which then just led to ZFG being the band's name.
Music Madness: Love it. Did you guys grow up together with your dads being bandmates?
Sam: Yeah, Trev is the same age as my older sister, and so, they were always in the same classes and everything growing up. Through the band and everything, we'd always get together for dinners or Toto shows or we'd go out on the road with our dads. Trev has always been like a brother to me growing up, but oddly enough, this is almost the first time we've ever actually done something together.
Last year, we went out on the road with Diamante, she needed a band and Trev played on her record. So, they had Trev and a week before the tour started, Trev hits me up like, "Hey, do you wanna come out on the road with us and I had nothing going on, so I was like, Yeah, sounds fun." And that was actually the first time we've ever played together.
Trev: Which is so weird to think about, because I've known Sam his whole life and saw Sam grow up. I think Sam's one of the best upcoming bass players to come out and he has this natural pocket and groove. We call him, "Dr. Pocket", that's his nickname in the band. He's definitely keeping his dad's legacy alive, man. And Mike was one of the grooviest and just solid bass players, and Sam is literally that.
When Diamante called me for this tour, I'm like, "Man, I gotta call Sam for this. We've never played together." The universe spoke and we wanted to get together at the studio and say, "Fuck it, man. Let's do some crazy riffs and have Sam play bass." Called Sam and was like, "You into this?" He's like, "Hell yeah."
We all got a room and just all of us sitting in the studio, and that was the song "Holehearted", so if you check out "Holehearted", you'll really see when all of us got a room and just how natural it really was. We all just knew at that point, when we heard the mix back of "Holehearted", we were like, "Alright, this is definitely …" Actually, the word that Jules said was, "special", before we'd written the song. He was like, "This is special." And we all felt it. I was like, "Alright man, fuck it, let's go fucking make records, play, and have some fucking fun."
Sam: That's what it's all about.
Trev: When you make music that's from the heart, you really have fun and you hit the fucking button, that's when it really connects. I feel that's why people are really connected to this band.
Music Madness: I love the band name and I hearing that name I assumed you were a young band, but then hearing your sound, it is so mature. I didn't t expect to hear that sound from a young band. I think it's cool because it allows you to draw in a diverse group of fans.
Trev: You're my new favorite person. We gotta hang out all the time, man. I'm digging your vibe.
Music Madness: Awesome. New music and a new tour is right around the corner.
Sam: Yeah, April 17 in Houston, and then we're hitting Dallas and Austin after that we head over to the East Coast for a couple East Coast shows. Then, finishing up in Colorado Springs.
Trev: It's like we're here to just test the waters out, just bringing our vibe and our music to complete strangers that haven't heard of us. I feel this band could be great at winning over audiences, because they will see the energy between us and our vibe. We're just all bros, we really truly love each other. We love creating together, and you see that kind of energy between us.
Music Madness: As a younger band, do you have a go to cover that you guys like to play?
Trev: We did one cover in the early days of us playing, and that was Audioslave's "Cochise".
Be on the lookout for more from ZFG and in the meantime, check them out on tour.
ZFG w/ Adeltias Way "What it Takes" Tour Dates:
4/17 Houston, TX @ Warehouse Live
4/19 Austin, TX @ Come and Take it Live
4/20 Dallas, TX @ Gas Monkey
4/24 Heath, OH @ Muddy Creek Saloon
4/26 Tucson, AZ @ Pima County Fair
4/27 Easton, PA @ One Centre Square
4/28 Buffalo, NY @ Iron Works
5/1 Pittsburgh, PA @ Crafthouse
5/2 Flint, MI @ Machine Shop
5/3 Battle Creek, MI @ Music Factory
5/4 Joliet, IL @ The Forge
5/5 Madison, WI @ Majestic Theater
5/8 Chippewa Falls, WI @ Every Buddys
5/9 Minneapolis, MN @ Fine Line
5/10 Lincoln, NE @ Bourbon Theatre
5/11 Denver, CO @ Marquis
5/12 Colorado Springs, CO @ Black Sheep
ZFG w/ The Winery Dogs "Who Let The Dogs Out" Tour:
5/25 Las Vegas, NV – Vamp'd
5/28 Sacramento, CA – Crest Theater
5/29 Santa Cruz, CA – Rio Theater
5/30 Anaheim, CA – The Grove
5/31 Beverly Hills, CA – Saban Theatre