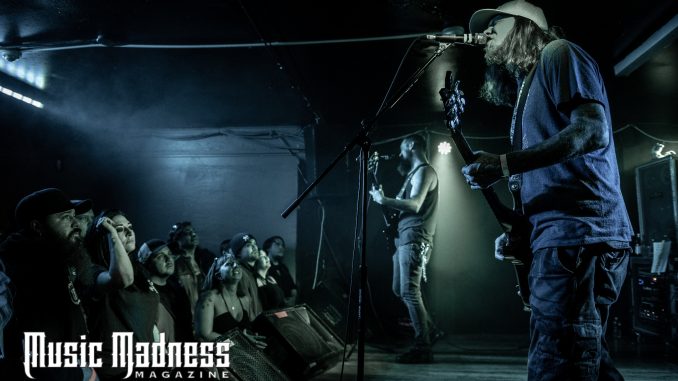 When people think of music venues in Hartford, Connecticut, they think of the XL Center, Xfinity Theater, and Infinity Theater but often forgotten is the South End of Hartford's Webster Theater which is actually two venues in one. This is a wrong that was righted recently when the Smile Empty Soul tour stopped at the smaller of the two stages known as The Webster Underground. The night featured 5 bands with varying musical styles which kept the crowd entertained the whole evening.
First up was the local hard rock band known as Paragon Theorem. Formed in 2012, these local favorites have put out three full length releases of music filled with strong power chords and thoughtful lyrics. They recently released their latest, "Bound By Gravity" in January. With a set featuring songs both old and new, the crowd responded enthusiastically as they had a good share of fans show up early to catch their set. As with many bands, they are certainly worthy of more accolades than they've received but stay tuned, their time will come! Website: http://paragontheorem.com/
Hitting the stage next, from New Paltz, NY, One Day Waiting. ODW is a cross between hard rock and alternative metal that moves fluidly from thrash metal to a more melodic metal which brought the energy level up a notch. They have several releases in their 6 years of existence and we certainly hope they continue to produce more of their brand of in your face music that their fans love. Tyler Kray's growling vocals cut like a knife through the band's solid wall of sound. They could easily hold their own amongst bands such as Madball and Death Before Dishonor. Website https://www.facebook.com/OneDayWaiting/
From Baltimore, Rise Among Rivals followed at the very middle of the show. These relative newcomers, formed in 2017, have already begun to gather a devoted following. Their self-titled debut release as well as their live performance has a straight up rock sound with a focus on heavy riffs, melodic vocals, and complex dynamics. The band believes that the distance between one's aspirations and reality is action, which is why they have made sure to put in the work to create a recorded and live product that holds up to the high standards of each member of the band. Website: https://www.facebook.com/riseamongrivals/
Transmedia darlings, September Mourning hit the stage next. What is a transmedia act you may wonder. Through comic books and theatrical performances, September Mourning tells the tale of a hybrid human / grim reaper character whose empathy gives some human souls a second chance. September (Emily Lazar) and her band of Reapers hit the stage adorned in outfits befitting their characters. Emily dressed in white leather with white face paint representing the empathetic human half of her human / reaper character while the Reapers were dressed in sinister hooded black leather ensembles. The stage remained shrouded in darkness and smoke throughout their set which added to the supernatural presentation of their show. Their music was enthralling and their fans were both mesmerized and raucous at the same time. September Mourning is a very unique live band which is worth your time. Website: http://www.septembermourning.com/
Rounding out the show were the alt-metal headliners, Smile Empty Soul. Before they hit the stage, their fans packed the front of the stage in anticipation of their band's performance. When they finally hit the stage, the crowd erupted! Over the course of 21 years, this California born group has released 7 full length studio albums and 3 EPs. Guitarist and vocalist Sean Danielsen is the only remaining original member of the trio but that didn't detract from their performance. Perhaps the newer members have infused the band with a new energy as their set was full of non-stop enthusiasm by both the musicians and their fans. Website: https://www.smileemptysoul.com/
All in all, it was an eclectic night of music at the Webster Underground. Each band had their loyal supporters who rotated positions at the front of the room as each set finished and the next band was about to hit the stage but few left the venue as each band brought an exciting variation of musical professionalism to a stimulating evening of music.
Review and Photos by Rich Russo