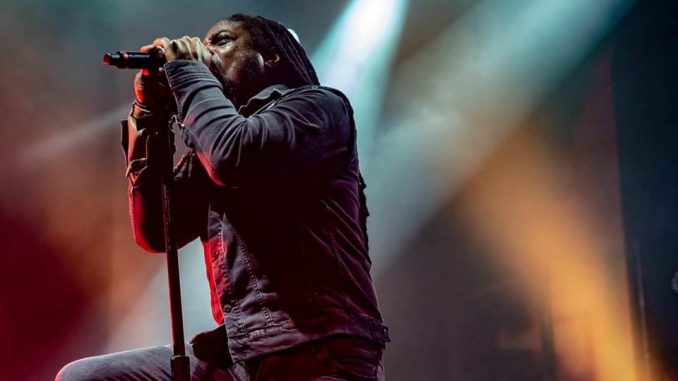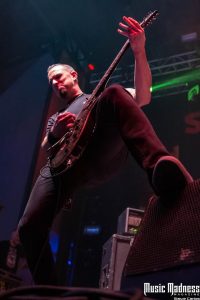 ON TOUR NOW!!! Fan favorite Sevendust has embarked on a 22-show 31-day music extravaganza featuring a solid lineup consisting of Tremonti, Cane Hill, Lullwater and Kirra. If you are in need of a metal fix to jump-start your new year then this tour is guaranteed to melt your face off. Show four in five nights took place in St. Pete at the popular Jannus Live for an outdoor show before the tour points north and heads towards the cold.
In addition to the typical meet and greets, Clint Lowery and John Connolly of Sevendust were offering a guitar clinic. Members of Cane Hill, Lullwater and Kirra were visible the majority of the night interacting with fans and supporting their fellow musicians.
Sevendust recently unveiled a video for their latest single "Unforgiven", which tells the story of a rebuilding world where "the youth will be the ones to keep mankind going long after the adults are no longer around." Scott Hansen directed the post-apocalyptic video.
Setting the tone for the evening were the young guns, Kirra, as they took the stage with attitude and an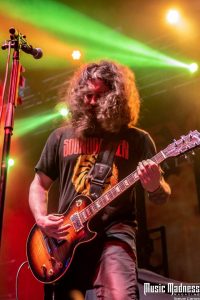 uncharted energy that won over fans instantly. Hailing from the Oklahoma City area, Kirra, has rebounded after a turbulent 2018 and remain a band to keep an eye on in 2019. Current members include Daxton Page, Ryne McNeill, Zach Stafford, and Gabriel Parson.
On this evening, bands moved quickly and efficiently between sets as the tour prepped for a quick departure from St. Pete for a show in South Carolina the next night. The alternative rock band Lullwater from Georgia took the stage as the venue neared capacity. Clean vocals and this 90s grunge, alternative vibe with a southern flair sound resonated throughout the venue as fans sang along.
The band released its debut, self-titled album in 2012, to solid reviews and were invited to join some of the biggest tours that same year. Lullwater has spent the majority of their career on the road sharing the stage with such acts as Candlebox, Theory of a Deadman, Flyleaf, Passafire, Amaranthe, and Butcher Babies. The band released their critically acclaimed sophomore album, Revival, in 2015, followed by a live EP, The Seattle Sessions, in 2017.
Lullwater is John Strickland (Rhythm Guitar/Lead Vocals), Daniel Binnie (Lead Guitar), Roy 'Ray' Beatty (Bass/Vocals), and Joseph Wilson (Drums & Vocals).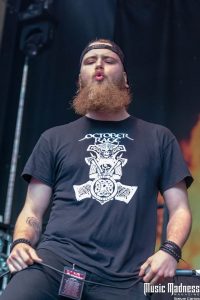 Daylight had passed and the night was just heating up as Cane Hill was next to the stage. Formed in 2011, the New Orleans natives include vocalist Elijah Witt, guitarist James Barnett, bass guitarist Ryan Henriquez, and percussionist Devin Clark. In 2015, the band signed to Rise Records, releasing their debut EP, Cane Hill. The band's sophomore studio album Too Far Gone was released in January 2018 through Rise Records. It is their most successful album, topping Billboard's Heatseekers Chart.
Time for the Tremonti Project and the guitar wizard himself Mark Tremonti. Tremonti is a heavy metal band founded and fronted by lead vocalist and guitarist Mark Tremonti, best known as the lead guitarist of the bands Creed and Alter Bridge. For those unfamiliar with the band can expect a full on guitar assault that can render onlookers awestruck and Tremonti makes it look so easy as he flashes that smile…like yea that just happened. Tuesday night was vintage Tremonti as they unleashed their dueling guitars on a 9-song set that included fan favorites "You Waste Your Time", "Flying Monkeys" and "A Dying Machine".
The band is currently touring to promote their forth studio album and first concept album, A Dying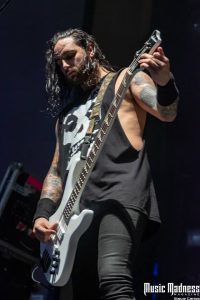 Machine, which was released in June via Napalm Records. Michael "Elvis" Baskette produced the LP. A Dying Machine is accompanied by a full-length novel written by Mark Tremonti and John Shirley. The album's first radio single, "Take You With Me", peaked at number 32 on the US Billboard Mainstream Rock Songs.
The Tremonti Project is Mark Tremonti (Vocals/Guitar), Eric Friedman (Backing Vocals/Guitar), Tanner Keegan (Bass) and Ryan Bennett (Drums).
AC/DC's "Shoot To Thrill" blasted throughout the venue as fans eagerly awaited the evenings headlining act, Sevendust. Lights on the staged dimmed as band members Lajon Witherspoon (lead vocals), Clint Lowery (guitar), Morgan Rose (drums), John Connolly (guitar), and Vince Hornsby (bass) made their way to the stage. The crowd erupted as the band broke into "Black" off the band's self-titled album Sevendust that was released in 1997. LJ and the boys ripped through a 13-song set that included two encores to end the night.
If you are looking for a night of kick-ass rock n' roll, this is tour to catch.
Photos and review by Steve Carlos