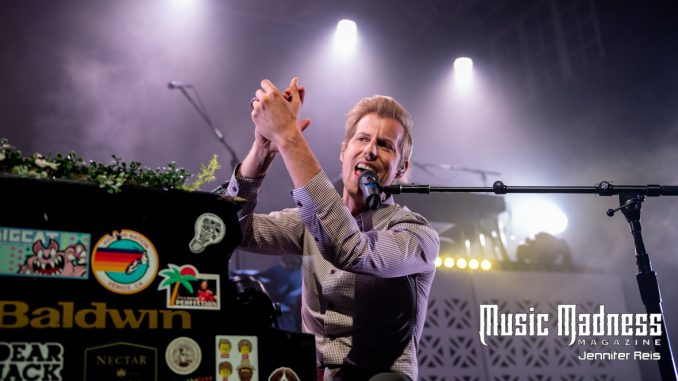 The weather was a beautiful 80 degrees in Orlando on Thursday February 7th, a perfect day for a pool party with Andrew McMahon and his Upside Down Flowers Tour. Joining McMahon on his adventure were flor and Grizfolk. The tour coincides with the release of his third full length album Upside Down Flowers via Fantasy Records. The 36 city tour also includes stops in Phoenix, Austin, Nashville, New York, Chicago, Seattle, Los Angeles and San Diego.
The evenings opening acts were Grizfolk, the Sweden-to-L.A. five piece band who is making a steady comeback with two new singles this year and the Oregon-based flor followed with an endearing set of their signature evergreen sounds.
Prior to the release McMahon's new record he announced, "Welcome to the land of Upside Down Flowers. We don't live here because it's easy, we live here because it's beautiful," the singer wrote. "When I close my eyes and think about these songs I see the faces of the people I wrote them for." The Upside Down Flowers album is the follow up to his 2017 Zombies on Broadway which featured Top 5 alternative singles "Fire Escape" and "So Close" and the subsequent Zombies in America Tour, their sold-out headlining U.S. tour.
The show featured a very elaborate stage setup with white sheets saying the pool was closed and no peeing, flowers, a pool umbrella, and a brick wall which hid stairs to the risers for the keyboard and upper platform. At the beginning of the evening the water temperature was tested with a duckie thermometer, the pool scooped with a net, and had some cold beverages.
The crowd looked on in anticipation as the entire venue could hear McMahon singing but he was no where in sight. We all soon learned he was behind the white fence on the piano when the box lit up with white light. The fence preceded to open has he wheeled out his piano on to the stage as the crowd went wild.
McMahon delivered an enticing 24-song set that included the Cher cover "Believe" and a heavy dose of fan participation. Giant flower-shaped lights were passed through the crowd to add to the outdoor summertime feel, and Andrew McMahon's lit-up logo shone from above like the sun.
Check Andrew McMahon out at:
https://www.facebook.com/andrewmcmahonmusic
https://twitter.com/andrewmcmahon
https://www.instagram.com/amnthewilderness/
http://www.dearjackfoundation.org/
Photos and review by Jennifer Reis