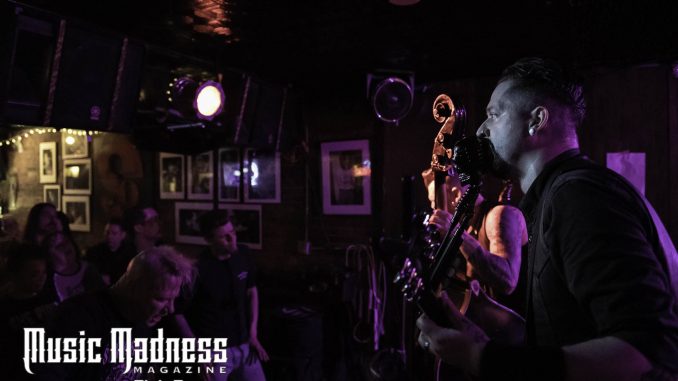 Go Kat Go Productions recently brought Montreal's Gutter Demons to New Haven Connecticut's Café 9. Widely known as the premier Canadian psycho-billy band, this wildly energetic band is in the midst of a US tour through the end of February and their shows are not to be missed!
2001 is the year that this unholy trio was spawned. They've un-mistakenly been influenced by the likes of the great Sun Records rockabilly acts of the 50's, the punk attitude of the Misfits, and the hard driving take no prisoners demeanor of Motörhead. They have shared the stage with bands such as The Misfits, The Reverend Horton Heat, Vibrators, and more. They have also headlined international festivals in the US, Spain, and the UK so they are no strangers to playing for big crowds. They are presently touring in support of their late 2018 release, Stomp Record's "No God, No Ghost, No Saints". They have released five studio albums and one live release and all of them are in your face, combining compelling musical hooks and lyrics telling of life's trials and tribulations with a dark twist.
While across town, pop sensations Walk The Moon were playing to a festive, clean cut, and happy go lucky crowd, the Gutter Demons were playing to a crowd of leather clad, rough and tumble rockers who were looking for a hard driving maniacal sound and they certainly found it in the Gutter Demons. Their cross between rockabilly and metal turned the venue into a sweat-laden frenzy with a small-scale mosh pit breaking out from time to time. The band responded with increased energy as they sang into their sinister skull shaped microphones as the bodies in front of them whirled uncontrollably. It is not often one sees a band cover both Motörhead and Buddy Holly in the same evening. The latter being a few verses of Ollie Vee, a tribute to the late great rock pioneer on the anniversary weekend of Holly's death in a horrific plane crash.
The Gutter Demons sound like something from another world and they are a sight to behold on stage. Gutter Flipper attacks his stand-up bass with a vengeance while the other half of the rhythm section, R-1 pounds his stripped-down rockabilly drum kid with furious abandon. Rounding out the trio is singer / guitarist ToxiK whose guttural vocals were on par with his fevered thrashing of his flying V guitar. Gutter and ToxiK were constantly playing off one another and trading off the spotlight while R-1 remained the glue holding the trio rooted to the ground rather than flying off into the cold New England night. If / when you see these guys play, fair warning, you will become a fan of their unbridled energy and musical genius.
Facebook https://www.facebook.com/thegutterdemons/
Instagram @gutterdemonsofficial
Photos and Review by Rich Russo