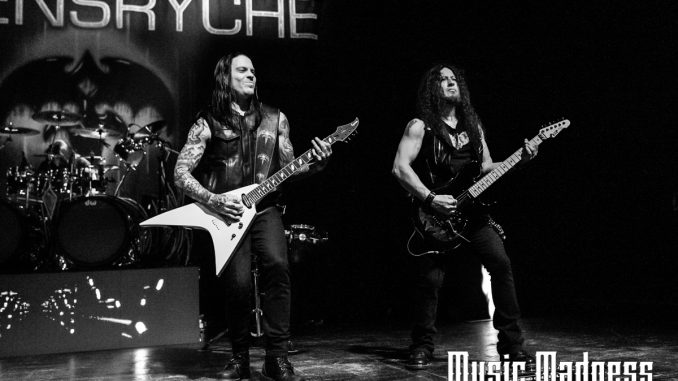 Queensrÿche has embarked on The Verdict World Tour with the opening night at the sold out Plaza Live in Orlando, FL, the day after the band released their new album, The Verdict, via Century Media Records. This is the first album since Condition Hüman in 2015 and the third album since splitting with the band's original lead singer. The band recorded the new tunes with Zeuss (Rob Zombie, Hatebreed, Iced Earth) at Uberbeatz, Planet-Z, and Watershed Studio. Joining Queensrÿche on the road during this 24-city run is Fates Warning with The Cringe joining both bands on select dates.
"I'm extremely proud of what we were able to accomplish on this record," states Queensrÿche vocalist Todd La Torre about "The Verdict". "The relentless dedication and hard work of everyone involved has been very rewarding. I am excited and looking forward to it no longer just belonging to us, but belonging to the world. We hope you all enjoy listening to it as much as we enjoyed making it!"
Michael "Whip" Wilton (guitar) adds, "The Verdict is the most metal and the most progressive record we have made in a long time. I couldn't possibly be more excited for everyone to hear this."
Like many in attendance this was my first time seeing the band live with Florida native Todd La Torre on vocals and he certainly did not disappoint. His range, power and control was as good as if not perhaps better than original lead singer Geoff Tate who's signature sound filled my younger years. The band played mostly songs from their most recent records with a sprinkling of their classic fan favorites. It was pleasant to see that La Torre has put his own twist on these Queensrÿche classics and made them his own. The band was tight and one could sense their enthusiasm and excitement to be on the stage sharing their latest body of work and reconnecting with new and old fans alike. A fitting close to an epic evening as the guys wrapped up an impressive performance with "Empire," one of my long time favorites.
Photos and review by Jennifer Reis
Queensrÿche Orlando Setlist
Blood of the Levant
I Am I
NM 156
Man the Machine
Condition Hüman
Queen of the Reich
Selfish Lives
Open Road
Light-Years
Eyes of a Strange
Silent Lucidity
Jet City Woman
Empire
Queensrÿche 2019 Tour Dates with Fates Warning:
March 2 – Orlando, FL – The Plaza Live (Tickets)
March 3 – Ft. Lauderdale, FL – Culture Room
March 5 – Atlanta, GA – Masquerade
March 7 – Baltimore, MA – Sound Stage
March 8 – Uncasville, CT – Mohegan Sun
March 9 – New York, NY- Irving Plaza
March 10 – Worcester, MA – Palladium
March 12 – Cincinnati, OH – Bogarts
March 13 – Detroit, MI – Diesel
March 14 – Chicago, IL – Concord
March 15 – Milwaukee, WI – The Rave
March 16 – Medina, MN – Medina Entertainment Center
March 17 – Davenport, IA – Rhythm City Casino Resort
March 20 – Dallas, TX – House of Blues
March 21 – Houston, TX – House of Blues
March 22 – San Antonio, TX – Aztec
March 23 – Albuquerque, NM – El Rey
March 26 – Tempe, AZ – The Marquee
March 27 – San Diego – Observatory
March 28 – Los Angeles, CA – Fonda (Tickets)
March 29 – San Francisco, CA – Slim's (Tickets)
March 30 – Sacramento, CA – Ace of Spades
April 2 – Portland, OR – Crystal Ballroom
April 3 – Seattle, WA – Neptune