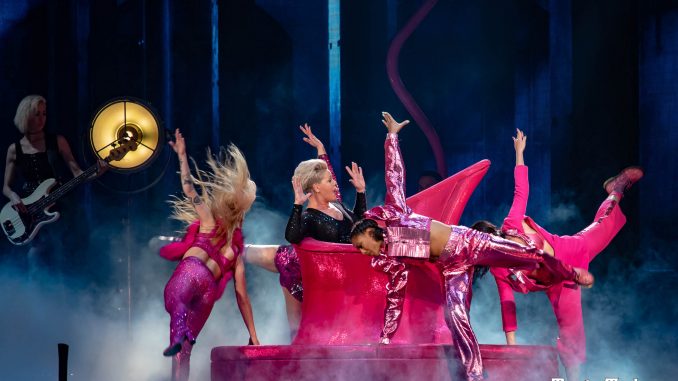 The Beautiful Trauma Tour landed in Tampa to the delight of a sold-out Amalie Arena on Sunday night. The tour originally kicked off in March of 2018 running all the way into October, and has returned for its second leg. If you happened to catch a glimpse of the Tampa sky Sunday evening, understand it wasn't a plane or even superman flying through air but one Alecia Moore, better known as P!NK to her adoring fans. The evening had a feeling of P!nk meets Cirque du Soleil as concertgoers looked on in awe as the international pop icon was found suspended in mid-air on numerous occasions.
As the sold-out crowd filed into the arena, the opening act Julia Michaels took the stage. Michaels has received Grammy nominations for best new artist and song of the year for her breakout hit "Issues." In January 2019, Michaels released her new EP Inner Monologue Part 1 that including songs featuring Selena Gomez and Niall Horan.
A hot-pink curtain concealing the elaborate stage setting dropped with P!NK swaying high above the stage from a chandelier as the pop star broke into "Get the Party Started", and set the tone for evening. Dancers filled the stage, as P!INK swung from left to right with the stage gleaming a visual euphoria.
The entire evening was a masterful production filled with finely executed choreographed numbers to Pink floating on a on four-poster bed as she bellowed out song after song with her powerful and unique voice.
A P!NK extravaganza is one that should not be missed if you are a fan inspiring performances.
Photos and review by Steve Carlos
P!NK Tampa Setlist
Get the Party Started
Beautiful Trauma
Just Like a Pill
Who Knew
Revenge
Funhouse / Just a Girl
Smells Like Teen Spirit (Nirvana cover)
Secrets
Try
Just Give Me a Reason
Walk Me Home
Just Like Fire
What About Us
For Now
Barbies
I Am Here
F**kin' Perfect
Raise Your Glass
Blow Me (One Last Kiss)
So What
Glitter in the Air