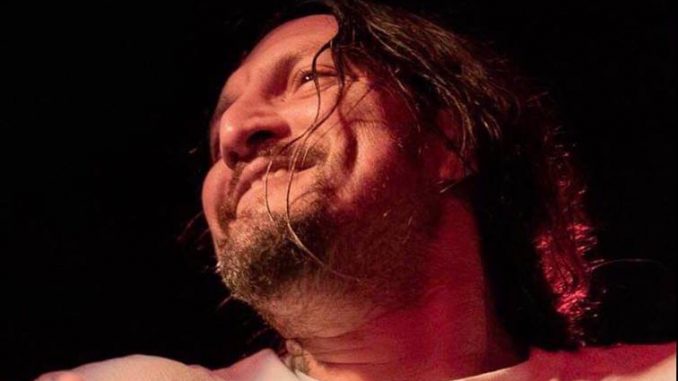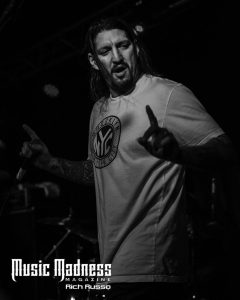 When it comes to putting on a hardcore show, New Haven, CT based Manic Presents can't be beat! It was a Sunday night at the Space Ballroom in the New Haven suburb of Hamden but the size of the crowd suggested it was a Friday or Saturday night. It's not often that the legendary hardcore band Madball plays in such an intimate setting so their loyal fans were not about to miss it.
Opening up the evening was local hardcore band, Cast in Blood. They have a pair of releases and are presently on the CT Hate Records label. Don't be surprised if these relative newcomers to the hardcore game take off as they were very well received by those who arrived early and a good many folks did indeed show up early for this epic show.
Following Cast In Blood was another Connecticut band, PaleHorse, not to be confused with the disbanded UK band of the same name. PaleHorse was formed in 2003 and while they took a hiatus and have seen their lineup change, the original core remained intact while the rhythm section changes brought in longtime friends and fans of the band to round out the lineup.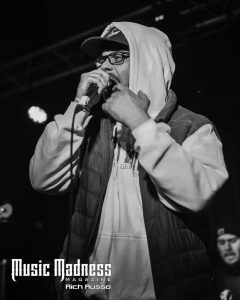 PaleHorse is a hard driving thrash metal band, which were influenced by a Connecticut heavyweight hardcore band, Hatebreed. They hit the stage with a non-stop fury that wowed the crowd. Their 2006 release, "Amongst the Flock" is out on Bridge Nine Records, which is home to many similar hard edge bands. As the band says, "they are on a mission and that mission will not be stopped" so be on the lookout for more appearances and perhaps a long awaited follow up to their first full-length release!
Next up was another member of the Bridge Nine stable, Death Before Dishonor (DBD). Formed in 2000, this Boston based band has 5 full length releases and has toured the globe. Their world conquest continues in March as they will be heading off to Europe with the Rebellion 8 Tour featuring the evening's headliners Madball along with Iron Reagan and Born From Pain. DBD had the mosh pit going in earnest, which, in this small club, was not for the faint of heart. When the pit broke out, the band responded and fueled its intensity with its heavy beats and razor sharp guitar riffs as well as lead singer Bryan Harris' guttural vocals. They proved that they are amongst the elite bands in the hardcore world and showed why they've shared the stage with the likes of Agnostic Front, Hatebreed, Sick of It All, and other heavy hitters.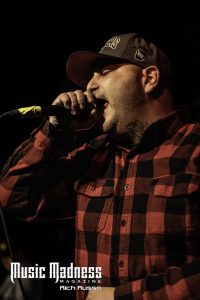 Finally, it was time for the band who everyone had come to see. Madball started their set with the power and determination to bring forth a show that would not be soon forgotten. Born on the streets of New York, Madball is the crowned prince of hardcore as they are the offspring of the king, Agnostic Front. Madball was originally formed when Agnostic Front singer Roger Miret would take over the bass and let his younger half-brother Freddy Cricien take over the vocals while Vinnie Stigma and Will Shepler rounded out the band. The lineup went through several changes over the years and continues with Cricien on vocals with long time bassist Jorge Guerra, Mike Justian on drums and Matt Henderson on guitar. The best words to describe Madball in concert in short are "HIGH ENERGY". Cricien traversed the stage non-stop in a sweat drenching frenzy. While the pit for Death Before Dishonor was not for the faint of heart, the whole front of the stage area was equally if not more treacherous during Madball. Not only did one have to be aware of the pit closing in on them from behind, they had to dodge the stage divers from the front. Mind you, all of this is not an unexpected by-product of a hardcore show, it's an integral part of one! If you've never seen a hardcore show, Madball is hard to beat as an introduction to this heart pounding, head banging, body slamming genre of rock & roll.
Review and Photos by Rich Russo
Manic Presents
https://www.manicpresents.com/