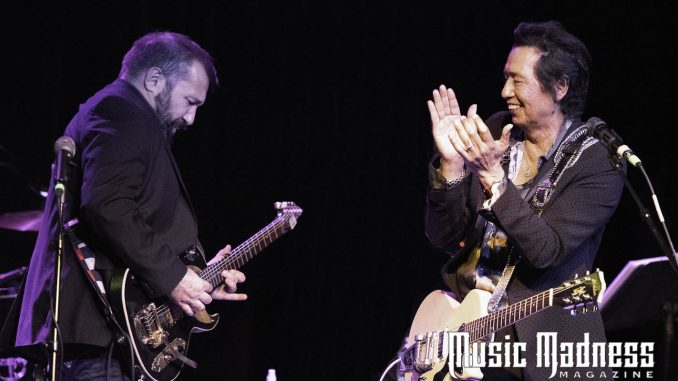 For those unfamiliar with the artist Alejandro Escovedo or his music, you are doing yourself a disservice. It was an intimate evening of music at the Fairfield Theater Company's Stage One in Fairfield, CT. The house was packed with both long time fans and newcomers to Escovedo's music and no one left the venue disappointed. A rousing standing ovation at the end of the evening was proof of that.
Kind reader, please allow a brief introduction to Escovedo for the uninformed. He was born in Texas in 1951 of Mexican immigrant parents. His family is quite musical as he has a pair of noted percussionist drummers, Coke and Pete, brother Mario fronted a hard rock band and brother Javier was in a punk rock band. He also has quite a famous niece who many know as Sheila E who followed the family's musical tradition. Alejandro has been touring the world since the late 70's and shows no signs of slowing down. He has released many studio and live albums and has been involved with a number of various artist releases. Escovedo's music has Mexican influences but not to the degree of the popular Mexi-Cal band, Los Lobos. His music is more like the greasy rocking sound of California's "Chicano rock" band, Tito And Tarantula.
Escovedo is presently on tour supporting his latest release, "The Crossing" which is a story of two immigrant youths, one from Italy and one from Mexico. It tells of their trials and tribulations in Texas as they search for what they define as the American dream. The album is a collaboration between Escovedo and his friend and musical compatriot, Antonio Gramentieri aka Don Antonio. Fittingly, Escovedo is touring with Don Antonio and his self-named band as both his supporting band and his backing band. To be fair to Don Antonio, these musicians are not merely a backing band, they are as integral to the music as Escovedo is.
As mentioned, Don Antonio opened the evening. The band is composed of a group of highly talented musicians from central Italy. The beauty of their music is they do not try to sound like an American band rather, they play music that one would classify as world music. It is heavily rooted in traditional Italian styles but they have also added dashes of music from various cultures. When one listens to them, the listener is transported to another land as if watching a documentary travel film. Their self-titled release, "Don Antonio" is available on Amazon and is certainly worth a listen! You can follow them on Facebook at https://www.facebook.com/DonAntonioOfficial/
After a brief intermission Dan Antonio took the stage with the man everyone came to see, Alejandro Escovedo. The set consisted of a good mix of old songs as well as new songs from "The Crossing". The music ranged from sweet and soulful to hard driving and they performed it all quite admirably. "Outlaw For You" gave some insight to Escovedo's influences and dislikes. With lyrics like "We love the Stooges but we hate U2" there is no doubt that mainstream music is not a favorite of Escovedo. The show stopper was the rocking song, "Castanets". While Don Antonio is not known for American rock, they proved that with Escovedo's guidance, they can play it with the best of them. Escovedo's vocals and Antonio's wailing guitar took the audience to the next level of entertainment. Escovedo encouraged the band members on a number of occasions which seemed to get them to play at a fevered intensity. The show ended with an inspiring cover of Neil Young's "Like a Hurricane" which had the crowd on its feet, singing along.
If you are not presently a fan of Alejandro Escovedo, once you see him perform live, you will no doubt become a fan once you do. His music is electrifying and will entice you to see him again and again.
You can follow Escovedo on the following platforms:
Website: http://www.alejandroescovedo.com/
Facebook: https://www.facebook.com/alejandroescovedo/
Instagram @alejandro_escovedo
Review and Photos by Rich Russo