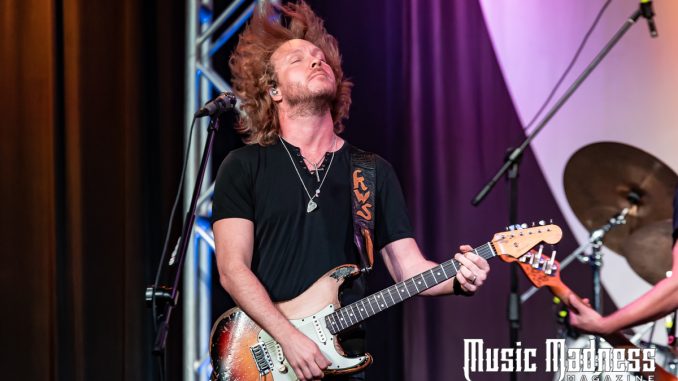 The Kenny Wayne Shepherd Band made its way down to Bonita Springs, FL to play for a blues hungry sold out crowd at the SWFL Event Center. As Kenny Wayne Shepherd, Noah Hunt, Chris Layton, Joe Krown and Scott Nelson took to the stage the crowd erupted and those sweet sounds began to fill the room.
Then the magic happened, with Kenny's hard driving riffs and Noah's powerful vocals. Chris kept everyone in perfect time as Scott rounded out the rhythm section with some sweet playing himself, as did Joe through his keyboard and Hammond B3.
As a photographer, it is so easy to get caught up with Kenny's playing. This guy is just so good and the expressions on his face drives you even harder to get that perfect picture.
Noah was also very fun to watch and listen to. His many hand gestures towards the crowd really brought them in and his voice blew them away.
The band is out still supporting "Lay It On Down" which was released just a little over a year ago. "Lay It On Down" is the eighth record by the Kenny Wayne Shepherd Band to debut at #1 on the Billboard Blues Chart.
For more information on the Kenny Wayne Shepherd Band, please visit their website at www.kennywayneshepherd.net.
The SWFL Event Center is truly a great place to catch a show. While large enough for 600, it still gives you that close up, intimate feeling with the artists. Just walking in through the main door you can't help but notice the details. Go check them out and catch a show!
For more information on the SWFL Event Center, please visit their website at www.swfleventcenter.com
Set List:
In 2 Deep
Kings Highway
The House Is Rockin'
(Stevie Ray Vaughan cover)
Heat of the Sun
Diamonds & Gold
Deja Voodoo
Shame, Shame, Shame
Baby Got Gone
You Done Lost Your Good Thing Now
(B.B. King cover)
I'm a King Bee
(Slim Harpo cover)
Encore:
Blue on Black
Voodoo Child (Slight Return)
(The Jimi Hendrix Experience cover)
Official Band Member Bios:
Kenny Wayne Shepherd (Guitar, vocals)
There are few artists whose names are synonymous with one instrument and how it's played in service to an entire genre.
Utter the phrase "young blues rock guitarist" within earshot of anyone with even a cursory knowledge of the modern musical vanguard and the first name they are most likely to respond with will be Kenny Wayne Shepherd. The Louisiana born axeman and songsmith has sold millions of albums while throwing singles into the Top 10, shining a light on the rich blues of the past and forging ahead with his own modern twist on a classic sound he has embodied since his teens.
In a 20-year recording career that began when he was just 16, Shepherd has established himself as an immensely popular recording artist, a consistently in-demand live act and an influential force in a worldwide resurgence of interest in the blues.
From television performances on The Tonight Show with Jay Leno, The Late Show with David Letterman, Jimmy Kimmel Live and Late Night with Jimmy Fallon (amongst others) to features in Rolling Stone, Vanity Fair, Maxim Magazine, Blender, Spin, USA Today and more, his musical career has been nothing short of phenomenal.
At 16 years old, he signed his first record deal and burst onto the national scene with the release of his 1995 debut album Ledbetter Heights, which produced the radio hits "Deja Voodoo," "Born with a Broken Heart" and "Shame, Shame, Shame." His relentless touring and success on rock radio helped to drive the album to Platinum sales status. His 1998 sophomore effort Trouble Is… also went Platinum, yielding such radio hits as "Blue on Black," "True Lies" and "Somehow, Somewhere, Someway." 1999's Live On spawned the radio hits "In 2 Deep", "Shotgun Blues" and "Last Goodbye."
2004's The Place You're In was a blistering rock record and was followed up by 2007's ambitious 10 Days Out: Blues from the Backroads, for which Shepherd and his band traveled throughout the American South to record with such vintage blues greats as B.B. King, Clarence "Gatemouth" Brown, Hubert Sumlin, Pinetop Perkins and David "Honeyboy" Edwards on their home turf. 2010 saw the release of Shepherd's long-awaited first live album, Live! In Chicago, recorded at Chicago's House of Blues during the all-star Legends tour and featuring guest appearances by such blues legends as Hubert Sumlin and Willie "Big Eyes" Smith. The live disc debuted at #1 on Billboard's Blues chart, as did 2011's How I Go.
In 2013, Shepherd further expanded his musical horizons by teaming with veteran rockers Stephen Stills and Barry Goldberg to form THE RIDES, whose first album Can't Get Enough helped to expand Shepherd's audience as well as his musical resume. 2014 saw the release of Goin' Home, Shepherd's sixth # 1 debut on the Billboard Blues charts. Goin' Home features several talented friends who shared Shepherd's enthusiasm for the project's back-to-basics ethos. Those guests include fellow guitar icons Joe Walsh, Warren Haynes, Keb' Mo' and Robert Randolph, longtime friend Ringo Starr, Fabulous Thunderbirds frontman Kim Wilson, the Rebirth Brass Band and co-producer Blade's father, Pastor Brady Blade Sr., who lends a bracing dose of preaching to Shepherd's version of Bo Diddley's' "You Can't Judge a Book by the Cover." In the months since its release, Shepherd and his band have toured the world extensively blazing a fresh trail for the historical American art form in the 21st Century.
Noah Hunt (Vocals)
A native of Cincinnati Ohio, Noah has a deep past as a musician, songwriter and vocalist. Noah's musical journey began at the age of four when he started taking piano lessons and sang in church choir. While in college, he formed a very popular Cincinnati based band Uncle Six and recorded four albums. It was in 1998 that Noah was tapped to be the lead singer for the KWSBand, where his signature vocals have been an integral part of the band's success for the past sixteen years.
Chris Layton (drums)
Originally, from Corpus Christi, TX, Chris moved to Austin Texas in 1975, and three years later joined the newly formed Stevie Ray Vaughan & Double Trouble. Following the tragic death of Stevie, Chris and bassist Tommy Shannon joined Charlie Sexton and Doyle Bramhall II and formed the Arc Angels. Several years later Chris and Tommy formed another Austin based band Storyville. Arguably, the best shuffle drummer in the business, Chris "Whipper" Layton has been a part of the KWS family since he joined Kenny in the studio to record Ledbetter Heights. Since then Chris has played on Trouble Is, Live On, the 10 Days Out: Blues from the Backroads documentary, Live In Chicago and now How I Go. Chris began touring with the KWSBand in 2006.
Joe Krown (keyboard)
Joe Krown is a resident and based in the city of New Orleans. He is a New Orleans styled piano and Hammond B-3 player. Joe has played the New Orleans Jazz and Heritage Festival every year since 2001 and the French Quarter Festival every year since 1998. He has been nominated twice and won a 2000 New Orleans Big Easy Award in the Blues category. His trio with Johnny Sansone & John Fohl won a 2004 New Orleans Big Easy Award in the Blues category.
Joe held the keyboard chair with Clarence "Gatemouth" Brown & Gate's Express from 1992 until Gatemouth's passing in the fall of 2005. Joe is featured on the chart topping albums The Man (1993), Gate Swings (1997), American Music, Texas Style (1999) and Back to Bogalusa (2001) CDs and Clarence "Gatemouth" Brown – In Concert: Ohne Filter (2003) DVD. Joe is also featured in Gatemouth's band on Carlos Santana's Carlos Santana Presents Blues at Montreux 2004 (2006) DVD.
In June 2017, Joe joined the Kenny Wayne Shepherd Band as the full time piano/organ player. The Kenny Wayne Shepherd Band has been nominated five times for a Grammy Award, has received two Billboard Music Awards, two Blues Music Awards and two Orville H. Gibson Awards. The band has had three platinum (1 million sold) selling CDs and one gold (500,000 sold) selling CD. The Kenny Wayne Shepherd Band is a headline act on the modern blues scene, has made appearances on late night TV and been an opening act for major acts like Van Halen, Bob Dylan, Aerosmith and Lynyrd Skynyrd.
Scott Nelson (Bass)
A Minnesota native transplanted to Austin, TX, Scott Nelson has worked with a who's who in the blues and blues/rock genres. From Kenny Wayne Shepherd to Gary Clark, Jr., from Pinetop Perkons to Hubert Sumlin, Scott has toured, gigged and recorded with the elite in the blues. During his four years touring and recording with Kenny Wayne Shepherd, Scott played bass on Kenny's Live! In Chicago and How I Go records. He also recorded on both Gary Clark, Jr.'s self-titled EP and his Warner Bros, release, Blak and Blu. Additionally, Scott played on Is It News by Doyle Bramhall Sr. as well as David Grissom's How It Feels To Fly and 10,000 Feet. He has toured with Gary Clark Jr., Doyle Bramhall Sr., Doyle Bramhall II, Lou Ann Barton, Jimmie Vaughan, Pinetop Perkins, Hubert Sumlin and Eric Johnson among others. Kenny Wayne welcomed him back to the band this year for a yearlong worldwide tour.
Review and Photos by Brian Kreuser