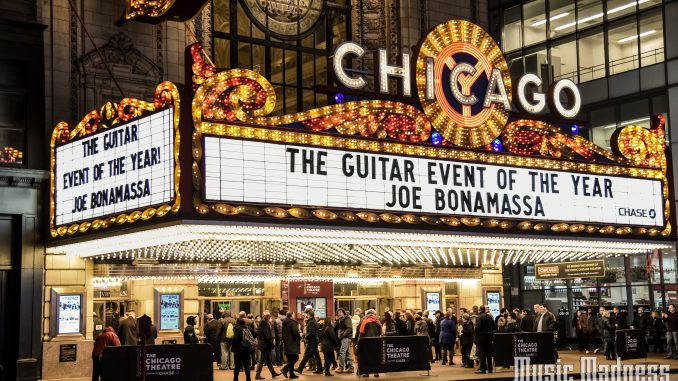 A few days after his headlining the Keeping the Blues Alive at Sea, Joe Bonamassa hit the road running, getting back to his 2019 Spring tour with hardly enough time to catch his breath. Last night his four tour buses rolled into Chicago for two nights of Blues at the Windy City's majestic Chicago Theater. It seems Joe enjoys playing there as well since it has been his venue of choice for over a decade, playing there for the first time in 2007.
Bonamassa continues to promote Redemption, his thirteenth studio album that was released on September 21, 2018 through J&R Records. He continues to announce additional dates across the East Coast and Midwest. This leg of his tour will kick off July 22 at Nashville's trademark staple Ryman Auditorium and ends with two nights at the legendary Red Rocks Amphitheatre. Bonamassa will also perform at the historic Bethel Woods Center, site of the original Woodstock Festival, as part of their ongoing 50th-anniversary celebration.
Backing Joe Bonamassa on the first of the two performances on Friday night were Michael Rhodes on bass, Reese Wynans on keys, Anton Fig on Drums. Brass support was provided by Lee Thornburg on trumpet and Paulie Cerra on saxophone. Jade McRae and Juanita Tippins provided backup vocals.
Besides being an accomplished guitarist, considered by many as one of the best, Bonamassa is also an avid guitar collector and he believes that these classic instruments need to be played – and play them he does, changing instruments throughout the entire evening.
Joe Bonamassa opened with a cover of Muddy Waters' "Tiger in your Tank". His setlist included two hours of classic blues covers by the likes of Albert King "I Get Evil" and John Mayal and the Bluesbreakers "Little Girl" as only Joe could perform them.
Connect with Joe Bonamassa:
Website: jbonamassa.com
Facebook: @JoeBonamassa
Instagram: joebonamassa
Twitter: jbonamassa
YouTube: JoeBonamassaTV
Review and Photos by Roman Sobus