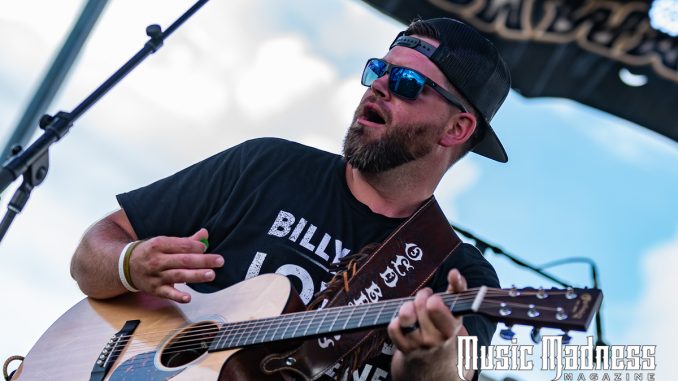 It was a warm but breezy afternoon at Laishley Park in Punta Gorda, FL as Edgewater Events kicked off it's first ever Blackwater Country Jam. With two stages set up and dozens of food and craft vendors fulfilling your every need for the day.
Hitting the stage at 5:00pm was the Indiana born and Central Florida raised JB Crocket with some great musicians backing him up. The crowd was really getting into it!! JB spent much of his youth listening to his family play in a church worship band but he had his sights more on racing dirt bikes and playing sports. Unfortunately his dirt bike racing career ended after an accident on the track.
In addition to JB, the band is comprised of Sam Bright, Robbie Vanosdol, John Goff, and Ian Eicher. JB is currently in the studio laying down vocals on their next single called "Hate Love" that should be out around Thanksgiving.
During his time at the University of Florida his interest in music picked up. One of his Frat brothers let him borrow their acoustic guitar. He eventually purchased his own guitar and dove head first into practicing. It wasn't until he and his roommate played an open mic night that his interest really peaked. After a few open mic nights he was completely hooked and he's been going hard at it ever since.
In January 2016, JB released his first self‐written debut EP, with the album charting in the top 50. In June of this year he released "Dirt In This Town" which is quite the toe tapping song. JB has had the opportunity to play with Tracey Lawrence, Easton Corbin, Frankie Ballard, Chase Bryant, Old Dominion, Big SMO, Dylan Scott, and most recently, Kane Brown. He can now add the likes of Jerrod Niemann, Runaway June, Jacob Bryant and Meghan Patrick to that list.
Be sure to check out JB Crockett at a festival near you.
Connect with JB Crockett:
Facebook: JBCrockettMusic
Instagram: jbcrockettmusic
Twitter: jbcrockettmusic
Be sure to keep an eye out on Edgewater Events in SWFL. They've got more great events like the Big Orange Music Festival and the legendary Funk Fest Punta Gorda will be turning 10 years old on February 15th and 16th of 2019.
Photos and Review by: Brian K. Kreuser