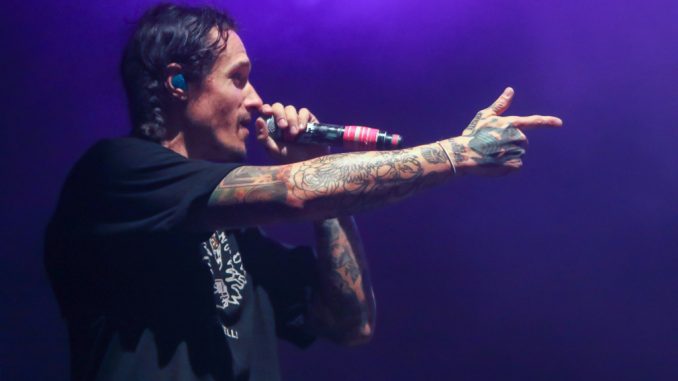 Hollywood Undead's North American Tour made a stop at Jannus Live in St Pete, FL with special guest the Butcher Babies.
The show had originally been slated to take place at the State Theatre, however, construction delays at the State have temporarily shrunk the venue's capacity. Prior to the show the members of Hollywood Undead dropped into Daddy Kool Records for a quick fan meet and greet. The Butcher Babies treated 15 fans to a tour bus pizza party with the band. It is always impressive to see bands staying involved with their fan base.
The sounds of metal meets punk infused with some thrash emerged from the stage as the Butcher Babies lead by Heidi Shepherd and Carla Harvey turned up the heat and penetrated the St. Pete night. The band delivered a captivating 11 song set which included several tracks from their new album 'Lilith'. At one point Heidi emerged from the stage to ignite the crowd to circle pit around the performer as she fueled their excitement enticing them as she frantically waved her arm in a circular motion.
L.A. based rap-metal band Hollywood Undead took the stage wielding the bands traditional masks as they opened with "Whatever It Takes". The band delivered a high octane set from start to finish as band members seamlessly transitioned between verses as fans echoed along. Fan favorites "Undead", "Everywhere I Go" and "Hear Me Now" were a part of a 16 song set. Included in the set was an acoustic tribute of "Mary Janes Last Dance," honoring the late Tom Petty.