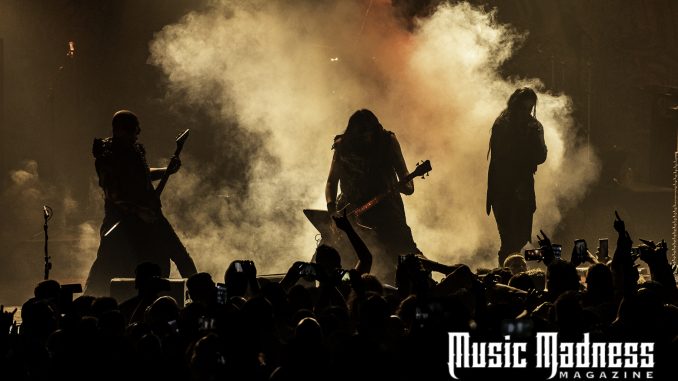 At the Northwest end of Times Square in New York City sits the PlayStation Theater. Recently it was packed with male, female, young and old metal fans, clad mostly in black outfits who gathered to see one of the biggest names in alternative metal to come out of Europe. Everyone was treated to a night that most will not soon forget. All were gathered to see the great Dimmu Borgir!
Named after a lava formed landscape in Iceland, Dimmu Borgir was founded in Norway in 1993 by lead singer Shagrath and bandmates Silenoz and Tjoldav. Shortly after, they added Brynjard Tristan and Stian Aarstad and the band was rounded out. They released their EP titled "Inn I Evighetens Morke" in 1994, which quickly sold out in a matter of a couple of weeks. Later that year they followed that up with their debut LP "For All Trid" which made the world of black metal music sit up and take notice. In their history, they've released 10 studio albums along with a live release, 2017's "Forces of the Northern Night"
After an eight-year studio hiatus, their latest studio album, "Eonian" was released in the spring of 2018, which brought Dimmu Borgir out on the road to support their release. The band gave North America only four opportunities to see them perform on this tour with the New York show being the last before they head off to perform in Russia in September. Before the year ends, they will crisscross the planet from Australia to Asia to South America then ending the year in Europe. If you missed these shows, make sure you don't miss any future tours that land close to you.
The visual aspect of their show in NY was nothing short of captivating. Streams of light cutting through clouds of theatrical smoke surrounded the band. Clad in cloaked capes and adorned with white and black face paint, Dimmu Borgir took on a sinister aura as the band members stalked the stage menacingly. The aural aspect of the show was equally spectacular. Treated to a mix of old and new compositions, the crowd roared at the start of each song. From show opener "The Unveiling" until the end of their set "The Mourning Palace", the audience was treated to a powerful performance of symphonic black metal.
Symphonic black metal might sound like an odd combination of music styles used to describe any band but to the uninitiated, it fits Dimmu Borgir like a glove. One can hear influences of Czech composer Antonin Dvorak and German composer Richard Wagner in their music. There are soaring classical orchestral movements followed by the thunderous sounds of a metal band that is a force to be reckoned with. They unleash these sounds together on their audience like no other has or will which is why they are a band not to be missed in concert!
You can follow Dimmu Borgir online at the following locations:
Official Band Website https://www.dimmu-borgir.com/
Instagram
The Band – @dimmuborgir
Shagrath – @shagrathofficial
Silenoz – @dimmusilenoz
Facebook https://www.facebook.com/dimmuborgir/
Twitter https://twitter.com/dimmuborgir
Setlist for Aug 25, 2018 at PlayStation Theater NY, NY
The Unveiling
Interdimensional Summit
The Chosen Legacy
The Serpentine Offering
Gateways
Dimmu Borgir
Puritania
IndoctriNation
Council of Wolves and Snakes
Archaic Correspondence
Progenies of the Great Apocalypse
Mourning Palace
Review and Photos by Rich Russo