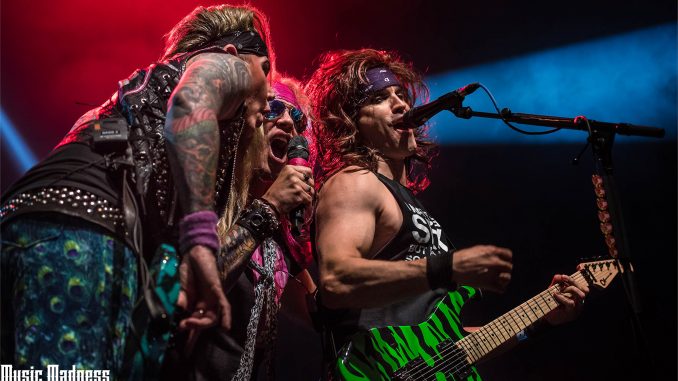 Raunchy. Rowdy. Rock n' roll! Those are just a few words to describe what Steel Panther had in store for concert-goers in St. Petersburg, FL, last week. Gates to Jannus Live opened up at 7:00 PM and a rather exotic crowd rushed in to snag a spot on the barricade. Bright neon shirts and tight leather pants with various animal prints had the venue looking like an all-out 'Back to the 80's' themed party.
Although no opening band was listed online or on the event's Facebook page, a band called Beerwolf took stage around 8:00 PM to provide a little foreplay entertainment. The Tampa locals played until around 8:45, giving them a decently long set for an opening slot. Beerwolf gave off a stoner metal vibe that was a laidback start to the evening, but had the crowd raising metal horns in the air by the end of their set.
A brief set change gave everyone a chance to refill their beers and absorb their surroundings before the real party started. A massive storm cloud lingered in the distance and emitted an occasional flash of lightning, leaving everyone to hope it didn't roll in.
Diehard "Fanthers" lining the barricades and sporting big hair wigs to match Satchel (guitarist) and Lexxi Foxx (bassist) oozed with excitement and anticipation when Steel Panther made their grand entrance to "Eyes of a Panther" at 9:00. It didn't take long for the quartet to have girls eagerly taking their shirts off and exposing "the goods." It also wasn't long before the signature comedy and profane humor let loose, as Satchel entertained the crowd with a story about a girl that had been following the band around for a while. He joked about the aftermath proclaiming, "Her pussy must look like Britney Spears' and her farts smell like Steel Panther for 3 weeks!" before shifting into a song titled "Poontang Boomerang" off their latest album 'Lower the Bar'.
Steel Panther formed in 2000 under the name 'Metal Shop' (and later, 'Metal Skool') and started gaining traction on the Sunset Strip in Hollywood, CA, as a cover band playing hair metal hits. Naturally, the Sunset Strip Live tour reflects on those days, with their set mixing in covers of Van Halen, Bon Jovi, Def Leppard and more with a healthy dose of original songs and an abundance of their trademark comedy.
Following a cover of The Kinks' "You Really Got Me," vocalist Michael Starr walked off stage leaving a smug Lexxi Foxx standing on the sidelines looking unimpressed while he admired himself in a mirror adorned with a portrait of himself. Satchel was equally unimpressed, hollering after Michael, "You can't just leave us to be a 3-piece cover band that can only play Rush!" The two plus drummer Stix Zadinia started into a snippet of Rush, but it quickly morphed into the unmistakable intro of "Crazy Train." Michael Starr shuffled his way back on stage with his hair slicked behind his ears, taking on the persona of Ozzy Osbourne himself. The mumbled lyrics and slurred words only solidified the impeccable impersonation.
Unfortunately, the cloud that had been looming in the distance ended up overhead about halfway through Steel Panther's set, unleashing a typical torrential Florida summer downpour on the crowd. The timing was somewhat ironic, as Satchel had just ripped into a guitar solo, flaunting the use of his new and semi-controversially titled "Pussy Melter" guitar pedal. While some show-goers huddled under narrow overhangs and a single tree in the center of the venue, many others weren't afraid to get 'a little wet'…
Even a huge crack of lightning nearby didn't interrupt this rain or shine show, instead making it all the more fun when Starr invited any girl that wanted to come up and take shelter on stage. It seemed like nothing short of a miracle that the band was able to concentrate during a cover of Bon Jovi's "Livin' on a Prayer" and Def Leppard's "Pour Some Sugar On Me" with the women on stage grinding against them and pulling the guys in to motorboat their exposed chests.
After the rain let up and the ladies were escorted off stage, Satchel took an opportunity for an advertising plug about his new foot pedal. "We're selling my new Pussy Melter foot pedal… and the t-shirt… and the cereal." He added one more quick-witted anecdote as a testament to the product's power, "Justin Bieber walked into our rehearsal room. He accidentally stepped on the Pussy Melter and turned into a puddle." The crowd was in hysterics that only continued when they realized the joke was an apt prelude for "Death To All But Metal." An encore of "Party All Day (Fuck All Night)" brought the night to explosive end (…or maybe it was just the beginning for some). Show-goers left feeling obviously pleased and even Satchel himself declared, "This is the best crowd in the last 3 days!"
The Sunset Strip Live tour started in Sturgis, SD, on August 8th and goes through October 28th, ending in Charlotte, NC. Although this probably isn't an experience to share with grandma, grab an easygoing friend and enjoy laughing the night away until your sides hurt… or your pussy melts.
Review and Photos by Lizzy Davis