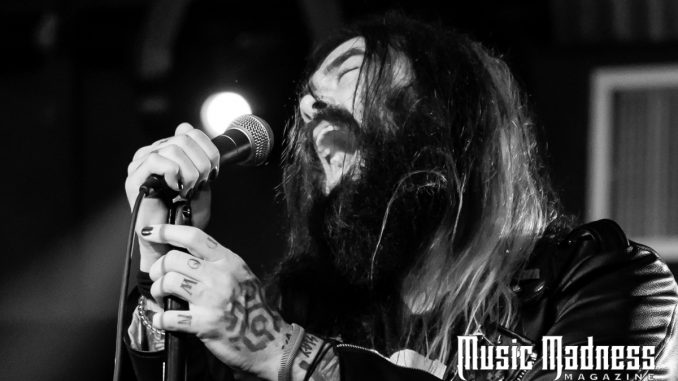 He Is Legend was the second band to open for Nonpoint at the Chaos and Earthquakes tour held at the Ranch Concert Hall & Saloon in Fort Myers, FL. Just like the first band of the evening, they also deserved to share some of the spotlight as well.
Led by lead singer Schuylar Croom, the Wilmington, NC based band came out onto the stage and proceeded to put on one sweet rockin' show. Croom moved nonstop about the stage, his vocals were incredible. On a side note as we were getting our gear ready at one of the tables, there was this tall guy with long hair and a pretty cool leather jacket sitting at a nearby table. Yeah, I was too preoccupied at the time to realize it was Schuylar, oh well…maybe next time.
The rest of the members of He Is Legend, Adam Tanbouz on guitar, Denis Desloge on rhythm Guitar, Matt Williams on bass and Jesse Shelley on drums, were equally up for the task. This is one tight group of musicians that had no issue creating a great sound.
The bands roots go back to the late 90's around Wilmington while they were still in high school. They played under the names of Stronghold, No One Wins, and The Uriah Omen. They adopted the He Is Legend name in 2003, which is an adaptation of the book I Am Legend by Richard Matheson.
Through the years, the band has gone through some changes with members coming and going that included a brief hiatus. In 2004, the band released the 91025 EP as well as the I Am Hollywood album, followed by the Black Unicorn Split EP and the Suck Out The Poison album in 2006. It Hates You was released in 2009, which was followed by Heavy Fruit in in 2014. In 2017, they released the album Few which came in at 170 on the Billboard 200.
Do yourself a favor, if you see He Is Legend is coming to your town go check them out.
Set List:
Dicephalous
Seduction
Primarily
Dungeon
Jordan
Mushroom
Nasty
1
Widow
Fangs
Hollywood
Connect with He Is Legend:
https://www.instagram.com/heislegendnc/
Current Band Members:
Schuylar Croom ‐ Vocals Instagram/Twitter: @crucialdude
Adam Tanbouz ‐ Guitar Instagram: @tanbouzriff
Matty Williams ‐ Bass Instagram/Twitter: @mattydoom
Jesse Shelley ‐ Drums Instagram: @jesseshelley2
Photos and Review by Brian Kreuser