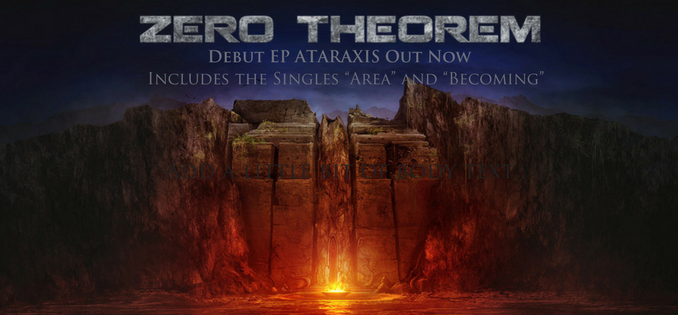 Zero Theorem's debut EP, Ataraxis will be released on May 4th, 2018 through Tunecore on Shim Sham, LLC. The EP was produced by Kane Churko (Papa Roach, Five Finger Death Punch, In This Moment) at The Hideout Recording Studios in Las Vegas, NV.
Zero Theorem has opened for bands such as Doyle, Hed PE, Art of Dying, and Motograter, among others. Since late 2017 their single "Area" has climbed the Active Rock radio charts and has jumped into the Top 35.
Music Madness Magazine caught up with the band's vocalist Caesar to get his take on the band's early success and their upcoming EP release.
Music Madness: So these are exciting times for you. Congrats, on the success of the "Area" single and the upcoming EP release.
Caesar: Thanks. Yeah, it's coming up, May 4th it'll be out.
Music Madness: Tell us about the upcoming album. What is your favorite track on it?
Caesar: We've been putting it together for a little while now, and we just finished the last track not even a month ago. We're pretty excited about it and feel like if people have heard "Area" and they like it, they're gonna enjoy the rest of the record. We do start to creatively go in a few different directions. We have a track that's led by keys, we have a high-octane track, and we have a slow building track. Yeah, it's an exciting time.
I would say that the last track we just finished happens to be my favorite right now. Just cause it's really fast and ends the EP on kind of a high note, it's called "Low".
Music Madness: Sweet, so that will be one for everyone to check out. Tell us about Zero Theorem. How you guys came about and what the vision was from the onset.
Caesar: Sure. Joe and I, Joe is actually my cousin and we grew up together. We started sending digital files back and forth a little while ago. I was living in Chicago, he was in Los Angeles and we started to build some songs, tracks, and momentum that way. When I realized that we had something, I moved out to Los Angeles and we put the rest of the band together in the last year or so. The current amalgamation is with Max, Jake, and Eloy, with Joe taking more of a behind-the-scenes approach.
And yeah, things have started to snowball, especially this year with getting on Rock Radio and the debut EP release.
Music Madness: It's crazy how fast things can happen.
Caesar: Yeah, definitely. Definitely.
Music Madness: How would you describe the band's sound to someone that had not heard any of your tracks yet?
Caesar: I think the goal in the beginning was to combine the hard rock of bands like Soundgarden and Alice in Chains with more of groove and thrash metal stuff. You know, Pantera, Metallica, that kind of a thing. Then just kind of throw in cinematic elements, electronic elements, industrial elements, progressive, experimental, you know, whatever we can. That was the basic start of what we thought would be a great sound.
Music Madness: Right on. So you mentioned influences, which bands/musicians had an influence on you? What song/band did you hear and go, I wanna be a rockstar?
Caesar: Yeah, I mean, really, it's all the heavy stuff. I mean, I needed some balls behind it. So anything rock or metal wise from you know classic rock to metal and the 60s, 70s, 80s with Sabbath and Zeppelin and of course, Metallica and bands like Priest and all that. Heading into the 90s with Soundgarden and stuff like that and part of that movement. And from really just plain old rock and roll to the heaviest, you know black metal. I can draw inspiration from all of it.
Music Madness: There has been some talk about releasing or having an update on a tour sometime in April. Are we any closer to that?
Caesar: Yeah, we're getting closer to it. It should be soon, very soon. We're in talks right now about getting a southwestern tour together. So it's an exciting time, and we're gonna build off that and hopefully get out by you.
Music Madness: If you could design a dream tour for Zero Theorem, what would the bill look like?
Caesar: Oh, man. Yeah, I mean, I would definitely include Metallica and Pantera, which are far off pipe dreams. Sabbath, which now is literally impossible cause I love them. And like I said, Soundgarden unfortunately, that time has passed. And Alice and Chains, man, all of the bands I kind of spoke about. Maybe throw a Nine Inch Nails in there, and a Tool.
Music Madness: Yeah, I love seeing that Tool has been touring some.
Caesar: We would play at 8 AM if we opened for them. That would be amazing!
Music Madness: So do you guys have a favorite cover that you love playing when you are performing?
Caesar: You know that is something we have talked about and we're actually working on right now. We're going through a couple of them. So I don't wanna let you know yet, but I'll have an answer soon.
Music Madness: Oh, awesome. I thinks that is a cool element. I've seen the Dead and they broke out with an encore of the Clash. So anything is possible.
Caesar: Very cool, yeah. See, there you go. I like that kind of stuff.
Music Madness: Look at Bad Wolves; they just did the Cranberries "Zombie" song.
Caesar: Right, yeah. So something you might not expect or whatever and it ends up sounding great. I like when people change it up, you know. Instead of just kind of playing what it is, they make some changes and update it a little bit it and always sounds better.
Music Madness: I guess people underestimate the power of metal. Shit look at Disturbed remaking the "Sound of Silence" a few years ago. It was crazy.
Caesar: Yeah, that song is an amazing track. In fact, (Kane) Churko who we worked with had a hand in both the "Zombie" and "Sound of Silence" tracks. They did phenomenal work and both those bands are great. You could hear how transformative and just amazing that those tracks ended up.
Music Madness: I remember being at a festival with 60,000 metalheads and they are all singing the "Sound of Silence" and it was just crazy.
Caesar: Yeah, not at a metal concert. It's big, it's epic, and it sounds great. I mean, you can't really deny it.
Music Madness: Favorite female lead metal/rock band out there right now.
Caesar: Well, there is a tour right now I believe that I saw that was all female fronted bands. I think it was Halestorm, In This Moment, Stitched Up Heart, and New Year's Day. Rock and metal fans should start there; all four of those bands are really solid.
Music Madness: The new release is set for May 4. The single "Area" came out at the end of last year and has had a solid response.
Caesar: Yeah, we did. We got up to 35, which is pretty awesome considering we've never made it on a rock chart or anything like that before, so it was cool.
Music Madness: What part of the process; writing, producing, or touring do you enjoy the most. I am sure it is not the marketing part of it.
Caesar: No. No, you got that right. Yeah, I didn't realize, I was kinda naïve maybe to all that as we probably all are when we start out in a band or in the music industry. I just like writing the music and playing it but it turns into a whole lot more. Those definitely are my favorite parts in writing and playing and it's really not even close to anything else. Creating and then sharing it with others and seeing how it can affect people is the best in my opinion.
Music Madness: It has to be an amazing feeling seeing people singing your lyrics back at you.
Caesar: Yeah, definitely. Definitely! It's a whole new kind of a thing when you see that happening.
Music Madness: I am looking forward to getting you guys down here in Florida. Thanks for your time Caesar.
Caesar: Sounds great man. We look forward to it.
Connect with Zero Theorem:
Official Website: http://www.zerotheoremband.com
Facebook: https://www.facebook.com/zerotheoremband
Twitter: www.twitter.com/ztheoremband
Instagram: www.instagram.com/zerotheoremband
Youtube: https://www.youtube.com/watch?v=IqyQgeKcv68
Interview by Steve Carlos