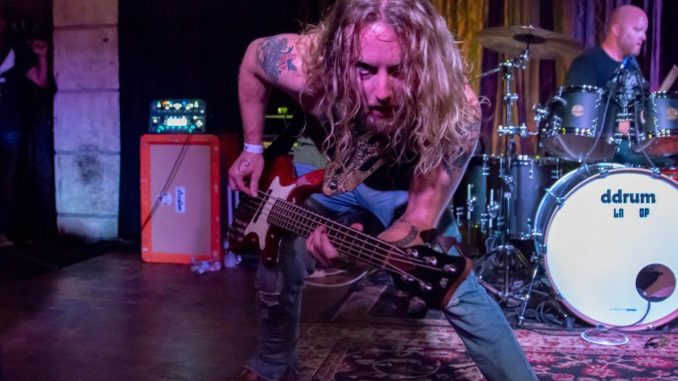 Hailing from Palestine, Texas, frontman Matt James, drummer Nathan Gillis, bass player Matt Curtis (Catt Murtis) and guitarists Ryan Kiefer and Chuck Wepfer form the powerhouse band Blacktop Mojo. Whiskey drinking and wrestling alligators shows off these Texans softer side but get them on that stage and all bets are off as they bring an in your face intensity that will leave you needing more.
The band's unique sound can be found somewhere between post-grunge, classic rock, and maybe some Texas red dirt metal. Founded in 2012, the band released their debut album, I Am, in 2014, followed by their sophomore album in 2017 Burn The Ships. The album was released via Cuhmon Records, produced by Jimmy Johnson, and engineered by Steve Melton. Burn The Ships was recorded at Sound Emporium Studios in Nashville, TN, FAME Studios in Muscle Shoals, AL, and Audioworx Studios in Palestine, TX.
The bands hard work has paid off as Blacktop Mojo has had the good fortune of opening for bands such as Bon Jovi, Sammy Hagar, Candlebox, Shaman's Harvest, Pop Evil, Puddle of Mudd, and Drowning Pool to name a few.
Music Madness had the opportunity to track the band through Florida making stops in Orlando at the Sound Bar with friends Shaman's Harvest, a 96 KRock sponsored show in Cape Coral, a free show in Sarasota at the Sky Bar before wrapping up in Tampa at the Crowbar thanks to 98 Rock. Each stop brought a larger crowd and the band seemed to turn up the intensity to match the crowd's excitement. The guys were easily accessible during the shows as they were extremely gracious to fans, taking photos and getting to know them. They were often seen catching some of the opening bands sets and cheering them on. It was easy to see why fans were quickly drawn to boys of Mojo.
About halfway through their set in Tampa, Matt and Catt (Matt) made their way to the center of the floor, had everyone sit and circle them like a good old-fashion bonfire and preceded to play an acoustic version of Phil Collins' "In the air tonight" that brought down the house as well as put the frontman' s range on display.
While in Florida Ryan and Chuck joined the Dean Guitars family. While Nate joined the Ddrum family with his new satin black Dios kit.
Music Madness caught up with frontman Matt James outside the Crowbar in Ybor City to see how the band had weathered their first Florida tour.
Music Madness: So you recently had the opportunity to play four shows in Florida. Was it the first time Blacktop Mojo played in Florida? How was that experience?
Matt: Yes. Yes, it was awesome, man. We started out on a high note. We played in Orlando with our buddies from Shaman's Harvest. We checked out downtown Orlando that is a pretty interesting place, man. It seems like a cool place to hang out.
Music Madness: Did you get to do any sightseeing or anything fun?
Matt: We got this house, it had a pool and a hot tub and we didn't leave that for three days. 'Til I was a raisin.
Music Madness: Very nice. How were the shows?
Matt: Yeah, audiences in Florida, come out to party, man. It was a cool experience.
Music Madness: I warned you about that.
Matt: You did, you did.
Music Madness: The bands sophomore album came out and it is doing well. What has been the biggest difference between the first album, I Am and second album, Burn The Ships?
Matt: Definitely, a growth in the audience. It has gotten out there a lot more than the first one did. Thanks to our awesome people, Tom George of course, our management, everybody. We actually got to tour off this record. We didn't get to really do that on the first one. Then the recording process itself, we really had no idea what the hell we were doing on the first record. We had never been in a studio before, so that was in itself a learning experience that we took into the second one and were able to utilize all the knowledge that we gathered on the first one.
Music Madness: Very cool. What was the experience like recording the first record?
Matt: We did two weeks of what you might call pre-production with our producer getting in there and being like, "That sucks. You need to change this part, you know, and this, this and that." And, we did that for about two weeks then we recorded the whole album in a week.
Music Madness: That was fast. Similar process with Burn The Ships?
Matt: Then the second album, it was about six or eight months of recording demos, pre-production and ideas and all this. Then we went in for a week, recorded the bare bones at Sound Emporium in Nashville with Steve Milton and Jimmy Johnson. Took it back home with our normal producer and added all the little bits and pieces that we wanted in there. It took a lot longer to make that one.
Music Madness: Now you guys have started working on the third album, right?
Matt: We are, man. Pretty excited about it. We've played a couple of the songs live, testing them out. Hopefully the first single will be out in January and have the record out by middle-late spring.
Music Madness: That will be just in time for festival season. Was that set up by design?
Matt: No, I really didn't even think about it until just now when you said it. But, yeah. That'll be perfect. Oh absolutely, we will be touring and traveling.
Music Madness: How would you describe your sound to someone who had not heard any of Blacktop Mojo's music before?
Matt: We had a lady in Wisconsin we did interview that described our sound as 'Texas grunge.' So like … kind of the heavy Seattle sound, maybe from the 90s mixed with a little bit of Texas twang. Then everything in between, you know?
Music Madness: Last time we spoke, you guys were headed out west to play at Rockfest out in Wisconsin. How was that experience?
Matt: Yeah. Rockfest was amazing, man. The crowd was pumped, man. We played an earlier slot on Thursday of the first day. So everybody was kinda a little hungover, and everything, and a little scattered out. But by like the middle of our set, everybody was filtering in, in front of the stage and they were about 3000 people out there and they made a lot of noise, man. It was really cool.
Music Madness: That must have been badass. Did you stick around and watch any of the other bands?
Matt: Yeah. Yeah. We did. We got to stick all the way through. Incubus was the headliner for Thursday.
Music Madness: Did you have a favorite band on opening day of Rockfest? Anyone that blew you away that you were not expecting.
Matt: No, man. I'm a pretty big fan of everybody that played that day. I mean, Rise Against is always awesome to see. Seether, Nothing More… That was the first time I've seen Nothing More in concert. They blew me the hell away. I mean, they were phenomenal live.
Music Madness: How does it work being sponsored by a whiskey company? Do they just fill up the tour bus with cases of whiskey?
Matt: We are, Texas Silver Star Whiskey. I believe they shipped us a few cases and they were gone pretty fast. They always go quick. That is good whiskey, man.
Music Madness: Alright, so you had Rockfest, a bunch of touring, the current album is doing well and the band has some new stuff in the works. It has been an awesome year so far.
Matt: Mm-hmm (affirmative). We been having fun man.
Music Madness: That is half of it, man. You know, if you cannot have fun doing it, why the hell are you doing it.
Matt: Exactly. Hey, we ain't rich but we're free, man. Ain't nobody telling me when to wake up in the morning then they tell us when to wake up.
Music Madness: Your Aerosmith remake of, "Dream On" has received a ton of views. Why "Dream On"?
Matt: Yeah it did. It was kinda by chance, man. We were doing a lot of covers when we were writing our second album and just kinda putting them out there for the people that were listening to us at the time. They were like, "When are you guys gonna put out new music?" So we just decided to start doing covers for fun. One of our buddies came up and said, "You guys should do 'Dream On' by Aerosmith." And we said, "No, man. That's stupid."
But it actually sounded like a fun challenge. So we went in the studio for a couple days and learned the song, recorded it, just put it up, never really thought anything would happen with it. Then by the time we went to track our second record it was probably up to a million hits. And we were just kinda like, "Well, there's something here, man. We should probably add that on the album and run with it."
Music Madness: Dude, you gotta unique voice that gives a nice little twist to it.
Matt: Thank you.
Music Madness: One of the things I have heard from Blacktop Mojo fans was that enjoyed hearing your music then they saw your live show and they were fucking blown away. Talk to me about your live show. What takes people over the edge when they get the chance to see you live versus just hearing you online?
Matt: Yeah, man. I don't know, man. We really just like having fun on stage. We like keeping the energy high. We just like doing our thing. We like to treat the audience like they're our friends, man, cuz that's, that's how we came up playing, is in front of our friends and family. You know, it's, it's not different if there's 100 of them or 10 of them, you know what I mean? So it's a good time, you know. We've had a couple of people that followed us all the way from Orlando to Sarasota to Cape Coral, all the way around, so it's been pretty cool.
Music Madness: Absolutely. Those Music Madness assholes, they are fucking stalkers, dude. Especially Brian.
Matt: Yeah, right. You need a damn restraining order on that Brian guy (laughing).
Music Madness: We appreciate your time Matt and look forward to the next Florida run. Good luck bro!
Matt: Thanks man.
Check out Blacktop Mojo at:
https://www.facebook.com/BlacktopMojo/
https://www.instagram.com/blacktopmojo/
https://twitter.com/blacktopmojo/
https://www.youtube.com/channel/UCJtL1AIJ8bjqabmpsq_q1kg
Photos and Review by Steve Carlos, Jake Rage and Brian Kreuser