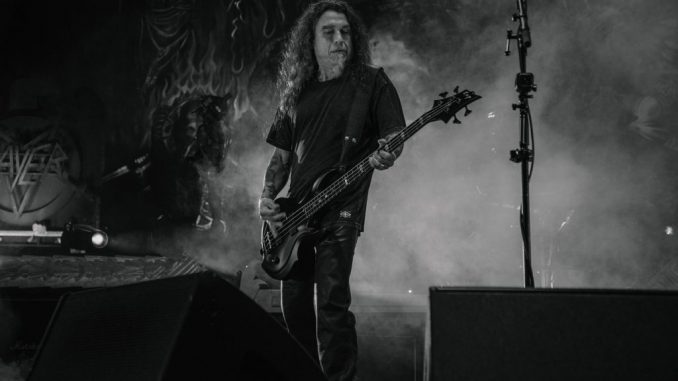 On January 22, 2018, Slayer announced that it would do one last concert tour around the globe to thank their fans for all of their support over the years, for making the last three-and-a-half decades so packed with good times and unforgettable experiences, and then move on. A second North American leg for this tour had been considered to take place at some point down the line, but within 48-hours of the initial January 26 ticket on sale date, that all changed.
Fast forward to August 16th as the Slayer Farewell Tour rolled into The Zoo Amphitheater in OKC as fans sold out the venue to pay homage to one of metals elite. Joining Slayer on the second leg of this Farewell World Tour was Lamb of God, Testament, Anthrax, and replacing Behemoth on this leg of the tour was Napalm Death.
With an imposing lineup such as this one it was not surprising that the intensity was dialed up from the first note of the evening and continued until the lights came on some six hours later. Fans only reprieve were those quick intermissions in-between sets as each band continued to crank up the heat as they took fans to the brink of insanity. Tenured metal fans looked on in awe as they understood that this may very well be the last time that they may see two of the "Big 4" take the stage together. Diehards believe it can only end once the "Big 4" take the stage together one last time which hasn't happened since Yankee Stadium in 2011.
The crowd erupted to the sound of "Delusions of Savior" and a pyro filled stage lit up behind a screen projecting Slayer imagery as Slayer took the stage to a thunderous roar as they acknowledged fans and broke into "Repentless". Slayer's high octane 19-song set included fan favorites such as "Raining Blood", "War Ensemble", "Black Magic", from 11 different albums. The final song of the evening "Angel of Death" came as no surprise but perfectly capped off a perfect evening of nothing but pure metal by some of the best ever.
Slayer's Set List @The Zoo Amp
Repentless
Blood Red
Disciple
Mandatory Suicide
Hate Worldwide
War Ensemble
Jihad
When the Stillness Comes
Postmortem
Black Magic
Payback
Seasons in the Abyss
Dittohead
Dead Skin Mask
Hell Awaits
South of Heaven
Raining Blood
Chemical Warfare
Angel of Death