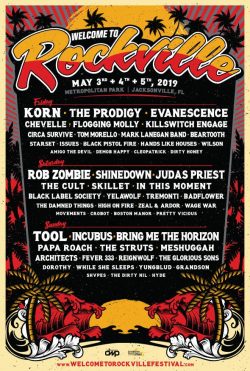 The Holiday Season is the time of year known for giving and that is no different among those that live and breathe their favorite shade of rock…METAL! The ROCK GODS give and the legions of metal fans take as one festival after another is announced, sending diehards into a frenzy of booking rooms, grabbing that first wave of ticket sales, and manipulating their work schedules before the newbies know what hit them.
Juggling the spring and summer festival schedule is serious business, as its every metal-head for themselves. Not sure which one or ones to attend? Not sure if you can afford to go? I might go?!?!? A seasoned festival-goer is direct; either you are in or you are out! I would love you to go but I have my shit on lock down and if you make it, awesome, if not enjoy the view from my social media posts.
The first Monday of December starts with a work Christmas party two-day hangover and the ninth annual Welcome To Rockville 2019 band announcement. Yes! Merry Christmas and Happy Holidays!
Monster Energy Welcome To Rockville tickets, VIP packages, as well as hotel and camping options go on sale December 7th (This Friday) at NOON at www.WelcomeToRockvilleFestival.com
So much more to come over the coming weeks so stay tuned!