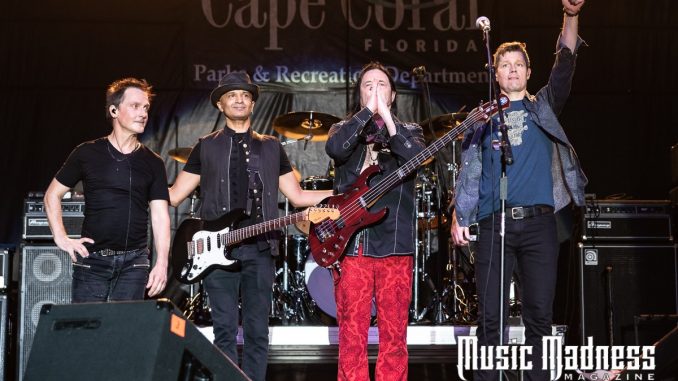 Back in England, he and keyboardist Andy Nye (from the Michael Schenker Group) formed The Passion, enlisting the services of drummer Clive Burr (Iron Maiden), bassist Mel Gabbitas and the ex-Mike Oldfield guitarist Ant Glynne. He was considered for a role in ELO Part II on guitar and vocals. Prior to joining Asia in 1991, John was chosen to replace Jeff Lynne as the lead vocalist of ELO, later to be named ELO Part II, but left because of protracted negotiations over the name.
John became the frontman of the supergroup ASIA in 1992 at the invitation of keyboardist Geoff Downes, replacing vocalist/bassist John Wetton. ASIA extensively toured the world for the next 14 years performing new classics and old favorites. With John Payne fronting the band, ASIA released 8 studio albums and several live recordings. In 2006, Geoff Downes left the band to reform the 1982 line up for their 25th anniversary.
In May of 2006, John Payne, Geoff Downes, John Wetton, Carl Palmer and Steve Howe contractually agreed that John Payne would continue his 14 year legacy with ASIA as "ASIA featuring John Payne". Asia featuring John Payne made its way to Cape Coral, FL to play to a very large crowd at the Cape Coral Coconut Festival thanks to the City of Cape Coral and Beasley Media Group Stations Sunny 106 and 96 K-Rock.
John worked the entire stage and gave the crowd a tremendous performance with some powerful vocals and the rest of the band sounded great as well. People were really getting into the music and dancing around. Be sure to catch Asia featuring John Payne when they come to your area!!
ASIA featuring John Payne Music:
Aqua, Aria, Arena, Anthology, Archiva, Aura, America: Live in the USA CD+DVD, Silent Nation, Military Man EP, Risen Sun (Live), Recollections CD+LP
Current Members:
John Payne (lead vocals, bass), Jeff Kollman (guitar), Moni Scaria (guitar), Johnny Fedevich (drums) and Jamie Hosmer (Keyboards)
Connect with Asia Featuring John Payne:
Facebook: Asia.featuring.John.Payne
Review and photos by Brian Kreuser