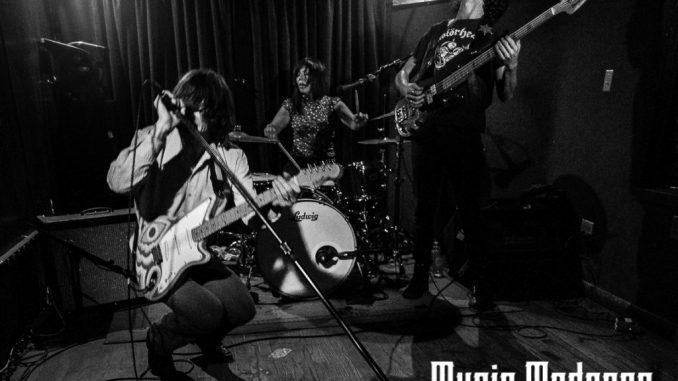 It was a dreary rainy election night in New Haven, CT but it was anything but dreary inside Café 9 because San Diego's Schizophonics had rolled into town. Their brand of psychedelic garage rock had the place rocking from start to finish. Imagine The Sonics, MC5, and Iggy & The Stooges wrapped into one and that is what New Haven witnessed.
Pat Beers met his now wife Lety in Arizona which began a force to be reckoned with. They started the Schizophonics in 2009 and along with several EPs, they have two full-length releases, 2013's self-titled and self-released Schizophonics and 2017's Land Of The Living on the Sympathy for the Record Industry label. The only steady members of the band at this point are Pat on vocals and guitar and Lety on drums. According to their Facebook page, the spot of bass is captained by "whichever great friend fills in on bass." The non-permanent bass player does not affect this band at all. Anyone who has seen them with different bass players know they are in for a great time no matter who is holding the beat with Lety!
The best way to describe Pat is to say he puts the Energizer Bunny to shame. From the very first note to the last, he is jumping, kneeling, whirling and laying on the stage or the floor in front of it. The front of the audience is not for the faint of heart. Pat frequently does split legged leaps over his monitor and lands amongst them to the delight of some and to the horror of the faint of heart. With his flying guitar neck and his backward tumbles onto the stage, the audience needs to pay attention as Pat is in a frenzied trance, almost unaware of the location of his audience. The band's set was mostly original tunes with a limited number of covers. They ended their set with a raucous medley of Jerry Lee Lewis' "Whole Lotta Shakin'" and Little Richard's "Jenny Jenny Jenny" which blew away those hearty worknight concertgoers who stuck around for the whole show.
Keep posted on their upcoming shows by following them on social media or their website because this is a band you have to see to believe!
https://www.facebook.com/TheSchizophonics
https://www.instagram.com/theschizophonics/
https://twitter.com/schizophonicssd
Review and photos by Rich Russo