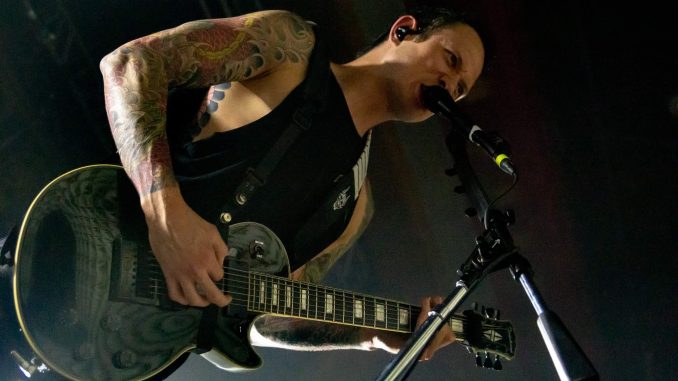 Trivium kicked off another round of The Sin and The Sentence Tour at The Ritz in Tampa, FL to a sold-out crowd. The eager crowd waited patiently for doors as the line formed early and proceeded to wrap around the building and along the train tracks in anticipation of a vintage metal experience.
This 25-show fall tour includes special guests Avatar and Light the Torch. Avatar joined the tour in support of their newest record, Avatar Country.
The metalcore band Trivium is Matt Heafy lead vocals and rhythm guitar, Corey Beaulieu lead guitar, Paolo Gregoletto bass, and Alex Bent drums. The band formed in 1999 continues to grow its fanbase through a high-octane live show experience that leaves fans wanting more. Crushing riffs and dueling guitar harmonies melting into the sound of those attacking drums seems to fuel the crowd as the
energy intensifies.
During the fourth song, "Into the Mouth of Hell We March" lead singer Matt Heafy briefly stopped the show as a brief scuttle broke out. The 18-song setlist included live debuts of "He Who Spawned the Furies" and "The Wretchedness Inside". The set concluded with a Black Sabbath classic "Heaven and Hell".
The melodic death metal band hailing from Sweden, Avatar and their theatrical circus themed live show greeted their die-hard fans as well as the new ones made by the end of their 8-song in your face set that included a bubble shower.
Opening act Light the Torch, featuring Howard Jones previously with Killswitch Engage, threw it into overdrive from the onset and that energy continued throughout the evening with each act.
This is a must see lineup for all!
Setlist Trivium
Betrayer
Throes of Perdition
Beyond Oblivion
Into the Mouth of Hell We March
Suffocating Sight
Sever the Hand
Until the World Goes Cold
He Who Spawned the Furies
The Wretchedness Inside
A Gunshot to the Head of Trepidation
The Sin and the Sentence
The Heart From Your Hate
Down From the Sky
Encore:
Strife
Pull Harder on the Strings of Your Martyr
Capsizing The Sea
In Waves
Heaven and Hell (Black Sabbath song)
Setlist Avatar
A Statue of the King
Hail the Apocalypse
Paint Me Red
Bloody Angel
The Eagle Has Landed
Torn Apart
The King Welcomes You to Avatar Country
Smells Like a Freakshow
Setlist Light the Torch
The Bitter End
Calm Before the Storm
The Safety of Disbelief
Consume the Damned
Die Alone
The God I Deserve (Live Debut)
The Way We Die
Photos and review by Steve Carlos