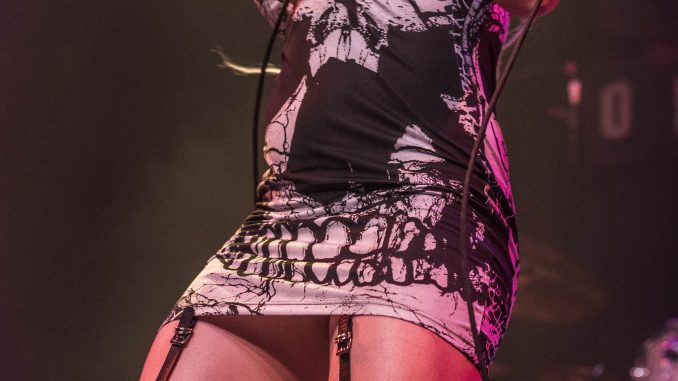 Last night I had the express privilege to attend and photograph ROCK PINK at the HOB-Orlando. I did not grow up in Florida so I know little about the local rock bands who call the state of Florida home. I really enjoy seeing national acts such as 5FDP, Avenge Sevenfold, Tool etc.; however, I have come to embrace the local bands that I have attended. Over the last year, I have become a huge fan of bands like Meka Nism, Copper Bones, GFM, and the list goes on and on. These people like myself have day jobs, families, and other responsibilities but take it upon themselves to continue to follow their dreams and in turn give us amazing music and performances.
If you are not familiar with ROCK PINK, it's a charity that works with musicians to further get the word out on breast cancer awareness. Last night's show was MC'd by none other than Supa Dave of WJRR. If you would like to know more about this worthy charity please click on WWW.ROCKPINK.COM
Mr. BELLA was the first band to take the stage to a packed house. What do you get when you mix three talented musicians and a cross fit trained, sexy, hardcore female vocalist? Mr. Bella of course. The band started in 2009 and has been gaining attention ever since. Band members Erinmarie Christian on vocals, Amir DaBiri-bass, Scott Vallina-guitar and Eric Justice-drums blasted through their set as the crowd soaked it in. As a photographer, I am always looking for movement, flow and energy in a band, and Mr. Bella did not disappoint. Trying to follow guitarist Scott Vallina was no easy task with a camera lens. Erinmarie's strong vocals and the bands performance were so good I quickly forgot they were the opening band with three more to follow.
The second band to hit the stage was TRAVERSER. Again not knowing a lot about the band, I started talking to fans in the crowd that had been following this talented band for years. I kept hearing the band TOOL mentioned as a comparison. I thought to myself that seemed pretentious. I was caught off guard as the band made their way to the stage and bathed in multiple colored lights and no spotlights. All that changed once they began to perform. The ambiance of colors matched their musical style. I know how hard these bands work so I hate saying a band sounds like another band. In their case, it is meant as a compliment, when I say their fans are correct and they could hold their own against the band TOOL. More than musicians, this band is an exercise in skill, method and technique. The band is made up of David Medairos (guitars vocals), David Shaw (drums), Jon Shaffer (guitars vocals), and Rick Garitta (bass). Saying you should see this band sounds funny since they seemed elusive bathed in colors of blue, red, green and yellow. Saying you need to hear this band is spot on.
The next band to take the stage was Megaphone. This talented band formed in late 2004 and is currently comprised of Matt Bloodwell (guitar/lead vocals), Paul Smith (lead guitar), Dave Traver (bass), and Scott Smith (drums). From the cheers it was obvious when the band walked on stage they had a large following in the crowd. Again, I hate to compare bands to other bands but in their case, again it is a compliment. Matt Bloodwell's vocals have the grit and punch of Josh Todd from Buckcherry mixed with the bands alternative/rock musical style similar to Blink 182. Their songs are fun and original, both hooking you in and making it impossible to stand still. The last song of their set was "I Am Not Your Enemy". There were definitely no enemies made this night. I have no doubt they not only made their longtime followers happy playing the crowd favorites, but created many new fans like myself. Put them on your must see list.
Not so Pretty
Freak
Upside Down
My Favorite New Disaster
If You Want It, You Can Have It
Gravitate
Now
What's Her Name
Not Your Enemy
SOCIAL GHOST was the final act of the evening. To be honest to me they looked like they just walked out of a frat party and walked on stage. It was obvious once they started playing, that they were not ordinary frat boys. The band is made up of Eric Van Lugo (Lead Vocals, Bass), N8 (Guitar, Vocals), Jeffrey Alan Wright (Drums). This is not a garage band and their style and talent are apparent. Once again, against my better judgment I want to make a comparison. I am a huge Coheed and Cambria fan and listening to Social Ghost I could hear their technique and vocal range, which is hauntingly similar. Again, I mean that as a complete compliment to this band. It is so obvious like the other bands; this band has made quite a name for itself and had fans in the crowd. They played the crowd favorites and the crowd responded enthusiastically. It must be the highest compliment for these bands to hear the crowd sing along with all of their songs. My suggestion is to find out where Social Ghost is playing next and grab a ticket. You will not be disappointed.
War Without a Gun
2. Never Get Back
3. Stars
4. Crazy After All
5. When the World Runs Dry
6. Something More
7. Tomorrow
Winding down I want to say a few things. Keep in mind this is a charity event and everyone is volunteering to help a cause. No one is being paid and everyone involved comes knowing that. Many of these bands could have walked through their set and the night but not these bands. These bands came and gave 150% to not only help a great cause but to give back to their fans who obviously love and support their music. I am not saying you should not go and see your favorite commercial and national bands but in the meantime don't forget your local bands. The shear talent of Florida's local bands always blows me away. Start following them and supporting them now so later you can say, I remember when…
Review and Photos by Jake Rage