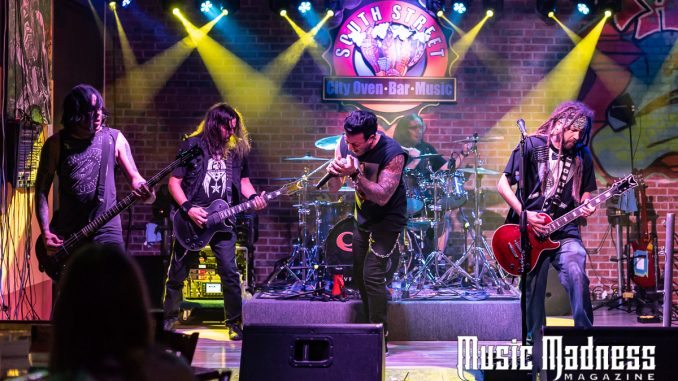 On September 13th, Eve To Adam began The ReAwakening Tour at South Street City Oven and Grill in Naples, FL. Eve To Adam is a modern hard rock band formed in New York City in 2001. They have released six albums and have had three songs reach the top 40 on Billboard's Mainstream and Active
Rock Chart and one song, 'Immortal', that broke the Top 15 at Active Rock in 2014 peaking at #13. One of the hardest working bands in the Hard Rock/Mainstream Metal Genre that is often referred to as the Rocky Balboa of Rock!
They have stepped up their game and they are out supporting their latest release ITHACA. It may sound somewhat familiar to fans because ITHACA is the original album that was recorded with Elvis Baskette and never released. Odyssey was the re‐mix album that was released first due to the label Rocktagon only being interested in releasing that version. They have since joined Curtain Call Records, which has given the band a little more freedom to progress in the way they want.
Eve To Adam currently consists of Taki Sassaris (Vocals/Founding member), Alex Sassaris (Drummer/Founding Member), Jeremiah Bennett (Lead Guitar/Backing Vocals), Jeff Raines (Drummer), Ilyn Nathaniel (Bass Guitar) and Jerry Morte (Guitar). As of August 24th, Jeremiah Bennet (lead guitar) and Ilyn Nathaniel (bass) joined the Dean Guitar family as they were presented with new axes to start off the tour.
See more dates at: www.bandsintown.com/a/33575?came_from=257
Connect with Eve To Adam at:
Facebook: @evetoadam
Instagram: officialevetoadam
Twitter: evetoadammusic
www.youtube.com/user/evetoadam
South Street City Oven and Grill is not your typical rock bar nor is it a large venue. What they are is a great place with some of the best food that allows you the opportunity to get up close and personal with your favorites. We love this place and plan to support them by keeping the coverage going because we love what they do! You can check out South Street on Facebook or visit them at:
www.southstreetnaples.com
Photos and Review by Brian Kreuser