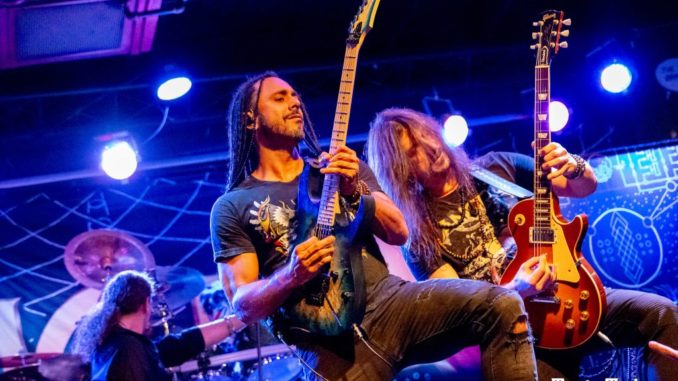 ANGRA, the Brazilian powerhouse metal band, continues to grow their fan base worldwide as they embark on a 32 show US and Canadian tour. The band formed back in 1991, released their ninth studio album earlier this year, Omni, a concept album that consists of a set of short stories that take place at various places in time. The album was released via earMUSIC and produced by Jens Borgren in Sweden.
The band has built a strong following throughout South America, Japan and Europe over the years with their unique blend of power rock, thrash metal infused with Brazilian and Latin music and for good measure a hint of classical music.
Stop 4 of 32 was at The Orpheum located in historic Ybor City (Tampa, FL). The lineup was unfortunately changed as one of the opening acts, Scarlet Aura, had run into visa issues causing the band to pull out. However, three local bands; Alpha Decay, Coda Cutlass, and Jetter stepped in and entertained the crowd with strong sets.
ANGRA took to the stage to the delight of the crowd and delivered an inspiring, powerful 16-song set that included both new and old songs alike. The crowd sang along and cheered the band on with the occasional shout out in Portuguese.
Music Madness had the opportunity to sit down with bassist and one of the bands founding members Felipe Andreoli to discuss ANGRA's new album, their first full US tour and the state of Brazilian metal. Check it out below:
Music Madness: First off, congrats on the release of the new album Omni earlier this year.
Felipe: Yeah, thank you.
Music Madness: It is the band's ninth studio album. How has it been received by the fans?
Felipe: We are happy with the response from fans all over the world. We always felt like we had a strong album. You can feel that, when you have it, but it's always a great sensation, when you put it out, and the response … It's up to what you expected, or even more. That was the case with this one. People were very pleased with the record.
It just goes to show that all the hard work, and the sweat we put in it was worth it. We were very inspired, in a very good mood. The relationship within the band was amazing, all the time. We made it so that the whole writing process, and the whole recording process would be as pleasant as possible. I think that translated into the music, and into the album.
Music Madness: Omni was a concept album. How does that differ from the previous eight studio albums?
Felipe: We always do, but this time, the concept of this album is not only self-contained, meaning that there is a story within the whole record that is told through 10 short stories that tell different stories, but it is connected to the same principle.
Also, we have elements from past records in this record, as well. We have elements from Temple of Shadows, from Rebirth, from Holy Land. The whole thing is based on the premise that, in a few years, we will be able to communicate with people from any era, via thought communication. That would give us a chance to give people insights of other eras, or what is the path to be taken; you're going to kill yourself, or even learn from the future.
In all of that, we talk about transcendence. We talk about past experiences. We talk about many things that are a concern to this theme, but it can be interpreted as separate stories, as well. That is what we tried to do.
Music Madness: Very cool. In addition to tying in previous albums, the band utilized outside musicians in songs like "Black Widow's Web". How did that come about?
Felipe: That song was actually created with Alissa (White-Gluz of Arch Enemy) in mind. We were at the 70000TONS OF METAL, two years ago, and Arch Enemy was playing, as well. We were watching the show, and just amazed at how great she is, as a performer, as a singer, and as an artist.
We immediately started wondering what it would be like to have her on a song on the record. Even without knowing if she would do it, or not, we just started writing the song, inspired by this idea. While we did that, Fabio, which is a friend of Alissa's, he was articulating with her this guest appearance. Fortunately, it worked out, and we have her on the record.
On the other hand, we have Sandy, which is a Brazilian singer, a huge pop, Brazilian singer, to represent a second side of the same character, which is the Black Widow. She is the more innocent-sounding, seductive part, and Alissa is the more 'I'm gonna get you …'
I think it worked out brilliantly. I think it's the biggest hit, if you can call it that, of this album. We released a very nice video clip for this song.
Music Madness: You had additional musicians on the album as well…
Felipe: We always do, especially on percussion, strings, guest singers for choirs, and stuff like that. We had three or four different percussionists on different songs, for different flavors. We have one guy from Bahia, which is native- actually, two of 'em, native. They have a sound that you cannot replicate. It's in their instruments. It's in their hands. It's in the way they walk, and the way they talk.
Music Madness: What is your favorite piece of music off the new album and which is your favorite to play live?
Felipe: I do have a few. My three favorite songs are "Magic Mirror", "Silence Inside", and "Black Widow's Web". Magic Mirror, live, is always amazing, and Black Widow's Web, as well. People really seem to like this one, in Brazil; we did a bunch of shows in Europe, as well. Every time we play this song, the house just goes down, you know.
Music Madness: Awesome. Now you bring that energy to the US and Canada on a 32 city tour. Tampa is the fourth stop of the tour, how has the reception been over the first few shows?
Felipe: It's funny, because, in 27 years, we never did a proper U.S. tour, so this is the first time. I'm loving it, so far. We started in Florida, which has a lot of Latin people, and Brazilians. I'm curious to see what's it gonna be like in other states that we've never been before.
We don't have information about our fan base in these places, so I'm looking forward to being there, and seeing what it's like. Then, of course, conquering new territory, and just new people. I think the U.S. is great, in a sense that, when people go to a show, and they like it, they spread the word about the band, which is something that doesn't happen that much, in Brazil.
Music Madness: Do you think that social media and music outlets have played a part in Angra's fan base continuing to grow after 27 years?
Felipe: Absolutely, yes, because we don't do much promotion for the U.S., at all. If people know us here, it's because they went, and searched for it, a friend recommended us to them, or they found it via related music that they were listening to.
This is actually a step in the direction of trying to be more present, and closer to the American music scene. It is something that we always wanted to do, and we didn't have the means to do, but maybe, now, as you said, because of social media, there is a door opening for us. We'll just take it.
Music Madness: Outstanding. With 27 years' worth of music, how do you determine what you play from show to show? Should we expect a good mix of old and new?
Felipe: Always, yes. Of course, we do a lot of the new material, but there's always room for the good oldies.
Music Madness: There you go. We are starting to see more and more Brazilian metal bands emerging, bands like Nervosa. How has the landscape changed over the years?
Felipe: We have always had great bands, but I think they got way, way more professional with the years; especially, like you said, the last 10 years. For our genre, it has been very tough, during this period, because power metal in Brazil used to be huge, in the start of the 2000s.
Then, it kind of had a low point for a while, but now that we are back, it's our second strong record in a row. This one, even stronger than before. I think we're paving the way for a return of power metal to Brazil and Latin America.
We see that in bands making a return, or new bands putting music out. Of course, if you talk about thrash metal, or death metal, Brazil was always strong. Nervosa, Torture Squad, Krisiun and, of course, Sepultura. It was always strong in Brazil, but power metal struggled for a little bit, and now, it is making a comeback, which is great.
Music Madness: I am always amazed when I watch videos of American bands in any of the South American countries, and they show the fans and they know every word of every song. They seem diehard about it.
Felipe: Yes. The crowds in Brazil, and Latin America, especially Brazil, might I add, they are very special. They are very warm. If you're a band, and you are used to playing in the U.S., or Europe, and you go to Brazil, you're going to be shocked, because it's just way, way different.
The reaction, and the warmth, and the way they interact with the band … Mosh pits, screaming; they're crazy, in a good way, sometimes. Yeah, it's a special experience. All my friends in American or European bands, when they go to Brazil, they never forget it, because it's just a special, special thing there.
Music Madness: I can only imagine. I would love to be able to experience a big festival atmosphere in Brazil.
Felipe: Like Rock in Rio, which is no longer an exclusive rock festival.
Music Madness: Exactly. Before we wrap up, what would you like fans to know about Angra?
Felipe: We are in what we feel is the best time we ever had. I think we are at the peak of our maturity, both personally, and musically. I think we are able, now, to deliver a very powerful show. I think we have enough history to have a very consistent, and varied set list. If you want to come to the show, I can assure you a good time. I just hope to see all these people on the road.
The band's current lineup consists of Rafael Bittencourt, Felipe Andreoli (bass), Fabio Lione (vocals), Marcelo Barbosa (guitar) and Bruno Valverde (drums).
Check out ANGRA at:
https://www.facebook.com/AngraOfficialPage/
https://twitter.com/angraofficial/
https://www.youtube.com/channel/UCs2d4-YjBHDwQn4tgwvDNRw
https://www.instagram.com/angraofficial/
Interview by Steve Carlos