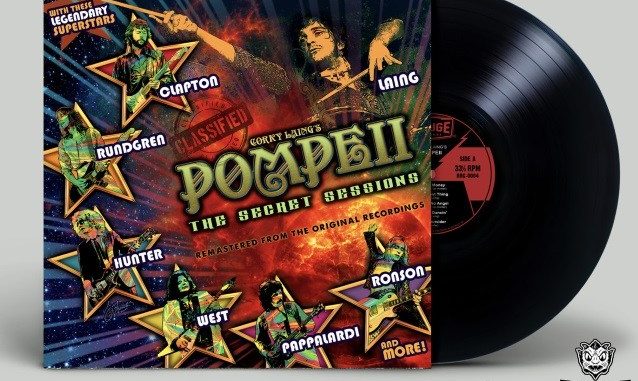 Corky Laing's POMPEII-"The Supergroup That Never Was" releases long lost album, 'The Secret Sessions' on record store day. The album featured Corky Laing (MOUNTAIN), Ian Hunter (MOTT THE HOOPLE), Mick Ronson (DAVID BOWIE / MOTT THE HOOPLE), and Felix Pappalardi (MOUNTAIN) with guest appearances by: Eric Clapton (CREAM), Leslie West (MOUNTAIN), Dickey Betts (ALLMAN BROTHERS), John Sebastian (THE LOVIN' SPOONFUL), and Todd Rundgren and more!
Music Madness had the opportunity to take a stroll down memory lane with the accomplished songwriter, singer, drummer, and producer Corky Laing.
Music Madness: Congrats and good luck with the upcoming release of the long lost album, "The Secret Sessions". Can you tell us how 'The Supergroup That Never Was' came about?
Corky Laing: I can capsulate it. Way back in the 70's, I had a record deal with Elektra/Asylum as a solo artist. I was never particularly crazy about it, 'cause I wasn't trying to be a solo artist. I just wanted to continue writing songs. I had about seven or eight years straight on the road which was pretty challenging. At that point, I made a record that they were very happy with, and it did all right. It didn't break out too hard, but then, the president of the company, Steve Wax said to me, and we were good friends, he said "Cork, I got an idea, why don't you try to put a supergroup together with Ian Hunter. I said, "Well, that's cool, Ian and I are friends, and all that." He said, "Yeah, I think it could be very cool."
I had a sense that they were going to drop me like a bad transmission because we were coming into the 80's, and I knew the punk thing was changing the whole paradigm in the music industry. So, I went along with it, and enter Bob Ezrin, a producer, who came in to quarterback it, and he brought in Lee Michaels, Andy Fraser from Free, Steve Hunter from Alice Cooper's band, and of course, Lou Reed. We had a great group of guys and we gathered at Briarcliff Manor in Westchester, NY in a studio to just bang it out. It was really cool. We never really got any songs done or recorded, we just jammed, and actually, it was quite good.
As things moved along over a period of I guess a month or two, you started to feel like there really wasn't going to be any morphing of a band. Bob Ezrin, he went east to produce Pink Floyd's "The Wall", and Andy Fraser went south to do his own thing. Lee Michaels went wherever Lee Michaels goes. It was one of those very strange kind of things. I was sort of sitting there with Ian Hunter in Chappaqua, NY going "Well, what do we do here?" Ian said, "I've got an idea. Let's go and ask Mick Ronson if he wants to come over from the UK." I went "I love Mick, but it's going to cost a lot of money and shit and Ian said, "Don't worry about the money", so I didn't. We added Felix Pappalardi to the rhythm section and we had the basic group together.
Ian and I were writing a great deal. We got Bobby Clearmountain. At the time, he was just green behind the ears, but he's a brilliant, brilliant guy. We went up to the Power Station and started putting down the tracks and then as things moved on we went up to Levon Helm's (The Band) place and John Sebastian came in to play some harmonica, and Todd Rundgren came in to do the vocals, he's brilliant. We had a whole group of guys around the microphone up at Levon's. You have to imagine this. You have this light bulb hanging from this barn, in this very dark barn with a microphone on the floor right in the middle, and just four or five of us around the mic doing backgrounds and harmonies. It was a blast.
Music Madness: Sounds like you guys were on your way.
Corky Laing: We sent that portion of that repertoire to Elektra/Asylum and they went "Yeah, we really love it. So, it was off to the King Biscuit Flower Hour (an American syndicated radio show presented by the D.I.R. Radio Network that featured concert performances by various rock artists. The program was broadcast on Sunday nights from 1973 until 2007, although new programming ceased in 1993).
About five years later, Steve Shipp, a friend of mine says, "Why don't we put that together with a couple of songs that you got from your solo album?" That had Dickey Betts, Eric Clapton. It had some real players on there and I said okay, so, we put some compilation of material together on this, we called it "The Secret Sessions" and really, nothing happened. It was just falling between the cracks. It went from King Biscuit to Gonzo Entertainment in England to somewhere else in England. Over the years, this thing kept bouncing around.
So fast-forward… Jason Hartless (tour drummer for Ted Nugent) who is really an amazing drummer was running this vinyl company and we got together. I was working with a couple of musicians in Toledo, Ohio, Chris Shutters and Mark Mikel. We started playing last Christmas in Detroit, Jason came down and he says "Maybe we can do a vinyl of Secret Sessions", he always loved that record. He had a copy of the CD and I said, "I'd love to do vinyl." Jason took it and says, "You know, I don't know how much we're going to do with this." I said, "No problem, it's almost like a courtesy. Get me a couple 100 vinyls and I'll be happy. It will bring back the sentimental journey of vinyl. I love vinyl.
I was honored that Jason wanted to do that on his label, Rouge. Now, Rouge is distributed through Jack White's label, Third Man Records. He has a warehouse and a whole set up in Detroit that does nothing but create vinyl, and distribute it. We decided on 200 copies for promotion just to keep it alive. As it turns out, there is this record store day where these onesie twosie stores (vinyl stores) celebrate a day where they put out what they consider some of the best vinyl. I was pleased to find out that Jason said they actually accepted the 'Secret Sessions', but we had to give it a name. Pompeii went as the name of the assembled on the record and that's what happened. I think it is a legitimate piece of repertoire.
There's a lot of sentimental musicians out there who like the oldsters. We are not counting on that. It's not classic rock, it's just rock, you know? What else could I say about it?
Music Madness: You are an accomplished songwriter, a singer, a drummer, a producer. Of all those talents, you have to have one that you enjoy more than the others.
Corky Laing: Well, I'll say no matter what, drums, you know. I mean, I was drumming since I had a heartbeat and again, I grew up in a big family, and I made as much noise as I could on bongos, whatever there was to tap, and nobody noticed, which was kind of a disappointing thing, 'cause I thought I was good. I would say drums, but I have always been conflicted, because I love writing. I wrote songs before I even started playing drums. My buddy George Gardos, who I was in my original band with, we'd sit around, you know, The Everly Brothers were out at the time and we'd sit around with our acoustic guitars. At that point, they were plastic strings and we would bang out these stupid, little corny teenage songs, but I loved it.
George and I, we just said why don't we make a band, so, we'll be able to play the songs, which we did. We locked in; again, really lucky that a friend of our keyboard player's brother was a singer in a band called The Happenings. He put us in touch with a publishing company and it turned out they would pay us like $50 every month for the songs we were writing. I don't know what the fuck happened to them, but you're 13 years old and you're getting paid $50 to write a song. It was big time. I was living in Montreal and we were getting paid money. That was big time. I love writing. I really love it and when you get a chance to write with recording artists like a Jack Bruce (Cream) come on; I don't have to do too much.
A lot of my writing are lyrics and I remember Jack (Bruce), who was an amazing pianist. We were together for 3.5 years doing West, Bruce and Laing, we'd go in the studio, he loved to jam, and he was a real professor of music. He would say "write some fucking lyrics, go!" And, he had this guy, Pete Brown who was writing his lyrics who was brilliant. Pete wrote "The Sunshine of your Love" and stuff like that. I mean, he had a brilliant lyricist. I had to really focus and get into it from a lyrical point of view, and most of the co-writes that I had in Mountain were lyrics. Mississippi Queen is mine. I was very lucky, because that lyric was written before Mountain. That was written in my local band when I played in Nantucket.
Music Madness: Who were your early influences either drummers or lyricists?
Keep in mind, in that era you had Dylan. On the other hand, you had Keith Moon. For me it was like, what do I do? I love Keith Moon. He made me want to be him and of course, Dylan set up this whole bar on lyrics going on, and I would never compare myself with both of them. However, that would be my biggest influence. You get caught in the middle. My job as a drummer was to make sound out of noise, like everybody says, the drums are so noisy. I say not when they're played right. When they're played right, they're sound, right? Lyrically, there is a tremendous amount of freedom and in those days, there was. I mean, everybody was writing very, very, very strange lyrics. I kept to storytelling. I was never into psychedelic writing. I have always liked storytelling and I've always had a fantasy. My fantasy when it was a real cold winter in Montreal was a hot, southern prostitute. That was the influence on "Mississippi Queen".
It was just a beautiful image of the south, of the sexiness, the grit. It had an image that stuck to me. So, it was never hard to write about sex. I think there is an unlimited amount of writing one can do about sex. Especially since most guys, I know wake up in the morning and the first thing they do is think about sex.
Music Madness: Agreed. Maybe that is why I moved from the northeast and live in the south now. With all those lyrics I heard growing up about southern women, I had to come found out for myself.
Corky Laing: Oh, there you go. Absolutely and you did. Good for you! You had to get out of town, that's for sure.
Music Madness: Would you say "Mississippi Queen", would be one of your proudest accomplishments or a defining moment in your career?
Corky Laing: Well, in terms of success, I would say yes. However, in terms of records, I mean, there's a record I did with Eric Schenkman (Spin Doctors) it was called The Speed of Thought, and Noel Redding (former Jimi Hendrix bassist) was on that. I think that's one of my favorite all around pieces of repertoire. I mean, it sold maybe three copies, but the point is that … Well, the people that heard it that I respect really loved it, and that was the idea.
I like to rock, and there are lyrics that do nothing but rock and Mississippi Queen is one of those. When I first wrote Mississippi Queen, it was a rap song and I had a couple of soul pills, if you get my drift. We were playing and this beautiful chick from Mississippi who was a girlfriend of an artist. She was really funky, going all nuts on the floor, real funky and all the lights and power on the island went out. The only light in the club was this emergency light shining on this stage or on the dance floor with this chick who was from Mississippi, and she had a see through knitted dress. I'm not going to fool you on that, but I just wanted to keep her dancing. I started hitting the cowbell as it insinuates that sexy Latin music beat, so I'm knocking on the cowbell with the snare drum, screaming at her. I am stoned out of my mind. "Hey, Mississippi", trying to get her attention, and I did. She turned at me and I said whatever I had to say, trying to pick her up while I'm playing. It didn't turn out all that well, because even though I flirted with her, and I was playing, and I was singing these lyrics, my friend, he got lucky, he took her home.
But then again, I got lucky and I rewrote the lyrics out, and I guess a year later, Leslie asks me "You have a lyric?" And, I pulled Mississippi Queen out. What I'm just getting at, it's just … It was fun, it was all natural. I'm proud to say I was playing the lyric to the rhythm, you know what I mean? So, that's all part of lyric writing. You want to make sure you phrase it properly. Anyway, that's lyric writing 101 for you.
Music Madness: At 70, what is next for Corky Laing?
Corky Laing: I wasn't planning on being here. But, what brought me to life was these two guys out of Toledo. So, I'm going there to write some more music. The three of us sat down and we said we've got to do something that really strikes people and knocks them over. They don't just listen to it, they get bolted over. And, the song is called Knock Me Over. It's one of my favorite pieces of material that I'm a part of. I think I'm just starting to get to it. I know this interview has to do with history, but really, this history is moving me well into the future. This whole band is jettisoning me and I love that. We're talking 50 years later. I started playing music with the Ink Spots when I was 12 years old, and that goes back to the 50's.
There was no rock and roll when I started. There was pop music and pop music was the sound you heard when you put milk in cereal. There was no rock; rock only came into being when there was a big backbeat. Elvis Presley put a backbeat to a couple things and that started it. Then, you had things like the Kinks coming in; you had never heard shit like that. The Stones were rock and The Beatles, but the Kinks kicked the drum set. All of a sudden, you heard that crack back snare and stuff. That was rock and you know what I know. Well, I've only known you for 10 minutes, you know what I know. There's no rock without a great drummer or, at least a drummer that knows how to rock. You don't have to be great to rock, but if you rock, you are automatically great. You know what I mean.
So, it's kind of fun, and I think that's where the potency is in rock is the drummer. We know that. Keith Moon's gone, there is no more Who, and I love the Who! We were all friends and all that, 'cause again, luck, when I grew up. When Mountain was over in England, we had the same management as The Who, used the same recording studios as the Stones and we all hung out. It was wonderful. I have to tell you, I could drop names, but fuck that. A lot of these guys were great. When you meet guys that are confident in what they play, it rubs off on you.
I have been very, very lucky to have these peers as friends, and musicians, and brothers in music. I'm very lucky. I use that four-letter word all the time. I'm still around, I do miss a lot of my brothers and sisters in music, and I pay tribute to them in the sets without getting too sentimental. It's important that there's some … We miss a lot of those guys, and I think the best way to pay tribute to them is just what you do, and with that in your heart, I think that's where the power comes from to play. The drums that I play, I don't mean to do it, but I have to hit hard, and I've been hitting life pretty hard. I'm not going to change anything, you know. I don't know how.
Music Madness: Is it true that Black Sabbath toured with Mountain?
Corky Laing: Yea Black Sabbath toured with Mountain. Nobody would book Black Sabbath back in the early 70's. They had a terrible name; they thought they were a cult thing. Felix, Leslie, and I said, well fuck it. Let's bring them and they will open our shows. They were really gratified by that, 'cause they knew no other band would take them out. They had come to America and they could not get a tour. The bands got tight and Ozzy sang on some songs. He covered Mississippi Queen, which was a pleasure.
Music Madness: You have had the opportunity to play in some historic venues. Do you have a favorite?
Corky Laing: That's such a heavy one, Steve. We are talking about 50 years on the road and all over the world. It was amazing. However, I do remember one. It wasn't exactly Radio City, but Levon Helm had a ramble that he did up in Woodstock. He had his favorite musicians he would invite to this ramble. He set up this barn at his house as a studio and as a venue, so you would play them, he would record. It was a total honor to be invited to play there. Levon is a close friend; he's one of my favorite all-time people let alone drummer.
The Secret Sessions will include a Digital Download Card in the record and is set for release on Record Store Day – April 21, 2018 through Rogue Records (distributed by Sony RED / The Orchard).
For More Information:
https://www.facebook.com/corkylaing/
http://corkylaingworks.com/
www.rougerecordco.com
Interview by Steve Carlos