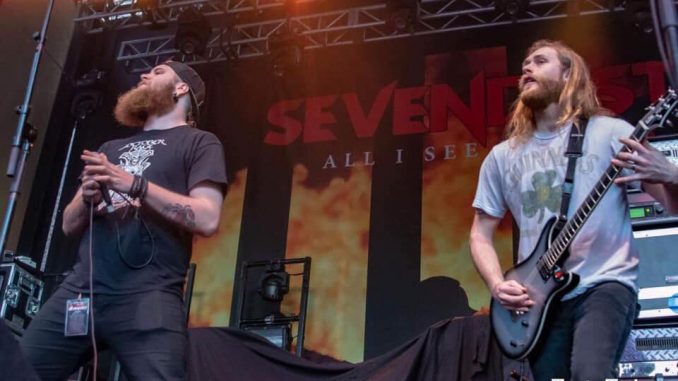 Hailing from the Oklahoma City area, Kirra, has rebounded after a turbulent 2018 and continues to build momentum as they remain a band to keep an eye on in 2019. Current members include Daxton Page, Ryne McNeill, Zach Stafford, and Gabriel Parson.
Music Madness Magazine had the opportunity to check Kirra out at Jannus Live recently as they opened for Sevendust and Tremonti. We checked in with Dax to see how the tour wrapped up and what is next for the young fiery band.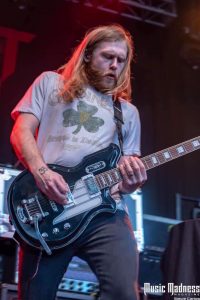 Music Madness: It was great catching up with the band in Saint Pete. How did the rest of the tour go?
Dax: Yeah, absolutely. It's kind of funny because a couple years ago, we were all sitting in a van just doing our own tours saying, "Man, it'd be so cool if we were ever to go on tour with Sevendust, or were ever able go on tour with Tremonti and sure enough, we're on tour with both of them. It's just been incredible. The crews for both bands have been fantastic. The band members themselves are really cool. It's been a great environment all the way around.
Music Madness: As the Sevendust tour wraps up. What is next? Any festivals?
Dax: Yeah, we are doing Rocklahoma and the Roaring Thunder Fest, and a couple others. We are trying to get some more festivals thrown in there. We will be playing the Dark Side stage at Rocklahoma this year, which is outside the gates. There was a company called Axis that used to do outside the gate staging and they aren't partnering with Rocklahoma this year, so Dark Side is and we're working with them this year. Which is cool.
Music Madness: Very cool. Hey, well you know being outside the gate, everyone has to walk by you guys.
Dax: Yeah, absolutely. So yeah, we are very excited about that.
Music Madness: As you keep building momentum on the road is there any new music in the works?
Dax: Yeah, we've actually been working on new music for about a month or so. Even during the tour, we have been working out lyric ideas, just fine-tuning songs because before the tour, we were just writing as much new music as we could and we have had some songs kind of in the pocket for a while. I think we've got a 10 or 11-song record. Not recorded, but all the ideas are there, and all we need to do is just sit down and record them which we're planning to do as soon as we get home from the tour. Hopefully we can have the full record out with the music videos and everything by August or September.
Music Madness: Damn, you are on a mission. Lofty goals, man.
Dax: Yeah, absolutely. You gotta aim high.
Music Madness: Exactly. So for people that did not catch you guys down in Florida or haven't caught you on this kickass tour, tell us a little bit about the band, how you guys came about. I know the band had a setback last year and I know that was a trying time for you guys.
Dax: Yeah, yeah. So we got started in 2013 which was kind of a funny scenario how that all got started. Just 'cause of how we met Gabriel. We originally met, it was Zach and I, we met each other through family friends and then we met Ryan and our old singer Jesse through Craigslist, believe it or not. Typically, Craigslist doesn't work out too well, but for us it worked out. The first day that we met each other, we wrote a song so we just kept being a band ever since. Unfortunately, last year we lost Jesse to a car accident on the way to Ohio, which was really tough because we were probably two or three weeks out from going on then the biggest tour that, we had ever been on with Nothing More. That tour was a fantastic opportunity. It was definitely a trying time because there was two weeks before this big tour, and we didn't have a singer.
We met a guy named Vincent who was able to help fill in for that tour and he helped us out a lot, coming in clutch two weeks before a tour and learning songs is pretty tough. We were really thankful that he came in and helped us, but in the end, we just decided to take it a separate direction. A couple months later, we found Gabriel who, honestly, was just a perfect fit from the get-go. He came in, he was on point in learning the songs perfectly and sang them great, and we were blown away, quite frankly.
Since then, we have just been trying to create as much new music as possible and take the band in a new sonic direction because having Jesse gone, it's a bit different because he played guitar too. So we were a two-guitar band, and though Gabriel does play guitar, drums, and bass, he just sings now. So we've kind of had to change the way we write songs. It's been really hard but it's also been really rewarding, too, 'cause I feel like some of the songs we've written now are some of the best songs we've ever written.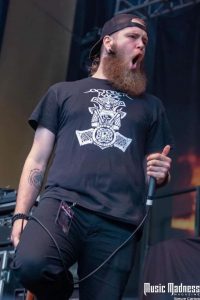 Music Madness: Very cool and with that energy level you guys have onstage…takes it to a whole other level.
Dax: Well hell yeah, we definitely try to focus a lot on the shows. We try to get the audience involved and just have a good time while we are on stage.
Music Madness: Absolutely. Any favorite moments from the tour?
Dax: The St. Petersburg show at Jannus Live. That was actually a quality show for us as was the show right before it at Revolution Live in Fort Lauderdale, which was actually a really fun show too. I think my highlights of the tour have been going down to Florida. Maybe I'm a little biased because it was warm down there and cold everywhere else. Those two shows were fantastic.
Music Madness: Awesome. As a younger band touring with groups like Sevendust and Tremonti, do you pay attention how they go about life on the road? Anything you were able to learn professionally and build on.
Dax: Oh yeah. Honestly, we have been trying to absorb as much as we can from all the crews. Just learning how a well-oiled machine like Sevendust or Tremonti runs. How do you schedule out your day? How do you do things efficiently? We've just been trying to take notes. I think one thing I've learned was the importance of humility, really.
If there is anybody in the world who has the right to be a little bit cocky, it would be Mark Tremonti, but he's not. He is literally like one of the more humble dudes you'll ever meet. I think that was really cool to see that someone could be so talented and so well respected and renowned, and still just be one of the most down-to-earth, cool people you could meet. That kind of gives you a threshold to aspire to be like. In my mind, no matter how good you get or how far you get, try to be as humble as Mark Tremonti.
Music Madness: That is never a bad thing.
Dax: Yeah. It was just a lesson of learning just how to be humble and stuff like that. We've been very fortunate I think on this run and people are receiving our music very well, they've been very nice. A couple of things they say after a show and you know, I guess for a band that's young, stuff like that can be a good thing and a bad thing. They can take those positive words of encouragement and keep on doing what they're doing which is good or they could use that to inflate their ego which is a very bad thing. So, it's really good to have someone to aspire to be like in that regard because it's really easy for bands just to kind of get a big head, you know. Bands can get a little bit full of themselves and forget the real important things, like taking care of your fans, taking care of the people who take the time to listen to you in the first place.
Music Madness: That's awesome. Again, congrats on the tour, great job. We are excited to see what's next for Kirra.
Dax: Yeah. Absolutely. We'd love to come back.