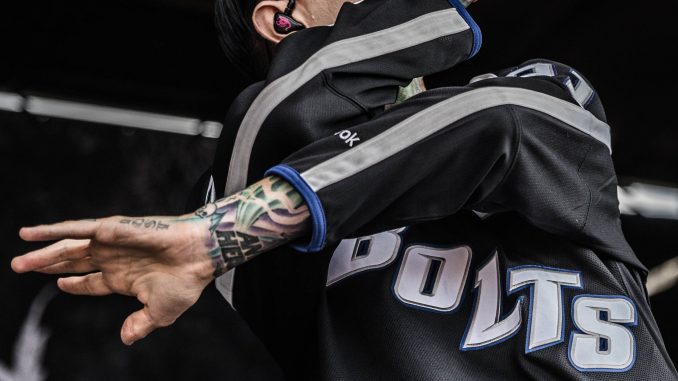 The Vans Warped Tour, created in 1995 by Kevin Lyman, has become a summer mainstay over the past 24 years as a staple of punk rock, metalcore and skate culture that brought together a unique and diverse lineup of artists across multiple genres. Now 24 years later and after some 1700 bands dawned their stages, Lyman announced 2018 would be the last year of the festival.
I was extremely lucky to have been assigned to attend, photograph and review the festival. I attended the Tampa show with no expectations and hate to admit sadly that I had never attended the event in the past. I had no idea what to expect other than to compare it to shows I did attend like Lolapalooza. The heat was almost triple digits and the humidity matched it. Sadly the Jacksonville show days earlier was all but rained out, Orlando fared better and Tampa never even saw a drop of rain. Band after band battled the heat with stellar performances as if it was opening day, rather than the 37th of 38 shows. There would be one more show for the lucky attendees in West Palm after Tampa.
I would be lying if I said 7 stages plus countless numbers of vendor and band tents didn't overwhelm me but I was a man on a mission and wanted to make the very best of the day. Because I am older or as some people like to say "mature", I knew many of the bands that played the main Journeys Left and Right Foot Stages. I have to admit it was just as exciting to watch the bands that played the soundtrack of my life growing up this day as in my younger days. Bands like New Found Glory, Pennywise and Less Thank Jake played just as hard in my opinion as the newer bands on the outer stages. With each band ending I heard parting words of thanks, support, and appreciation to the many fans that not only helped these bands get their start, but continue to support them. It was awesome to hear band after band telling fans it's now your turn. Go out and get a guitar, or drum set and like us bring your message to the world. New Found Glory's statement was "if the four of us knuckleheads can be on this stage today, anyone of you can be on this stage tomorrow."
As the day progressed I made my way to the Mutant Red and White Stages as well as the Owly.fm Stage. Four bands of the many I experienced throughout the day really stood out. There is no particular order but rather just the order attended. First up was Sharptooth, a female fronted band lead by vocalist Lauren Kashan blew up the stage. High energy doesn't describe the performance from this band, it was more of an atomic bomb in nature. Kashan may be tiny in stature but that does not delineate from the strength of her vocals. Song after song the crowd kept growing and it was obvious they were connecting with the band. I worked in a psych hospital with adolescents for 20 years. I can't tell you how lost many kids I worked with. Labeling behavior is nothing new and sadly isn't going away anytime soon. Lauren's message was that everyone can and needs to fit in. One statement she made says it all, "People who perform in metal bands generally don't grow up in the easiest of circumstances. Most people get into bands because of the issues they face". I know Sharptooth will keep gaining in popularity because of it's talent as well as it's mission statement.
Palaye Royale, originally from Canada, this band now makes it's home in Las Vegas and may have been one of the more underrated bands of the day. They are visually appealing to their fans. Unlike many of the heavy bands in whose circles they travel, this band has taken on a late 60's early 70's dress style. Fedoras and paisley was not what I was expecting from this band; however, the clothes were not a gimmick. Energy, talent and drive mixed with a touch of Rolling Stones swagger only increased the bands broad appeal to the crowd and it's ever growing fanbase. One of the younger female fans told me the band enjoys climbing the stage rafters. There were no rafters but that didn't stop vocalist Remington Leith from climbing on top of the 15 or so foot stack and jumping over his bass players head. I can't say enough good things about this band. They made me a fan in just under 30 minutes.
Next up was Motionless In White, they are Warped Tour seasoned vets with 10 appearances. Although this band hails from Pennsylvania, lead vocalist Chris Cerulli instantly won the crowd over by walking out on stage wearing a Tampa Bay Lighting jersey of team captain Steven Stamkos. Fans flocked to the stage to catch the MIW set. People want and need to connect and like MIW do just that. Chris and the band do a fantastic job making sure fans know how thankful they are for their successes.
The last band of the day was the August Burns Red. This hard rocking, hard hitting Christian metalcore band came out of the gate
buck wild. Fronted by vocalist Jake Luhrs, this band was like a man on a mission with no chance of failure. The music is hard, driving and everything you want from a metal band and more. Although the lyrics are hard and the vocals match, the message is a positive one. There is no law that I know of in music that says hardcore can't be positive. Definitely mark them on your list of bands not
to miss.
A personal observation…the Vans Warped Tour isn't a tour of current bands. The tour was, is, and will always be an ever growing group of humans who were brought together through their love of music. Music unifies all who are willing to take the time to listen to it's message. Music can be objective and at the same time subjective. The Warped Tour is Family for those who may not have had one or who has a family that doesn't support them. This a place where age, gender, race, creed, color, and all the other issues in the world is non-existent. It saddens me that the Warped Tour is coming to an end, but you can't erase 24 years of unity. Of course, there will be others tours in the future; however, nothing will be like the VWT to the people who attended and embraced it. Long Live the Vans Warped Tour!!!
Posted on the festival's website were words of hope for those diehards…
"THE ENDURING SPIRIT OF THE VANS WARPED TOUR REMAINS AS BRIGHT AS EVER, CONTINUING TO INSPIRE CREATIVITY AND AMBITION IN NEW AND EXCITING WAYS AS WE PREPARE FOR A 25TH ANNIVERSARY CELEBRATION IN 2019." – Kevin Lyman
Photos and Review by Jake Rage