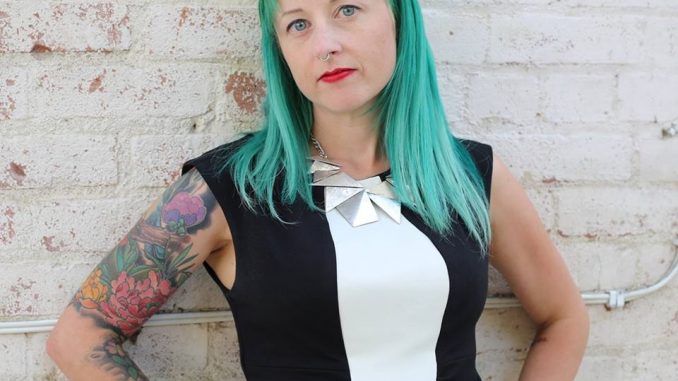 The SuicideGirls and their Blackheart Burlesque show continues to redefine beauty through the art of expression. Created seventeen years ago by Missy Suicide as a platform to send a message of body positivity, acceptance, and alternative beauty. The SuicideGirls have changed the way the world had previously viewed beauty. The popular alternative pin-up modeling website has created the sexiest traveling pop-culture themed burlesque show worldwide.
A SuicideGirls -Blackheart Burlesque show consists of ever-changing pop-culture themes ranging from Star Wars, Planet of the Apes, Game of Thrones, Westworld to the newest one, Deadpool. The Blackheart Burlesque shows feature SuicideGirls displaying their talents with a modern erotic twist of the vintage pin-up girl.
Music Madness caught up with Missy Suicide to discuss the success of her creation the SuicideGirls and its continued growth helping the site and social outlets to surpass 20 million followers worldwide.
Music Madness: Congrats on the Suicide Girls recently turning 17 years old.
Missy: Yep, we just had our birthday. I think it was two weeks ago.
Music Madness: Has the results to this point exceeded your original expectations?
Missy: It's more than I could have ever dreamed of. I think the longest job that I'd had at that point in my life when I started was maybe 17 months that was probably stretching it. I kind of bounced around a lot in my previous career. I started the site when I was 23, so it's been a long time.
Music Madness: Nice. Do you feel like you have made a difference in people's lives?
Missy: It's crazy to think about what the impact the site has had, and what we've been able to accomplish. It's been prepping for what we want to accomplish next, as well. It has been good. It's rewarding to be in the spot that we're in.
Music Madness: What was your original inspiration for creating the Suicide Girls?
Missy: My inspiration was, I had bounced around in jobs and had been frustrated with the way that society had conditioned people to talk to me. I have always had pink or green or blue or purple hair, and I've had my septum pierced since I was 15, and tattoos and stuff. I'm not the typical; I don't fit neatly into the box of what you're supposed to look like if you want to be taken seriously. It was super frustrating to me, as well as the idea that women were supposed to feel this sense of shame about our bodies, or that companies profited from us being uncomfortable in our own skin. The female form had been celebrated for centuries as art, but nowadays it is shameful to be proud of your body.
That was the place that I was coming from, just this frustration. It's an act of rebellion to be proud of your body and to be proud of who you are. I have always been rebellious, so I wanted to create a space where girls could be appreciated for being themselves, and they could have a place where they could experiment and feel proud of their bodies, and their sexuality, and their sensuality, and not ashamed of it. A place where we could celebrate everybody's unique beauty. So that's how Suicide Girls was born. We've been a community-based website for 17 years, so longer than Facebook or Friendster or Myspace or Instagram or Twitter, or any of those social networks.
Music Madness: Do you think that social media has played a big part in the continued growth of the Suicide Girls worldwide?
Missy: For sure. Our social media presence is over 20 million followers. I definitely think that that has contributed. Plus, the general adaptation of people using the internet for social purposes, and not being afraid of posting their thoughts or feelings has definitely been beneficial for the Suicide Girls.
Music Madness: Without a doubt. I would say so. The numbers are just staggering, it is amazing.
Missy: Thank you. It's been crazy. We have girls from every continent, including Antarctica on the site. It's well over 50,000 models at this point. Those are just official Suicide Girls; we also have hundreds of thousands of hopefuls who have posted photos to the site as well.
Music Madness: What makes a Suicide Girl? How does one become a Suicide Girl?
Missy: Girls apply online. They fill out an application, and Rambo, who is our model coordinator, gets in touch with them, and either sets them up with a staff photographer if they're local or tells them about a photographer who's traveling, or gives them instructions on how they can shoot a photo set on their own.
Then the models post photos of themselves online and the community gets to see them, and they give them feedback on the photos. The girls receive the copyright to their image, so if the community reacts super awesome to the set, and they're a hit with everybody, and they nail the aesthetic of the Suicide Girls, all the stars align and they get chosen as the set of the day, and they become official Suicide Girls.
It usually takes a couple of tries for girls to get their sets purchased to become Suicide Girls, because it's a different sort of aesthetic. The photos on Suicide Girls are designed to showcase how each girl feels sexy about herself, and most 99.9% of photos are designed to show how the photographer frames out the world. So it takes a little while for them to get the aesthetic.
It's amazing to see the transformation from a girl from her first hopeful set to her fifth Suicide Girls set.
Music Madness: Now, the Blackheart Burlesque shows came about later. How was that incorporated?
Missy: We had a burlesque tour in 2003 to 2006, and it was super fun. It was a very punk rock sort of free form burlesque show, and there was chocolate sauce, and leather pants, and all kinds of craziness. It was a lot of fun, but it was a lot of work to put on, and we maintain a small staff. It was like, do you want to do another burlesque tour, or maybe take a year off and do a book? And it was like, let's do a book. Then it was like, do you want to do the burlesque tour, or do you want to do a movie? And it was like, let's do a movie.
So it just kept getting pushed off, and pushed off, and pushed off. Then in 2012 or 13, we put out a book called Hard Girl, Soft Light. We sent two girls up and down the West Coast signing books at comic book shops, and by the time they got to Santa Cruz, there were 750 people standing outside, waiting to get two girls' autographs. We were like, holy cow. Clearly, people want a live experience, and we know that we can do better than two girls hanging out at the comic book shop.
So we started to reinvent the burlesque tour, and this time we had all pop culture themes set to a modern soundtrack, and it's been fun and evolving over the past five years, and we've been out on the road perfecting it.
Music Madness: Are you on the road traveling with the tour?
Missy: I tend to go out to a few select cities. I did my time on the bus, and it's not my preferred method of travel.
Music Madness: I don't blame you. Tell us about the show. Do the girls differ from tour to tour or show to show?
Missy: I think there's 25 girls that are all trained in the show, and we rotate them in and out along the way so there's never two girls in the same city. We rotate the girls in and out, and you never know what you're gonna get. We've got all different performers. We've got contortionists, we have a girl who does point ballerina number, and we've got a girl who does spoken word, and a girl who raps, and you never know what you're gonna get.
Music Madness: That is cool. Now, you use different themes, do you have a favorite theme?
Missy: There are certain themes that I hold near and dear to my heart, but I'm most excited about the Deadpool theme this year, because the number is pretty epic.
Music Madness: The touring seems continuous as 2019 dates are already being announced.
Missy: Yeah. We are announcing 2019 already. We're committed to putting on an amazing show for a long time.
Music Madness: That's awesome. How often do the themes change?
Missy: Yes. So the themes always change every tour. Deadpool is definitely new this time. We have Black Panther. There is all sorts of themes, we redid our Westworld number.
Music Madness: I heard something about a Planet of the Apes theme once upon a time.
Missy: Oh yeah, Planet of the Apes, that was the first routine that we ever did for the Blackheart Burlesque, and it was amazing. It was so much fun to be able to take an idea like Barbarella, seeing Planet of the Apes, seeing girls in silver swim suites and those big bubble helmets and monkey masks, and set it to Disclosure's "When a Fire Starts to Burn". To see it come to life and it actually worked is, coming from a crazy vision in my head to actually being something that was cool.
Music Madness: So you are very much involved with the creative process.
Missy: Yeah. The choreographer, Lyric, and I have this ongoing list that everybody can contribute ideas to, and we go through and we try to pair up songs to themes. Then she figures out if she can create a dance to them, and we go back and forth and get new numbers that way before every tour.
We definitely have doing the tour down to a science. We promote it, we book it, the entire crew is made up of Suicide Girls. The tour manager, the tour assistant, the merch girl. Everybody is a Suicide Girl.
I am big on systems, so we've got that all down to a science. It's been one of the most rewarding parts of the Suicide Girls. Anything that I dream up, I can do. I wanted to do a comic book, so we worked with Cameron Stewart, and we got a comic book done. I wanted to do a movie, so we did seven movies, and they all aired on Showtime.
Music Madness: It's time for a new one. It's been a while. I am ready for a new one.
Missy: I know. It's time for a new one. We've shot a bunch of footage of the tour, so we think we're going back to our roots. The first movie that we did was the first tour ever, so we're working on it.
Music Madness: That's awesome. It is amazing to see the girls so invested in your vision and the excitement and passion they bring. It certainly has aided in the sites success. That is pretty cool.
Missy: Yeah. It would be no fun if the girls weren't a part of being invested in the success of the company. I want them to feel as empowered and as a part of everything as I am.
Music Madness: Missy, I really appreciate your time. Best of luck!
Missy: Thank you. Thank you so much.
Check out the SuicideGirls at:
http://blackheartburlesque.com/
https://www.facebook.com/SuicideGirls/
https://www.facebook.com/blackheartburlesque/
https://www.instagram.com/SuicideGirls/
https://www.instagram.com/blackheartburlesque/
Interview by Steve Carlos