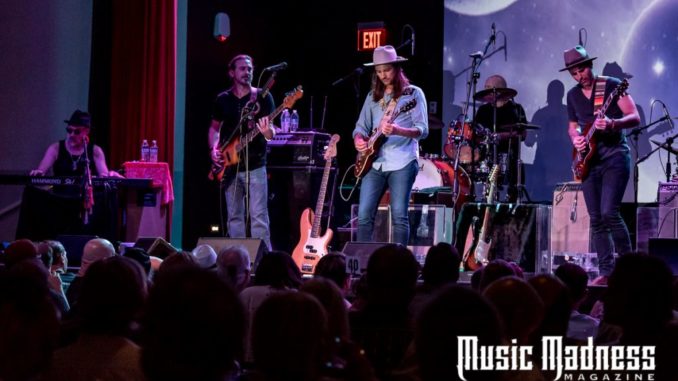 Duane Betts is the son of Dickey Betts, who is ranked No. 61 on Rolling Stone's list of the 100 Greatest Guitarists of all-time. He grew up on the road with the Allman Brothers.
As a teen, Duane sat in on a regular basis with The Allman Brothers. In the 90's he relocated to Southern California where he immersed himself in Malibu rock bands such as Backbone69 and Whitestarr.
Backbone69 consisted of Chris Williams (vocals/guitar), Alex Orbison (drums), Duane Betts (guitar) and Berry Duane Oakley (bass). In 2001, Chris Williams was killed in a car crash and the band dissipated.
After years of playing in other bands and making special appearances, plus a decade long run with his father's band Great Southern, Duane knew it was time to bring it all together and move to the center of the stage.
On April 25 of this year, Duane released his new album Sketches of American Music. The Album features "Talking Time", "Downtown Runaround", "When We Get Home", "California Blues", "Think I'm Doing Well" and "Ride It Out". My personal favorite is "Downtown Runaround", there's just something about the way it flows and the great guitar playing that does it for me. The video premier for "Downtown Runaround" is coming soon and it was created in downtown Sarasota this past August.
We caught up with Duane at the SWFL Event Center as he and Devon Allman came to rock the town in their usual fashion. Duane opened the show with his new material as well as some classics and it was evident the crowd was loving it. Joining Duane was Johnny Stachela (guitar), John Lum (drums), R. Scott Bryan (keyboard) and Justin Corgan (bass) who would switch out with special guest Berry Duane Oakley.
After he finished his set, it was Devon's turn to take the stage. Duane as well as Berry Duane Oakley would come out later in Devon's set to play some classic tunes to "Tip their Hat" to the men who brought them into this world.
The road goes on forever; however, it is important to remember that Duane, Devon Allman and Berry Duane Oakley all have their own unique style and sound. These are three individuals that will keep the tradition going but they will also create their own.
Connect with Duane Betts:
www.facebook.com/DuaneBettsBand
Catch Duane on Tour:
28 Jan The Cabin Park City, UT
Don't miss The Devon Allman Project with Duane Betts January 28th at The Cabin Park City!
21 Feb Parker Playhouse Ft Lauderdale, FL
After successful tours, Devon Allman and Duane Betts, the sons of Gregg Allman and Dickey Betts, are joining forces. They will kick off the year with a new album and a worldwide tour that will feature new music, songs from their solo projects and classic Allman Brothers tunes.
For more information on the amazing SWFL Event Center please visit their Facebook page and give them a "Like"!! You can also visit them at: www.swfleventcenter.com to see all the great shows they have coming up!!
Photos and Review from Brian Kreuser