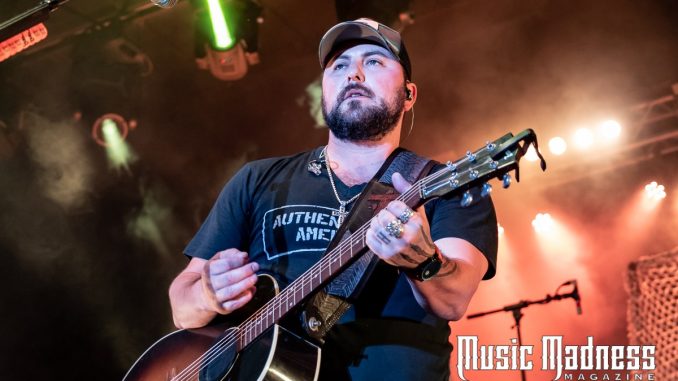 Tyler Farr has released two albums, Redneck Crazy in 2013 and Suffer in Peace in 2015. He has charted eight singles on the Billboard Hot Country Songs and Country Airplay charts. In 2012, Farr released his debut single, "Hot Mess", which he co-wrote with Rhett Akins. Next release was "Hello Goodbye" and Farr's third single, "Redneck Crazy", became his first Top 10 hit in 2013. After that came the top three hit "Whiskey in My Water". All four singles were included on his debut album, Redneck Crazy, which was released on September 30, 2013.
Farr led off his second album in mid-2014 with "A Guy Walks Into a Bar". The album, entitled Suffer in Peace, was released on April 28, 2015 and "A Guy Walks Into a Bar" became Farr's first No. 1 single on Billboard Country Airplay in May 2015. https://youtu.be/-hVqG44A6No
"Better in Boots" was issued as a third single in August of 2015. https://youtu.be/_QONcShGKCI
"Our Town", Farr's eighth single release, issued in late 2016 and a lyric video was released: https://youtu.be/cjAuGav2d_8
In April of 2018 Farr was back at it and released "Love By The Moon" and in July released the video for that song: https://youtu.be/D9sP7Nnh0fw
On November 9th, Tyler Farr and his band arrived at the Coconut Festival in Cape Coral, Florida to a rather large crowd. The crowd was so large that a record for beer sales was broken that night. Needless to say, there was a lot of fun had!
Joining Tyler is an absolute shredder on the lead guitar, Gary Jannaman. This guy is so much fun to watch as well as take photos of. The band's stage presence and playing was top notch!! Also joining Farr on stage were Dirk Weaver on guitar, Mark Caldwell on bass and Mark Poiesz on drums. The music was pumpin' and it all sounded great!
We would like to thank the City of Cape Coral Special Events for allowing us to join them once again for another great time with some amazing music!
Connect with Tyler Farr:
Instagram: tylerfarr
Twitter: tylerfarr
Facebook: TylerFarrOfficial
www.youtube.com/TylerFarrOfficial
Photos and review by Brian Kreuser