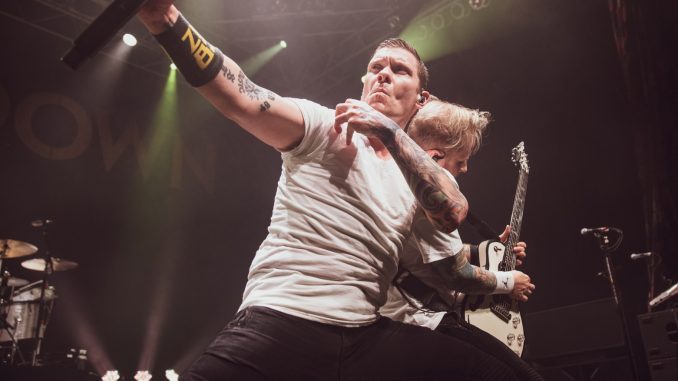 Greatness comes in all forms and when it encompasses talent, an unparalleled work ethic, and a humility that is rare amongst rockstars…Brent, Zach, Barry and Eric collectively form the band known as Shinedown.
Santa's Christmas lists throughout Central Florida this holiday season included the coveted ticket for 3-nights of Shinedown in the intimate setting of Orlando's House of Blues. Each night would have its own unique theme celebrating the band's music while giving fans the total experience.
Night 1 centered on the band's album Sound Of Madness by playing the entire record to celebrate the tenth anniversary of its release. Night 2 brought a completely different vibe as the boys unleashed an unplugged evening…yes all Shinedown all acoustic. And for the encore, the third and final night the band's setlist would be determined by the fans in attendance.
Thursday night's show was scheduled for an 8:00pm start time; however, due to the massive crowd still outside waiting to get in the venue, the band decided they would wait until every fan was in the building before starting their performance.
The crowd erupted as the evening started off with the single "Devour" followed by each song from the Sound of Madness album. Fans sang after song, word for word, as they appeared to be experiencing some sort of out of body experience. After playing the Sound of Madness in its entirety, the band performed additional hits off their latest album Attention Attention, a hit from Threat to Survival, and Amaryllis. The evening wrapped up with the song Brilliant.
Thursday Nights Setlist
1.Devour 2. Sound of Madness 3. Second Chance 4. Cry for Help (First time live since 2010) 5. The Crow & The Butterfly 6. If You Only Knew 7. Sin With a Grin (First time live since 2010) 8. What a Shame 9. Cyanide Sweet Tooth Suicide (First time live since 2016) 10. Breaking Inside (First time live since 2010) 11. Call Me 12. Devil 13. Diamond Eyes (Boom-Lay Boom-Lay Boom) 14. Cut the Cord 15. Get Up 16. Enemies 17. Amaryllis (Acoustic) 18. Simple Man 19. Brilliant
Friday Nights Setlist- Acoustic Show
1.Fly From the Inside 2. Unity 3. Through the Ghost 4. Second Chance 5. Pyro 6. I'll Follow You 7. Bully 8. In Memory 9. Heroes 10. Misfits 11. How Did You Love 12. Simple Man 13. Call Me 14. Cut the Cord 15. Devil 16. Diamond Eyes (Boom-Lay Boom-Lay Boom) 17. Enemies 18. Get Up 19. Sound of Madness
Saturday Nights Setlist- Request Only
1.Simple Man 2. I Dare You (Only live performance in 2018) 3. Black Soul 4. Burning Bright (First time played live since 2012) 5. Monsters 6. 45 7. Cyanide Sweet Tooth Suicide 8. Miracle (Live Premiere) 9. Her Name Is Alice (First time played live since 2010) 10. Shed Some Light 11. Save Me (First time played live since 2016) 12. Misfits 13. Heroes 14. Call Me 15. Second Chance 16. Devil 17. Diamond Eyes (Boom-Lay Boom-Lay Boom) 18. Cut the Cord 19. Get Up 20. Enemies 21. Sound of Madness 22. Brilliant
Photos and Review by: Jessi Lynn Brothers