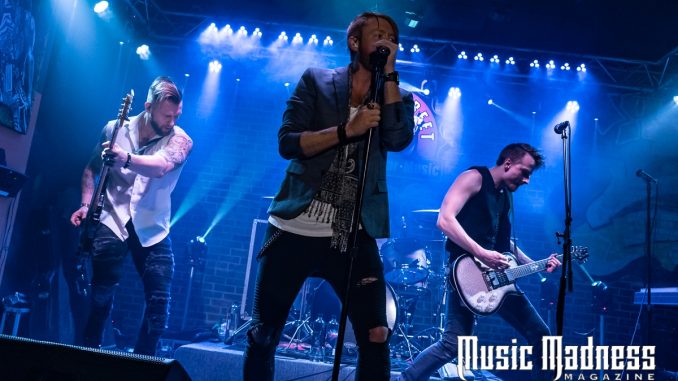 After a long drive from the Midwest, the nationally accredited band Shallow Side from Cullman, Alabama found themselves in Naples, FL. Their destination was only the hottest place in town, South Street City Oven Bar and Grill.
The band had performed at South Street back in 2017 and had every intention of coming back about this time a year ago. However, like every touring band, they ran into issues and couldn't make it. This year however, the boys from Shallow Side came back with a bang and annihilated their previous South Street appearance two years prior.
This year, a great local band by the name of Radio Road opened for Shallow Side Friday night March 1st and a single acoustic act by the name of Kelly Neff on Saturday March 2nd. The turnout of fans was more than 5 times the amount compared to the show in 2017.
According to Eric Boatright, front man of Shallow Side, "We had an incredible amount of "out of towners" come into Naples for the show and that felt great!" People came down from places like Texas and the Carolinas' to see Shallow Side play in Naples, FL alongside with the locals. "We've been growing a steady fan base down in Naples with South Street hosting the event for a couple of years now" Eric stated.
Not only was the place packed but it sounded unbelievable. Valentine Sight and Sound was responsible for the sound production both nights. According to Joe Basak, head sound engineer, "The guys in Shallow Side are pure professionals, great to work with and put on a killer show!"
At the end of the night, we have the owners of South Street, Bruce and Diana Pleeter to thank for putting on the show. Eric stated "The owners of the venue are bar none top of the line. We've traveled the country over a few times and their team is incredible. Their staff is some of the most dedicated and beautiful people we've ever met on the road and we can't wait to get back again. Those people are family to us. Hopefully we didn't ruin too many things and they'll allow us back again this year!" I'm sure I can speak for everyone in the crowd both nights, we can't wait to see them at South Street again!
Shallow Side's latest offering, Saints & Sinners is available for pre-order and All materials are expected to ship starting March 24th so go get some!!! www.thermalent.com/shallow-side.
Photos by Brian Kreuser and review by Orion Michael
Connect with Shallow Side:
www.twitter.com/shallowsideband
www.youtube.com/shallowsidemusic
www.instagram.com/shallowsideband
Upcoming shows:
3/29 Blue Note Harrison – Harrison, OH
3/30 The Machine Shop – Flint, MI
4/13 Growlers – Memphis, TN
4/14 The Masquerade – Atlanta, GA
5/24 World's Largest Brat Fest – Madison, WI