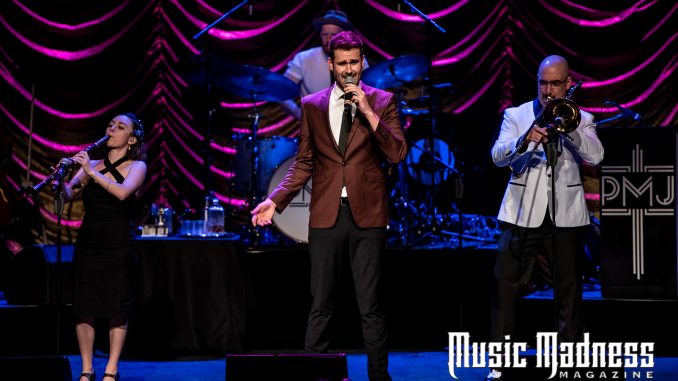 To come across a musical group that is unlike any other is a rarity. Scott Bradlee's Postmodern Jukebox (PMJ) is just such an act. New Haven's College Street Music Hall recently hosted this unique group who are wrapping up their Spring tour. PMJ is collection of artists who take popular songs of this era and arrange and perform them in various styles ranging from swing, to soul, to ragtime to styles in between.
PMJ is a rotating group of extremely talented musicians. There are so many talented musicians in PMJ, they perform in two troupes. Founded by arranger and pianist Scott Bradlee, their YouTube channel has amassed quite a following. With well over 1 billion (yes, that's billion with a B) views with almost 4 million subscribers they are certainly internet sensations. They are also a prolific recording act with a growing discography of well over a dozen self-released CDs. The music ranges in covers from artists such as Katy Perry, Aerosmith, The Police, Guns & Roses and the list goes on and on.
Multiple singers rotate in and out. Styles change from song to song. PMJ in concert is quite an experience. The arrangements of songs heard every day on popular radio stations are so unique, it's often difficult to tell what song they are performing until the chorus kicks in. It's clear from watching PMJ in concert that each and every artist is enjoying what they are doing. Not only that, they do it well! Another fun part of the concert experience is the audience itself. Fans turn out dressed to the nines in flappers' outfits and similar 20's / 30's garb adding to the fun.
This evening saw singer Dani Armstrong acting as the ringleader of this proverbial musical circus. Her booming yet sultry voice commanded more attention than her flaming red locks. There were several equally talented singers sharing the stage but most unique was having tap dancer Demi Remick out at the front of the stage for a number of songs. To the delight of the audience, she tap-danced the theme from the Addams Family with the audience clapping the finger snapping part. One never knew what was coming next!
If there was one thing perceived negatively about the show it's that it was too short. Note the word "perceived". The evening's show was as long as most concerts but the music was so refreshingly unique, the evening seemed to pass in the blink of an eye. Clearly the performers sensed the crowd's desire for more. The show was continued past what was announced as the last song. Pity to those who left at the call of "last song" to beat the traffic.
Do yourself a favor and keep an eye out for Scott Bradlee's Postmodern Jukebox. One troupe has taken up a Tuesday to Saturday residency at the Mirage Hotel in Las Vegas until the end of August. Another Troupe will be hitting the road in mid-June. For details, check HERE.
Website: http://postmodernjukebox.com/home/
Facebook: https://www.facebook.com/postmodernjukebox
Twitter: https://twitter.com/pmjofficial
Instagram: https://www.instagram.com/pmjofficial/
YouTube: https://www.youtube.com/channel/UCORIeT1hk6tYBuntEXsguLg