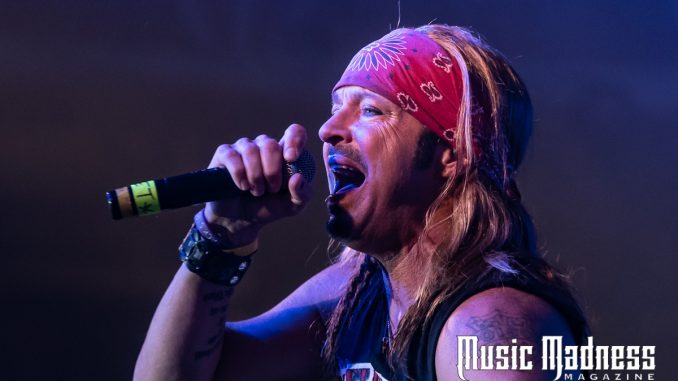 Bret Michaels and his band showed up at the Ranch Concert Hall & Saloon and delivered one sweet show. We all loaded up in the time machine and re-lived those crazy days all over again.
The energy of the crowd received a serious boost by the playing of AC-DC's"Thunderstruck" and Guns n' Roses "Welcome to the Jungle" prior to Bret and the guys taking the stage. Arms were waving in the air and everyone was singing along and rockin' out.
The band kicked off the evening with fan favorite "Talk Dirty to Me" as Bret came out front greeting everyone at the front of the stage. Yeah, a lot of women were happy that night…. We stayed out front for the next song, which was "Ride the Wind".
For the third song, we worked our way backstage as they were playing "Sweet Home Alabama". We were able to get some great shots of drummer Mike Bailey from that vantage point. As I worked my way to the side of the stage to get some crowd shots, Bret noticed me and called me out onto the stage for crowd shots. That was pretty cool to say the least.
The band played through their set list in what seemed like record time but the truth is we were just having that much fun. They finished out the show with Poison's rendition of "Rock and Roll All Night"
Bret's stage presence is still top notch as is the talent in the band backing him up and it was definitely a good time! Joining Bret is lead guitarist Pete Evick. Pete has been with Bret for well over a decade as a co-songwriter as well as producing records Custom Built and Jammin' with Friends. In addition to music, Pete also has a fast growing eco-friendly candle company named Shining Sol. Be sure to go check it out.
Also joining Bret is one of the co-founders of Cinderella, Eric Brittingham on bass guitar. Eric also played in Let it Rawk, Devil City Angels and filled in on bass with Poison during their 2009 tour with Def Leppard. On keyboards and backup vocals was Rob Jozwiak. This guy has been around Bret for some time as well and understandably so with his skills on the keys as well as his voice.
Keeping everyone in time was drummer Mike Bailey. He's been rockin' the kit with Bret since 2013. Mike has also been the President of Potomac Records since 2011. This guy is really good at what he does and we appreciate the little bit of showing off for the camera that he did as we worked the backstage area.
Band Members: Bret Michaels – lead vocals, guitar, Pete Evick – guitar, vocals, Eric Brittingham – bass, vocals, Rob Jozwiak – keyboards, vocals and Mike Bailey – drums, vocals
Ft. Myers Set List:
Talk Dirty to Me
Ride the Wind
Sweet Home Alabama
Your Mamma Don't Dance
Something to Believe In
Unskinny Bop
Every Rose Has Its Thorn
Nothin' But A Good Time
Rock and Roll All Night
Connect with Bret Michaels:
www.facebook.com/bretmichaels/
www.youtube.com/bretmichaelsofficial
Bret Michaels Tour Dates:
DEC 31 Grand Casino Mille Lacs – Onama, MN
JAN 19, 2019 Seneca Allegany Resort & Casino – Salamanca, NY
APR 26, 2019 Stagecoach Festival – Indio, CA
Photos and review by Brian Kreuser