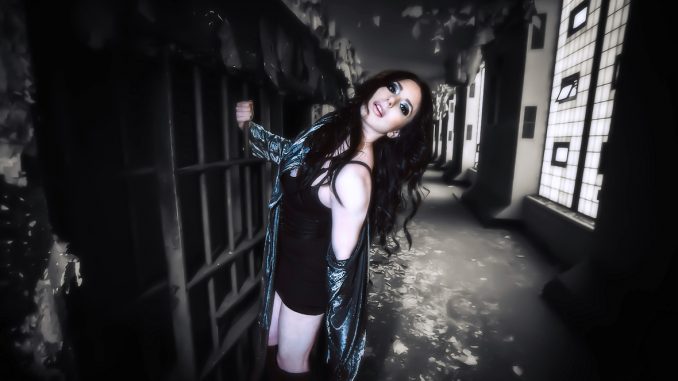 Madame Mayhem released her new single "Broken" on January 11, 2019. The single was co-written with Keith Wallen of Breaking Benjamin and features Ray Luzier of Korn on drums, as well as Billy Sheehan of David Lee Roth, Mr. Big and others on bass.
Those who yearn for the electric catharsis of loud guitars, driving rhythms, hypnotic hooks, and the strength of shared experience have a new muse in Madame Mayhem. The Manhattan born singer/songwriter and burgeoning rock icon-in-the-making has weaponized the darkness, turning it into a rallying cry for all who were ever cast aside. Songs like "Broken," "War You Started," and "So Wrong" are equal parts timeless sentiment, bare-knuckle fury, and energized urgency. Madame Mayhem's songs rival the best of Modern Rock, early '90s emotive-grunge, and nü-metal angst.
An acolyte of heartfelt melody from a young age, the classically trained singer, pianist, and guitarist studied at the Manhattan School of Music and Frost School of Music at the University of Miami. Broadway may have beckoned, but the pull of hard rock was stronger.
Music Madness spent a few minutes with Madame Mayhem to talk about her new single and upcoming plans.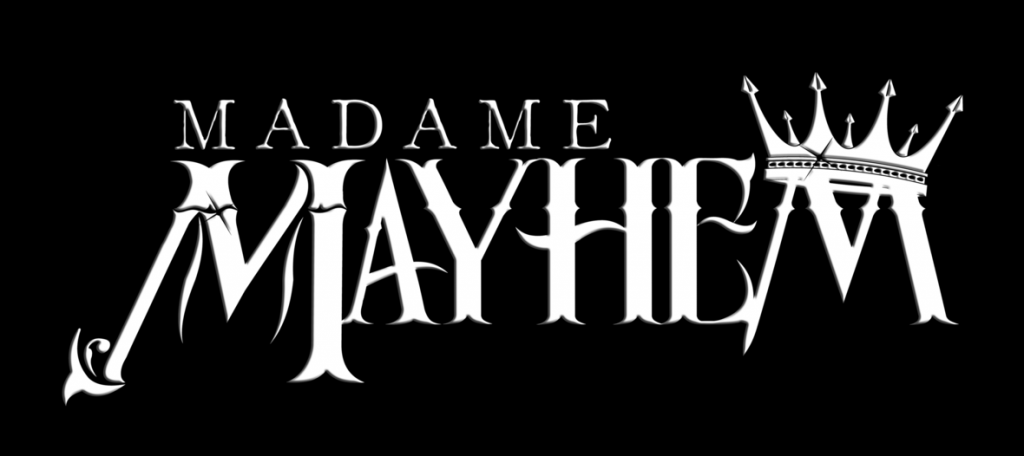 Music Madness: Congrats on the release of your new single "Broken". Can you tell us a little bit about it?
Madame Mayhem: Thank you. I co-wrote that song with Keith Wallen of Breaking Benjamin and writing with him has been so fun. We kind of just started writing together a couple months back and it's been going really well. This is the first song off that, so I'm really excited to have released a song for everyone to hear. We have Billy Sheehan from Mr. Big and all these other amazing bands and Ray Luzier from Korn on drums and these people have been like mentors and friends of mine for years.
So, for them to be willing to come into the studio and jam out to this song, just kind of added so much to the track. I really appreciate them doing that and the song's really fun. I really like it and I hope everyone else really likes it too.
People can interpret it for themselves, but it's more about that end of a relationship no matter what it is. Kind of trying to be the strong one. Not letting that other person know that you care about them take you down and kind of being able to stand up for yourself.
Music Madness: Sweet. Sounds like you had an all-star team.
Madame Mayhem: Yeah, it was definitely a really cool experience to write and record this song.
Music Madness: Is it only going to be a single or are you working on an album as well?
Madame Mayhem: Honestly, we're trying to figure out the best thing. I hope that we'll be able to put out more music this year whether it's EP or a whole album or if it's more singles, I have no idea. Keith and I have written a whole bunch of songs together and I am also co-writing with a bunch of people at the moment. So, there is a lot of new music happening at the moment. Hopefully 2019 we'll be able to share even more music with everyone. What format? Whether it's EP, whole album, or singles, that's to be determined, but everyone just keep an eye out. As soon as I know, everyone else will know.
Music Madness: Very cool. You're headed out to Cali for NAMM this weekend.
Madame Mayhem: Yeah. I'm actually in LA right now, yeah. I'm like a kid in a candy store there, because there's always awesome gear. So, I always run around … I've been going for a couple years now and you just run around and try all the new stuff and you get to see all the companies that support you and that you support as well, which is always nice. It's like a little reunion. A lot of us musician friends are usually on the road and we're all never living in the same place. So, whatever bands that aren't currently on tour can make a pit stop to the convention. It's always a fun, little reunion as well. Just the normal appearances, interviews, and things like that. I will not be performing this year, but it will be a really, really fun, fun weekend. I'm pumped for it and I'm pumped to check out all the new gear that all of my awesome companies have to offer.
Music Madness: Very cool. You kickoff 2019 with a new single but you end 2018 on a high note as well. Three nights with Sevendust at the Masquerade, which is always fun. How was that experience?
Madame Mayhem: All three nights were super fun and we had toured with Sevendust earlier in 2018. So, to be able to kind of come back, it was like a little family reunion 'cause all the guys in Sevendust, the crew, everyone is just so awesome. And to be able to celebrate New Year's that way was so fun. And of course, the crowd was amazing and seeing familiar faces from when we were touring with them and then new faces as well. It was a fantastic experience and the fact that we were able to do all three shows with them was great.
Then of course, the really cool thing was when they performed their album Home in its entirety. I got to sing "Licking Cream" with them, which for me was a huge deal and I just really want to make sure I did everyone proud. I did not get booed. So, it went really well (laughing).
Music Madness: Does that kind of stuff make you nervous? When someone invites you to perform with them and it's their music, is there a little anxiety?
Madame Mayhem: Yeah, yeah. I'm really never nervous when I'm on stage 'cause that's my home, but yeah. When you're singing someone else's song with them, you don't want to mess up. You want to do them proud. I'm really big on making sure I do my homework and be prepared as much as possible and all of that, but you never know what's going to happen. It was amazing and the fans received it great. You know, they seemed to really like it and the band seemed thrilled, which made me super happy. And it was just a lot of fun to sing with them. They're so great as I'm sure you know.
Their performances are super high energy and so are ours, so we have a lot of the same traits on stage and to be able to merge them when I got on stage with them was so fun and it was a very surreal feeling and fantastic. I got to actually hear it on Turbo Live on XM like a day or two days later.
I've worked with Clint in the past. We co-wrote a lot of the songs on the album for me that his brother co-produced and co-wrote with me as well. I met those guys on Shiprocked and things like that and of course touring with them earlier in 2018. We all really became a family and those guys are just so cool. Obviously to be able to already know the music and to be able to sing it is really fun.
Music Madness: Well, that's cool.
Madame Mayhem: But to be able to do it live there with them was an amazing experience, I love those guys so much, and I'm so honored that they thought of me to sing that song with them.
Music Madness: Thank God for social media, as I was fortunate to catch the video.
Madame Mayhem: Cool. Yeah, that's the best thing. My guitarist's got a really cool video that we put on Madame Mayhem's official YouTube page, so we also put that there because it was the full shot from the balcony. You could see the whole song from beginning to end. So, we posted that on YouTube, and made it official as well. But yeah, social media is great like that.
Music Madness: You mentioned Shiprocked. I'm a Shiprocked alum myself. How was that experience?
Madame Mayhem: I was a Stowaway both times, 2017 and 2018. I walked out with a bunch of friends new and old, sang some covers and did some tributes and it was a lot of fun both times.
Music Madness: Oh, very cool. Hopefully, they have you back soon.
Madame Mayhem: Yeah, I hope so. It didn't work out for this year for scheduling, all that jazz and us. But hopefully next year. I mean it's a little family over there. When we're touring now, we see Shiprockers that come out to shows and we always get so excited when we see each other. Other musicians are just like the fans that just come on the boat. I would love to go back and maybe hopefully bring the full band or even if I go back as a Stowaway, I would be thrilled.
Music Madness: Can we expect to see Madame Mayhem on tour this year or will it be writing and working on new music?
Madame Mayhem: Yeah, well, I'm always working on new music. So, that usually doesn't stop it too much unless I have to be somewhere for recording, writing session, and whatnot, but we have already been announced for a festival in July, ROCK USA which is really exciting. We are really pumped for that. Then of course, we are trying to book things around it and trying to finalize our schedule. Basically, as soon as we know, everyone else will know. We are not allowed to say anything about anything until it's all confirmed in writing, announced and all that stuff. So, everyone just keep up with madamemayhem.com and follow our socials. I try to be really good about letting everyone know as soon as we know.
Music Madness: Awesome. Thanks and enjoy your birthday on Thursday!
For More Information:
http://www.madamemayhem.com
https://www.facebook.com/madamemayhem/
https://twitter.com/MayhemOfficial
https://www.youtube.com/user/MadameMayhemOfficial
https://www.instagram.com/madamemayhem/
www.FMMusicManagement.com
Interview by Steve Carlos