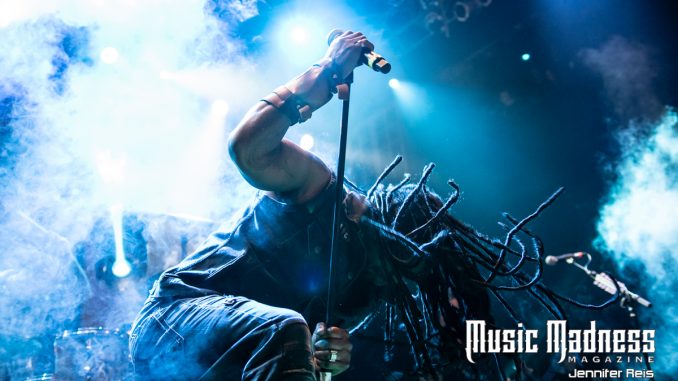 Sevendust has arrived!!!! The band's hard hitting sound brought the ultimate metal fans to the front of the stage as the mosh pit circle opened when Sevendust hit the stage opening with "Dirty" from their 2018 album release "All I See Is War".
One thing you will always have when Sevendust hits the stage is a humble group of musicians, endlessly thankful for their fans, who put on one of the best live performances you will see.
You can feel every emotion and the heart that this group brings to the performance every single show, and I have seen many. Songs included "Face to Face", "Denial", "Unforgiven", "Waffle", "Close to Hate", and "Bitch", Sevendust wrapped up with "Thank You", a perfect ending to an amazing set that was way too short.
Sevendust is: Lajon Witherspoon (lead vocals), Clint Lowery (guitar, vocals), Morgan Rose (drums, vocals), John Connolly (guitar, vocals), Vince Hornsby (bass)
Check out Sevendust at:
https://www.facebook.com/sevendustofficial
https://www.youtube.com/user/officialsevendust
https://www.instagram.com/sevendustofficial/
Photos and review by Jennifer Reis