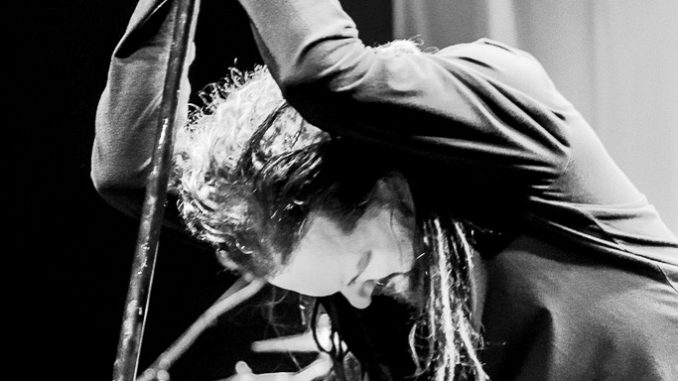 Korn frontman Jonathan Davis is out on the road promoting his debut solo album entitled "Black Labyrinth", which will be released May 25th on Sumerian Records. The North American leg of his tour kicked off April 6th in Portland and concludes May 19th in Camden, New Jersey. The European leg launches June 1st in Nuremberg, Germany and wraps with a set at Hellfest on June 22nd in Clisson, France.
Monday night the tour stopped at The Plaza Live in Orlando, FL and were greeted by a lively crowd as fans showed their support for JD. The legendary rocker, known for pouring his heart and soul out on stage, did not disappoint those in attendance. Joining Davis were opening acts Palisades and Orlando's Meka Nism.
Davis admits that he was always waiting for the perfect time to debut his material, but that perfect time never came, until now. The LP is something that Davis has worked on for the past 10 years and describes it as, "a crazy, different world music hybrid of all kinds of things". "Black Labyrinth", is a blend of aggressive tones and captivating melodies, featuring musical stylings that includes rock, metal and Goth.
Orlando's Meka Nism opened the evening with their in your face brand of metal that set the mood for the evening. Meka is the former guitar player for Orlando punk legends Dirty Barby and Angel Autopsy. Be sure to catch them June 9th at the House of Blues Orlando for their "The War Inside" CD Release Show.
The man of the evening took the stage to a sea of red lighting that seemed to set an intimate mood throughout the venue as he delivered a captivating 15-song set. The set did not include any Korn songs but focused on the musicians solo work, a Neil Diamond cover of "Love on the Rocks" and Davis' song "What It Is" which appears on the soundtrack for the thriller American Satan. The reaction from the Orlando faithful to a set comprised of mostly new songs was a strong indication that "Black Labyrinth", has been received well by old and new fans alike.
Set List for Jonathan Davis @ The Plaza Live
Underneath My Skin
Everyone
Forsaken
Final Days
What You Believe
Basic Needs
Slept So Long
Medicate
Your God
System
Please Tell Me
Walk on By
Love on the Rocks (Neil Diamond cover)
Encore:
What It Is (Soundtrack American Satan)
Happiness
Check out Jonathan Davis at:
https://www.youtube.com/watch?v=pSABKRTtJM8
https://www.jonathandavis.com/
https://www.facebook.com/TheRealJonathanDavis/