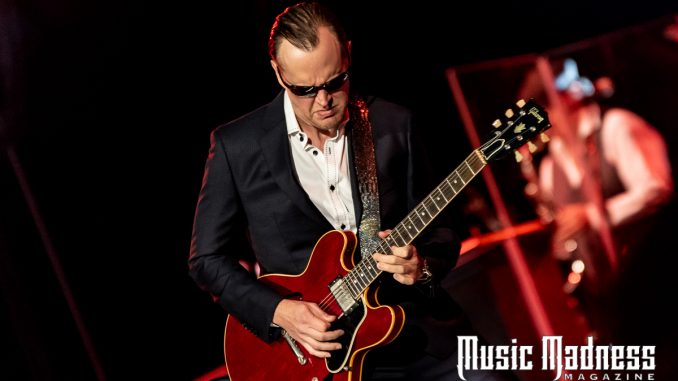 It all started at the ripe old age of twelve years old as Joe Bonamassa opened for B.B. King at the Radio City Music Hall. Fast forward thirty years later and he has produced over 20 number one Billboard Chart Blues albums and counting. Bonamassa has been featured in almost every guitar magazine in existence, some multiple times.
In 2011, Bonamassa founded the Keeping the Blues Alive Foundation with the help of industry leaders like Ernie Ball Strings, Guitar Center, and J&R Adventures. Their mission is to offset the loss of music education programs by funding music projects, scholarships, and preserving the rich culture and history of the Blues as a true American art form. To find out more information or if you would like to be a donor please visit www.keepingthebluesalive.org.
On February 19th, Joe Bonamassa and his band of incredible musicians made their way to Hertz Arena to entertain thousands of fans in attendance. They kicked off the show with "Tiger In Your Tank" and had the crowd moving all night long with a selection of some of his greatest songs. The show was broken up into two sets, with the second set including songs like "Well Well", "Boogie Woogie Woman" and a couple others before finishing it off with "Last Kiss". This was then followed by an acoustic encore of "Woke Up Dreaming" and "Mountain Time".
Local musician Rick Gerstein attended the show and we caught up with him later that night to get his take on this awesome show. He has been following Bonamassa for the last nine years after being blown away by a song on Spotify. When asked what it was that drew him to Bonamassa this is what he had to say: "The more I listen to his music the more I feel the passion and fire that Joe puts into every song, he has become one of my favorite blues musicians". Gerstein's favorite moment of the night was the encore when Bonamassa came out for the solo acoustic encore.
Be sure to visit Joe Bonamassa's social media pages and give him a "Like" and follow him. You can find out more information about him as well as tour dates on his website. While you're checking out Joe's website make sure you take advantage of the FREE album download!!!
Hertz Arena is the home of Florida Everblades hockey and offers a wide variety of entertainment throughout the year. They have hosted NHL, NBA, USBL, and Arena football games as well as Stars on Ice, Disney On Ice, WWE, Jeff Dunham, Boston Pops and Lord of the Dance. There have been many major concerts, including Cher, Elton John, Alan Jackson, Guns 'N Roses, Def Leppard, Sting, Keith Urban, Eric Church, Zac Brown Band, and Toby Keith just to name a few. For more information on the Hertz Arena or to see their upcoming schedule please visit www.hertzarena.com.
Band Members: Anton Fig ~ Drums, Michael Rhodes ~ Bass Guitar, Reese Wynans ~ Keyboards, Lee Thornburg ~ Trumpet, Paulie Cerra ~ Sax
Connect with Joe Bonamassa:
Website: jbonamassa.com
Facebook: @JoeBonamassa
Instagram: joebonamassa
Twitter: jbonamassa
YouTube: JoeBonamassaTV
Joe Bonamassa Setlist:
Tiger In Your Tank
King Bee
Evil Mama
Just Cause You Can
Self inflicted Wounds
This Train
Blues of Desperation
No Good Place for the Lonely
How Deep This River Runs
Well Well
Boogie Woogie Woman
Nobody Loves Me but my Mother
Little Girl
Last Kiss
Woke Up Dreaming
Mountain Time
Review and Photos by Brian Kreuser