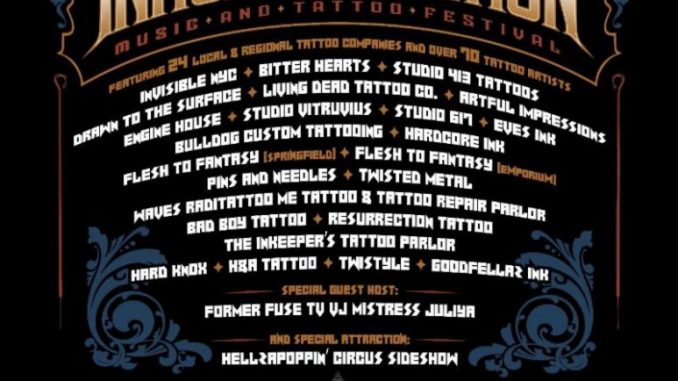 The inaugural INKCARCERATION Music and Tattoo Festival (July 13-15 in Mansfield, OH at the Historic Ohio State Reformatory) is only a few short months away! At INKCARCERATION, not only will attendees rock out to three days of live music from 30+ of today's greatest rock bands, they can also be tattooed by acclaimed local and regional artists, tour one of the most famous haunted reformatories of all time, enjoy tasty treats and refreshments from 15+ food trucks onsite, browse goods from a number of vendors, experience a full rock n' roll circus sideshow (brought to you by Hellzapoppin), and more.
As mentioned, the INKCARCERATION Music and Tattoo Festival will take place at the eerie, enormous Historic Ohio State Reformatory (100 Reformatory Rd., Mansfield, OH). This massive, awe-inspiring locale is recognized primarily as not only one of the most haunted buildings in the country, but also as the filming location for the 1994 cinematic classic, The Shawshank Redemption, starring Hollywood legends Morgan Freeman and Tim Robbins.During INKCARCERATION, attendees can take part in self-guided reformatory tours, exploring the prison independently at their own pace while learning about the history of the facility and the many unique Hollywood and paranormal connections.
Today, the INKCARCERATION team is thrilled to announce details regarding the tattoo festival portion of the event. With the concert happening outside, INKCARCERATION will feature close to 70 local and regional tattoo artists tattooing all weekend inside the reformatory. Appointments are recommended if there is a specific artist you would like to work with. All appointments should be made directly through the artist's websites and social media pages.
INKCARCERATION will also feature tattoo competitions all weekend. Artists have the chance to win in over 25 categories, including a best in show! Cost is $10 per competition entry. There will be first, second, and third place winners for each category, and the best in show winner will be announced on Sunday evening. Categories will not be announced until the day of the event.
In addition to hosting the entire INKCARCERATION Music and Tattoo Festival, famed media personality Mistress Juliya has been confirmed as a competition judge. Whether it be from her multiple music shows on Fuse TV, features in magazines such as Maxim and Stuff, the runway, or hosting live events, Mistress Juliya is recognized around the globe. Mistress Juliya made her broadcast debut on the show Tastemakers on MMUSA, and her brashness made her an instant favorite. After a year, she moved on to host Uranium, which was one of the few televised outlets for heavy metal music and one of Fuse TV's most popular programs. Mistress Juliya's popularity led to the debut of a spin-off entitled Metal Asylum which lasted over 100 episodes. Around this same time, she began hosting the music-themed advice show Slave to the Metal. Within these few short years, she established herself as a fixture of music journalism and in the metal community. Since then she has hosted the shows No 1. Countdown: Rock and Let It Rock on Fuse TV.
Mistress Juliya says: "It is a great honor to work with INKCARCERATION Music and Tattoo Festival this year! This is a one of a kind event, bringing together some of the best bands and tattoo artists in the industry. For myself and for the fans, this is a dream come true – a Rock N' Roll Disney World! All in an iconic, historical abandoned reformatory where I will be interviewing bands and tattoo artists, there is no other festival like it!"
In addition to Mistress Juliya, tattoo artists Krazy Ken Phillips and Troy Denning (Invisible NYC) will also judge the competition.
Electrifying artists set to perform at the music festival portion of INKCARCERATIONinclude Rise Against, A Day to Remember, Bush, Black Label Society, Clutch,Our Lady Peace, Suicidal Tendencies, Fuel, Hatebreed, Sevendust, Living Colour, Of Mice and Men, DevilDriver, Corrosion of Conformity, Lit, Life of Agony, Alien Ant Farm, '68, Soil, Adelitas Way, JennCity, Bad Omens, Fear The Fallen, Dead Girls Academy, Akadia, Through Fire, and All About A Bubble. Individual performance times and stages will be announced leading up toINKCARCERATION.
Tattoo companies and artists appearing at the INKCARCERATION Music and Tattoo Festival are:
Invisible NYC
Troy Denning and Rocky Burley
Drawn to the Surface
https://www.facebook.com/drawntothesurface/
Brandon Robinson, Ky Miller, Tyler Sanders, Paul Shaffer
Studio Vitruvios
https://www.facebook.com/studiovitruviustattoo/
Ryan Richardson, Edgar Smith, Nick Daugherty, Joshua Helman
Living Dead Tattoo Co.
https://www.facebook.com/LivingDeadTattooCo/
Edwin Zimmer, Bethany Hendrix, Amber Sanders, Jason Hager
Twisted Metal
https://www.facebook.com/Twisted-Metal-Custom-Body-Art-1482513535323456/
John Cummings and Charles Moore Jr.
Waves Raditattoo Me Tattoo & Tattoo Repair Parlor
https://www.facebook.com/raditattoome/
Waverly Judd
Pins and Needles
https://www.facebook.com/Pinsandneedlesnewry/
Anthony J. Kaleta
Artful Impressions
https://www.facebook.com/artfulimpressionstattoo/
Emmah Farley, Tiffany Rummell, Benjamin Johnson
Hardcore Ink
https://www.facebook.com/hardkoreink?sk=wall&filter=12
Lonnie Sadler
Bitter Hearts
https://www.facebook.com/bitterheartstattoos/
Ian Simon, Zach Whitby, Nicole McCutcheon, Bobby Bones, Brittany Banahan, Julian Hernandaz, Buddy Landry, Carl Schwartz
Bad Boy Tattoo
https://www.facebook.com/Bad-Boy-Tattoo-119443078089441/
Jason Irey
Studio 617
https://www.facebook.com/studio617tattoos/
Kristopher Ford, Julia Neely, Michael Clester
Eves Ink
https://www.facebook.com/evesinktattoo/
Kim Loesche, Jacob Bettker, Rhonda Speidel
Resurrection Tattoo
https://www.facebook.com/ResurrectionTattooandFineArt/
Jacob Bojorquez and Mat Fotheringham
Flesh to Fantasy (Springfield)
https://www.facebook.com/f2fspringfield/
Steven Becker, Jacob Brentzel, Alejandro Valdez, Mariah Bunker, Christopher Powell
Flesh to Fantasy (Emporium)
https://www.facebook.com/fleshtofantasytattooemporium/
Kaytonya Hill, Austin Arrington, Kellie Martin
Bulldog Custom Tattooing
https://www.facebook.com/Bulldog-Custom-Tattooing-LLC-232033467006017/
Bruce Riehl, Tim Martin, Kristine Keir, Harry Glavan
Engine House
https://www.facebook.com/enginehousetattoo/
Michael Matlock, Eric Vie, Danni Alcorn, Rodney Eckenberger
H&A Tattoo
https://www.facebook.com/HnAtattoo/
Michael Hicks
Studio 413 Tattoos
https://www.facebook.com/studio413/
Dusty Chamblin, Daniel Detillion, Kenneth Lewis, Ryan Mangus, Anthony Honaker, Makayla Ragene, Paige Freeman
Twistyle
https://www.facebook.com/Twistyle.Salon.And.Day.Spa/
Samantha Little and Chi Estes
Hard Knox
https://www.facebook.com/hardknoxtat/
Tony Campise
Goodfellaz Ink
https://www.facebook.com/Goodfellazinkcustomtattoos
Anthony Artis
The Inkeeper's Tattoo Parlor
https://www.facebook.com/inkeeperparlor/
Zach Adams
Stay tuned for more information coming soon regarding INKCARCERATION activities. Additional ticket and camping information, food trucks, parking details, event hours, and other important FAQ's can be found at www.inkcarceration.com.
INKCARCERATION Music and Tattoo Festival online:
The Historic Ohio State Reformatory online: