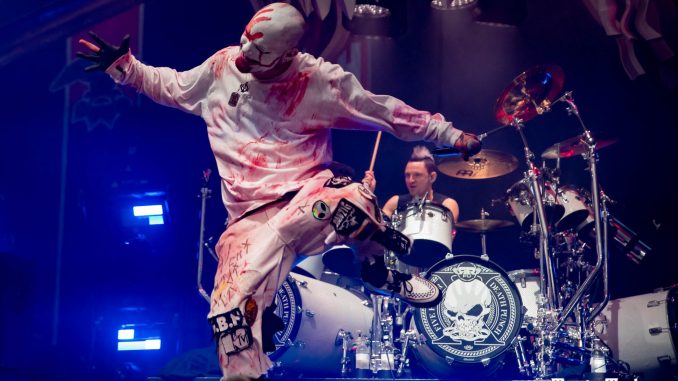 Inkcarceration Music and Tattoo Festival
How do you top the success of the 2018 Inkcarceration Music and Tattoo Festival inaugural campaign? How about 30+ bands on two outdoor stages with 70+tattoo artists, reformatory tours, food trucks and more. The reformatory's annual Halloween haunted house attraction, Escape From Blood Prison, makes its inaugural spooky experience for festival goers in 2019.
Learn more about this year's Inkcarceration Music and Tattoo festival HERE.
Last year promoters kicked off the Inaugural 2018 Inkcarceration Festival with a diverse lineup that included Rise Against, A Day to Remember, Life of Agony, BUSH, Living Color, Black Label Society, Clutch, Hatebreed, Sevendust, Suicidal Tendencies, Corrosion of Conformity, Fuel, Of Mice and Men and more. The heat was fierce on and off stage as fans maneuvered throughout the festival grounds, enjoying the sights like kids in a candy store.
Joining this year's headliners; Shinedown, Godsmack and Five Finger Death Punch will be a talented supporting cast.
The list includes Taking Back Sunday, Skillet, Fozzy, The Red Jumpsuit Apparatus, Awake at Last, Funeral Portrait, The Everyday Losers, Live, Motionless in White, Red Sun Rising, Buckcherry, Andrew W.K., Stabbing Westward, Light the Torch, Eyes Set to Kill, Raven Black, Impending Lies, Monster Dolls, Seether, I Prevail, Starset, P.O.D., From Ashes to New, Smile Empty Soul, Kerbera, Beyond Unbroken and Rivals.

What screams Rock & Roll more than tattoos?!?! In addition to a stellar list of musicians, the festival will host over 70 badass Tattoo Artists that will be on hand for those with an itch for ink from within the walls of the Reformatory.
More on the Tattoo Experience HERE.
The Ohio State Reformatory and its rich history excites the senses and intrigues those hunting for the paranormal or soaking in its beautiful architecture. The Reformatory is known as one of the most haunted building's in the country and the setting for the 1994 classic film, The Shawshank Redemption. The film celebrates its 25th anniversary this year in Mansfield, Ohio on July 12 – 14.
It appears to be the perfect match for the 2019 Inkcarceration Music and Tattoo Festival.