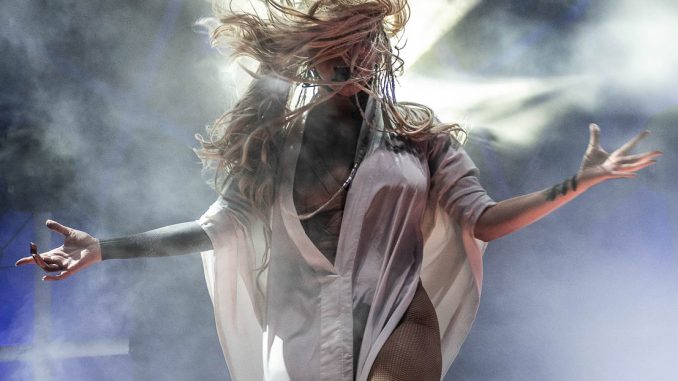 Recently, the double header of In This Moment and Halestorm blew through Connecticut and landed at the Mohegan Sun Arena. The house was crowded and was looking forward to a night of hard rock and the bands did not disappoint!
First on the bill was Los Angeles' own alternative/gothic metal darlings, In This Moment. For those of you who are unfamiliar with this band, it's tough to say which is more entertaining, their music or their theatrical presentation of their music. The usual arena show rule of being able to photograph the first three songs then you have to clear out of the photo pit was waved and photographers were allowed to shoot their entire set. This was done with good reason and to the joy of photographers.
Costume changes took place through the entire show to the delight of the crowd. It kept everyone wondering what they would see next. Lead singer Maria Brink and her backing performers, The Blood Girls, energized the crowd more than most headlining bands. Their dancing and theatrical performance reminds one of the likes of theatrical rock king, Alice Cooper. The fog and light show set a dark and sinister mood which complimented their music nicely.
Backing Maria Brink musically was a collection of artists which hit the nail on the head at every turn of the show. Bassist Travis Johnson stalks the stage behind a mask emblazoned with the sign of the werewolf, a pentagram. The guitar duo of Chris Holworth and Randy Weitzel played off of each other creating a wall of sound that would make Phil Spector jealous. Rounding out the band was a madman of a drummer, Kent Dimmel who adorned a most evil looking clown mask at the start of their encore.
This amazing set ended with their powerful song, "Whore" which featured Maria singing from behind a pulpit while adorned with a dunce cap emblazoned with the word WHORE while the Blood Girls were adorned with signs reading "SHAME". To the delight of the audience, large white balloon type balls were let loose on them and they batted them around with great joy.
If you have never had the pleasure of seeing In This Moment perform live, do yourself a favor and see them if they come to a venue near you. Even if you are not a fan of the genre, you will not be disappointed!!!!
If you thought that was all you could handle, you were in trouble. Next up was the amazing hard rock/heavy metal band from Pennsylvania, Halestorm which blew the roof off the venue! In contrast to In This Moment's theatrics, Halestorm presented their music in a no frills, brown paper wrapper fashion. They let their music do their talking for them and their fans listened intently.
Front woman Lzzy Hale is a mix of Joan Jett, Pat Benatar, Aretha Franklin and Lita Ford. Depending on the song, Lzzy has a voice which is powerful and soulful as Aretha or as rocking and boisterous as Joan and Pat while she wails on her Gibson Explorer in Lita Ford fashion. She engages the audience with between song banter, makes them feel like old friends with her infectious smile and wows them with her powerful stage presence.
Behind Lzzy is her brother and the band's drummer, Arejay Hale. Arejay is a performer in his own right with his stick twirling and behind the kit antics which entertained the audience. Alongside Lzzy were guitarist Joe Hottlinger and bassist Josh Smith who were stoic in comparison to the Hales but just as musically important. Together they delivered what their fans ordered, rock & roll!
Several songs really got the crowd moving more than others. Their songs "I Miss The Misery" and "Freak Like Me" were among the favorites but the crowd responded most enthusiastically to the main set closing song from their latest release, Vicious. They ripped into their song "Uncomfortable" and the crowd responded wildly and it's no wonder why. This song embodies several styles of rock all in one. It starts out with an industrial sound with a heavy drum beat much like songs from the great band Ministry. Then it rolls into a punkish Joan Jett feel then kicks into a plodding classic metal verse with a melodic vocal from Lzzy then repeats the process. This song alone is well worth purchasing their latest release.
All in all, everyone walked away from this show with mixed emotions. If it makes sense, they were satisfied with what both bands delivered yet they were unsatisfied and wanted more because the music was just that amazing! If you can catch this tour before it ends, do so. If they rolled through your town and you mistakenly missed out, see these bands however you can when they hit the road apart. Both bands will completely blow you away!!!!
Review and Photos by Rich Russo