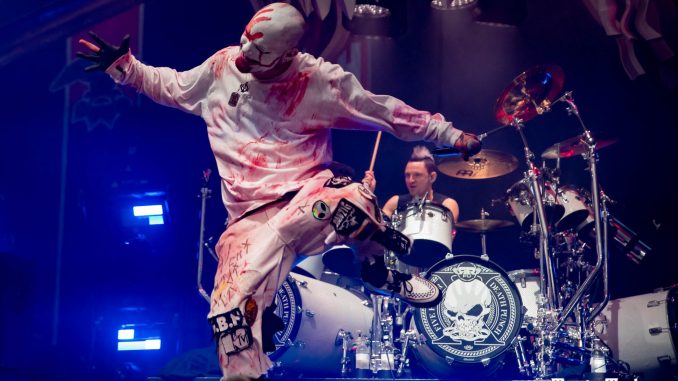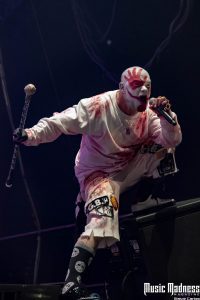 The 2018 concert season has been one filled of epic tours and festivals and none more successful than the 5FDP and Breaking Benjamin co-headlining tour that packed amphitheaters nationwide all summer long with a supporting cast that included Bad Wolves and Nothing More. The highly successful summer tour did not miss a beat as they announced a second leg to the tour, which took both artists into arenas nationwide with a new supporting cast that consisted of the Swedish heavyweights In Flames and Ashes To New.
As the tour nears completion, the bands rolled into Orlando for a stop at the CFE Arena on Wednesday night and didn't disappoint die-hard fans young and old alike. Doors at five and the opening act Ashes To New hit the stage at 6pm to kick off a night of electrifying performances and stage production. Ashes To New continues to enjoy the success of the band's latest release The Future, which was released earlier this year and boasts hit singles, "Through It All" and "Crazy", which have reached number six and three on the Billboard Mainstream Rock Songs chart.
Swedish heavyweights, In Flames, took the stage and brought their disruptive, in your face brand of death metal that set the tone for the remainder of the evening. Be on the lookout for new music from the band as they continue work on their new record.
It was time for the co-headliners, first up was Benjamin Burnley (lead singer/guitarist), Aaron Bruch (bassist/ backing vocalist), Keith Wallen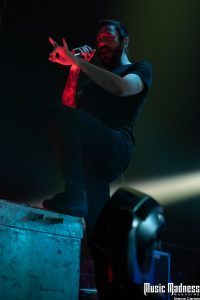 (guitarist/backing vocalist), Jasen Rauch (guitarist), and Shaun Foist (drummer), better known as Breaking Benjamin. A 15 song set that included a light show, pyro, multiple trips through the crowd, and a mash up that included The Imperial March (Star Wars) / Cowboys From Hell (Pantera) / Smells Like Teen Spirit (Nirvana) / Bohemian Rhapsody (Queen) / Enter Sandman (Metallica).
Next up metal bad boys, 5FDP, and judging by the roar from the crowd as the lights dimmed, the band that fans had been waiting for all night. No strangers to adversity, the hardest working band in metal attacked the stage like a vintage Iron Mike Tyson fight, nothing but attitude ready to violate your ears and turn you inside out. The band was without drummer Jeremy Spencer due to a second back surgery and was replaced for the tour with drum prodigy "The Engine". Sobriety has suited Moody well as the bands frontman seemed to be enjoying himself as well as his Jekyll and Hyde persona. Midway through the set the band slowed it down as Moody and guitarist Jason Hook took center stage for an acoustic version of "Wrong Side of Heaven" and "Remember Everything". Pyro and making it rain 5FDP American Capitalist dollars rounded out the bands 16-song set.
What does 2019 hold for these bands? The metal community is hopeful for more of the same.
5FDP Set List
Under and Over It
Trouble
Wash It All Away
Jekyll and Hyde
Sham Pain
Bad Company (Bad Company cover)
No One Gets Left Behind
The Agony of Regret
Wrong Side of Heaven (Acoustic)
Remember Everything (Acoustic & with kids on stage)
Coming Down
Burn MF
Gone Away(The Offspring cover)
Lift Me Up
The Bleeding
The House of the Rising Sun
Breaking Benjamin Set List
Red Cold River
I Will Not Bow
Never Again
Breath
Sugarcoat
The Imperial March / Cowboys From Hell / Smells Like Teen Spirit / Bohemian Rhapsody / Enter Sandman / Drum Solo
Sooner or Later
Blow Me Away
So Cold
Angels Fall
Believe
Failure
Until the End
Torn in Two
The Diary of Jane
In Flames Set List
Colony
Everything's Gone
Cloud Connected
Where the Dead Ships Dwell
Alias
Paralyzed
The Truth
Take This Life
The End
Ashes To New Set List
The Future
My Fight
Land of Make Believe
Crazy
My Name
Broken
Heavy / Papercut (Linkin Park cover)
Through it All
Review and Photos by Steve Carlos