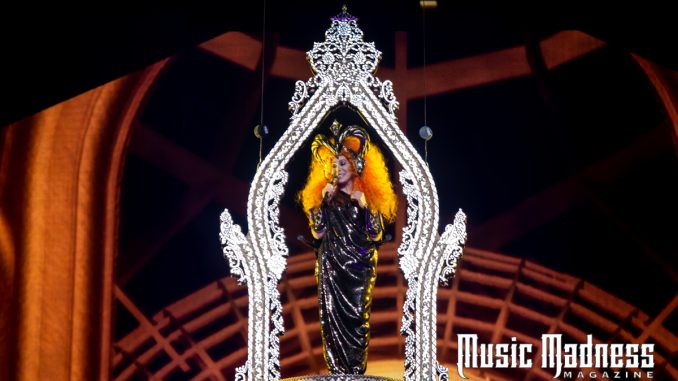 This past September Cher announced her 2019 tour plans as she prepared for the release of her latest album Dancing Queen. The legendary musician was fresh off of her appearance in the hit film "Mamma Mia: Here We Go Again," and sub-sequentially named her tour Here We Go Again. The tour will be promoting Dancing Queen, which is Cher's album of ABBA covers which was released on September 28, 2018. The hit movie also gave Cher her first charting single in four years as she and co-star Andy Garcia covered ABBA's "Fernando."
Joining Cher on tour are Nile Rodgers & Chic. Nile Rodgers & Chic are also on the road promoting their long-awaited (26 years) comeback album, It's About Time. The 10-song record is filled with guests such as Lady Gaga, Elton John, Emeli Sandé, Anderson .Paak, and Vic Mensa, Mura Masa, NAO, Hailee Steinfeld, Craig David, Stefflon Don, Cosha, and Lunchmoney Lewis.
Fans of all ages gathered Monday evening at Orlando's Amway Center, some for a trip down memory lane while others experiencing these legendary musicians for the first time. Rock & Roll Hall of Fame Inductee Nile Rodgers & Chic opened the show to a packed house. They are an American disco funk R&B band created in 1976 by guitarist Nile Rodgers and bassist Bernard Edwards. In 2017, the Rock and Roll Hall of Fame inducted Nile Rodgers for Musical Excellence.
The crowd was full of positive happy energy as fans were dancing in the aisles even before the musicians took the stage. The outfits were on point and some of the ladies were dressed to the nines.
Anticipation grew as the stage screens started playing a montage of Cher throughout her career and one could feel the anticipation levels rising as the curtain dropped and the crowd erupted as Cher descended from atop the arena on a sparkling glitter covered arched platform as she performed her hit song "Woman's World" from her Closer to the Truth record.
I have to say, I have been a long time fan of Cher and have so many family memories from listening to her music and this show was nothing short of totally amazing. The stage theatrics and props including a huge elephant which Cher appeared out of the middle, the coordinated acrobatic and aerial dances and complete set changes made this show one not to miss. Cher is simply timeless and one amazing woman.
One of the most touching moments was the duet "I Got You Babe" a song written by Sonny Bono and it was the first single taken from the debut studio album, Look at Us. Cher performed this song with a recording of Sony on the screen.
To end the show Cher played two of the most well known and favorite songs "Turn Back Time" from her nineteenth studio album Heart of Stone and "Believe" from her twenty-second album, Believe.
The Here We Go Again Tour is the seventh solo concert tour by American singer-actress Cher in support of her twenty-sixth studio album Dancing Queen. This is the first time the singer has embarked on a world tour since her Living Proof: The Farewell Tour (2002-2005). The tour runs through November 2019.
Cher's Set List:
Opening Montage
Woman's World
Strong Enough
..Movie Monologues
Gayatri Mantra
All or Nothing
Little Man
The Beat Goes On
I Got You Babe
Welcome to Burlesque
Aerial Duet
Waterloo
SOS
Fernando
After All
Memphis
The Shoop Shoop Song (It's in His Kiss)
Bang Bang (My Baby Shot Me Down)
I Found Someone
Turn Back Time
Believe
Photos and review by Jennifer Reis